Love it or hate it—The UK version is dark brown, sticky, and ever so salty. It's distinct, powerful flavor has garnered the company's slogan "Love it or Hate it". We definitely LOVE IT. Marmite is a yeast extract spread that is a by-product of the brewing industry. Marmite was popular among vegetarians as an early alternative to beef bouillon. With the discovery of vitamins at the turn of the century, Marmite got a boost in popularity as it is a rich source of  vitamin B12. Good news for vegans! You've got double the B12 this time with the Marmite and Nutritional Yeast!
We usually stick to spreading it on toast with a bit of vegan butter, but it also makes amazing Cheese Straws for parties. This time we used it on our popcorn for a UK night in with Doctor Who. Salty, buttery, and just a wee bit cheesy. I think you'll LOVE this, regardless of the marmite reaction!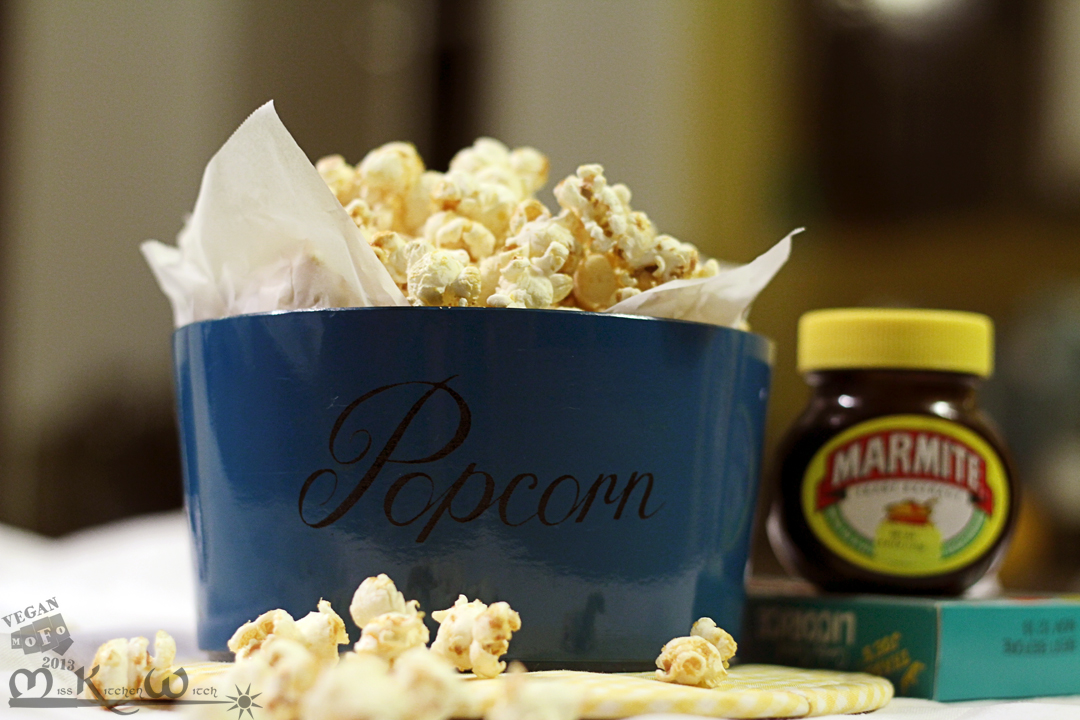 Extra Bite Marmite Popcorn (10-12 cups popped)
Ingredients 1/2 cup unpopped popcorn  3 tbsp nutritional yeast 2 tbsp vegan butter  1 tbsp marmite  1/2 tsp salt  1/2 tsp garlic powder 
Pop the popcorn in an airpopper per the manufacturer's instructions into a large bowl. Our popper has a little butter melter on top, where we melted together the vegan butter and marmite. If your's doesn't, melt it in a small sauce pan over low heat or in a small bowl in the microwave for 20-30 seconds.
Spread the popcorn over a large baking sheet and drizzle the vegan butter and marmite on top. Sprinkle with additional salt, garlic powder, and the nutritional yeast. Mix together by hand and return to the large bowl to enjoy!