A veganized recipe, this is a nice medium between coffee cake and a light dessert. Based on the old Pennsylvania Dutch favorite, shoo-fly pie, the cake is sweetened with molasses and sprinkled with a sweet crumb topping. Shoo-fly pie is one of our favorites for Thanksgiving and winter, since it's not dependent on seasonal fruits.
If caffeine is a no-no for you, sub it out with Teeccino, I tried it with Vanilla Nut and it was delicious. You can also make this in a gluten-free version with your favorite blend of all-purpose gluten-free flour and an added teaspoon of guar gum. Serve this spice cake with coffee and some light autumn fruits.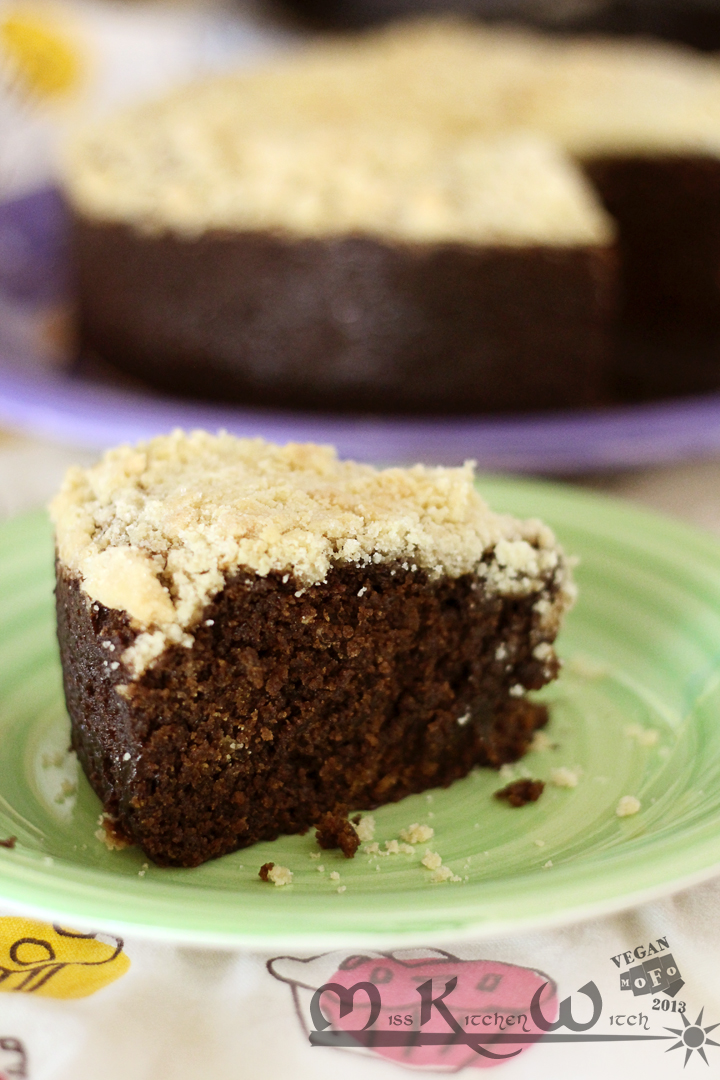 Vegan Shoo-fly Spice Cake (Serves 8-12)
Ingredients  Topping  1/2 cup raw sugar  3/4 cup all-purpose flour  1/4 cup vegan butter or coconut oil, chilled    Cake  1 cup sugar  3/4 cup vegetable oil  3/4 cup blackstrap molasses  1 tbsp apple cider vinegar 2 tsp vanilla extract  3 tsp ener-g egg replacer + tsp water, whisked or 1/2 cup blended 
Vegg Egg Yolk
2  1/2 cups flour 2 tsp ginger  1 tsp cinnamon 1 tsp cardamom 1 tsp baking soda 1/2 tsp salt  1 cup room temperature coffee (try
this recipe for cold brewed
!) 
Preheat oven to 350°F. Prepare a 9″ x 2″ pan by lining with parchment paper or greasing. Combine sugar and flour for topping in bowl. Cut in the vegan butter or coconut oil, forming pea sized crumbs. Chill the topping while preparing the batter.
Sift together the flour, soda, and spices, set aside. Whisk together the sugar, oil, molasses, vanilla, and vinegar in a large bowl. Slowly pour in your choice of vegan egg. Stir the flour mixture into the wet ingredients, in three parts, alternating with the coffee. Pour the batter into the prepared pan and sprinkle with the chilled crumb topping. Bake on the center rack, until the middle is firm and the topping is golden—about 50-60 minutes. Cool on a wire rack for about 15 minutes before serving warm from the pan.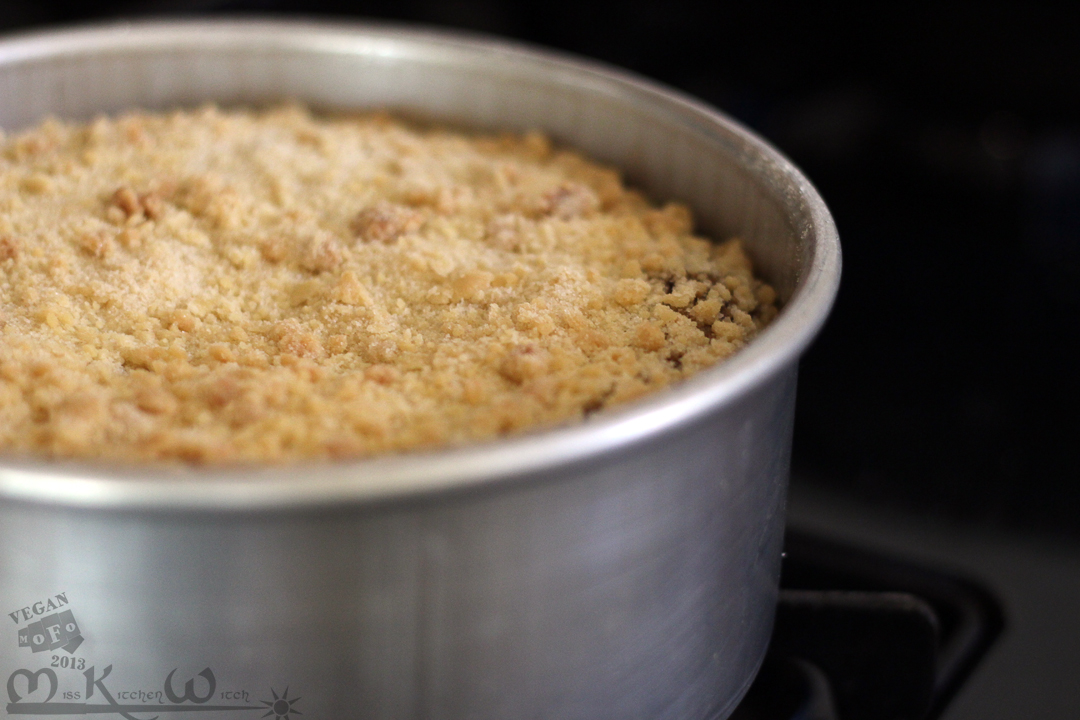 I bake mine in a cheesecake pan, where the bottom drops out. If you do the same, scrape around the edges with a knife before pushing it up and out.