July 24th is National Tequila Day and I love finding (and sharing) original ways to celebrate! You don't have to enjoy sipping cocktails or scarfing cupcakes to get excited for this recipe. I wonder if planning National Tequila Day in the height of July had to do with icy margaritas, grilling season, or if was just a brilliant coincidence.
Either way, I've included the perfect seitan recipe for this tequila glaze. It's flavorful, juicy, and firm—everything you need to hold up on a hefty grill. I love using sweet potato because you don't often see it on the grill like this and it pairs well with the seitan and the glaze. Other fun additions would be pineapple, purple sweet potatoes, or slightly under-ripe peaches.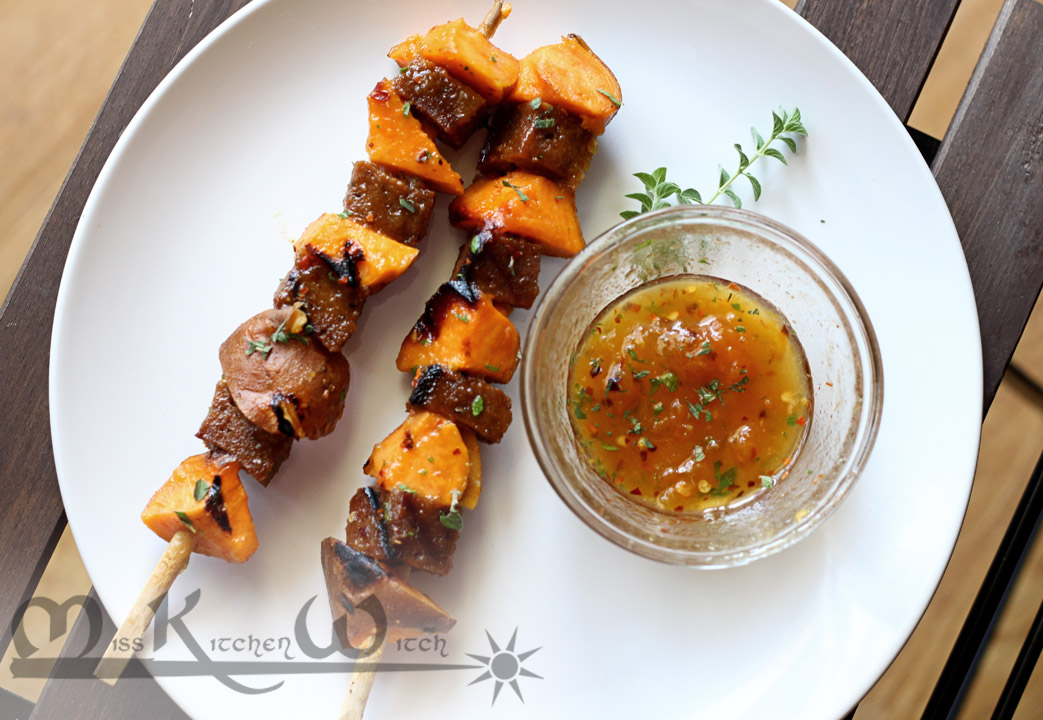 Seitan and Sweet Potato Skewers with Apricot-Tequila Glaze (Yields 6-8 Kabobs)
Ingredients  Kabobs Seitan  1 cup vital wheat gluten  1/4 cup water  2 tbsp vegetable oil 1 tbsp soy sauce 1 tbsp molasses or agave 1 tbsp tomato paste or ketchup 1 tbsp mustard 1 tbsp liquid smoke  1 vegetable bouillon cube 1 tsp salt 1 tsp smoked paprika 1 tsp garlic powder 1/2 tsp pepper  4 medium sweet potatoes
Toss together the dry ingredients together in a medium bowl. Separately, whisk together all the wet ingredients from the water to the bouillon cube. Slowly pour the wet mixture over the dry, stirring together. Knead for a minute in the bowl until everything looks distributed and you have a smooth ball. Wrap in foil and place in a steamer for 45 minutes. Add water to steamer whenever necessary. Allow to cool completely before removing. Unwrap and cube.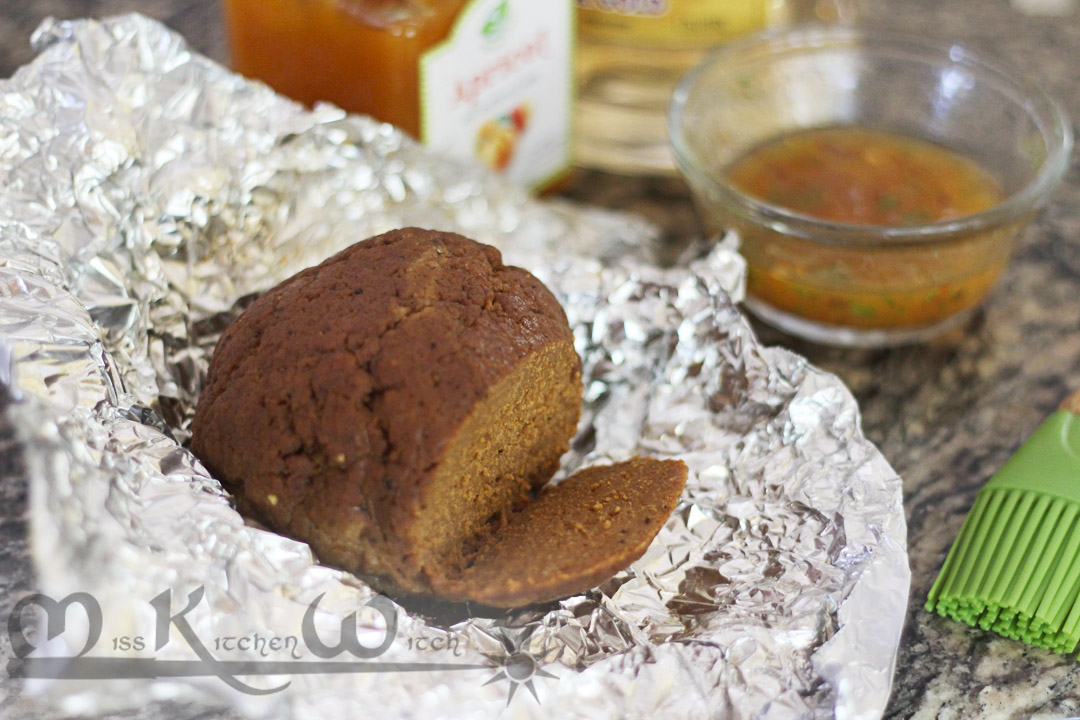 Steam the sweet potatoes whole nearly cooked, slightly tender, but not at all mushy. Allow to cool and cute into large cubes. Assemble kabobs by alternating the seitan and potato on soaked skewers.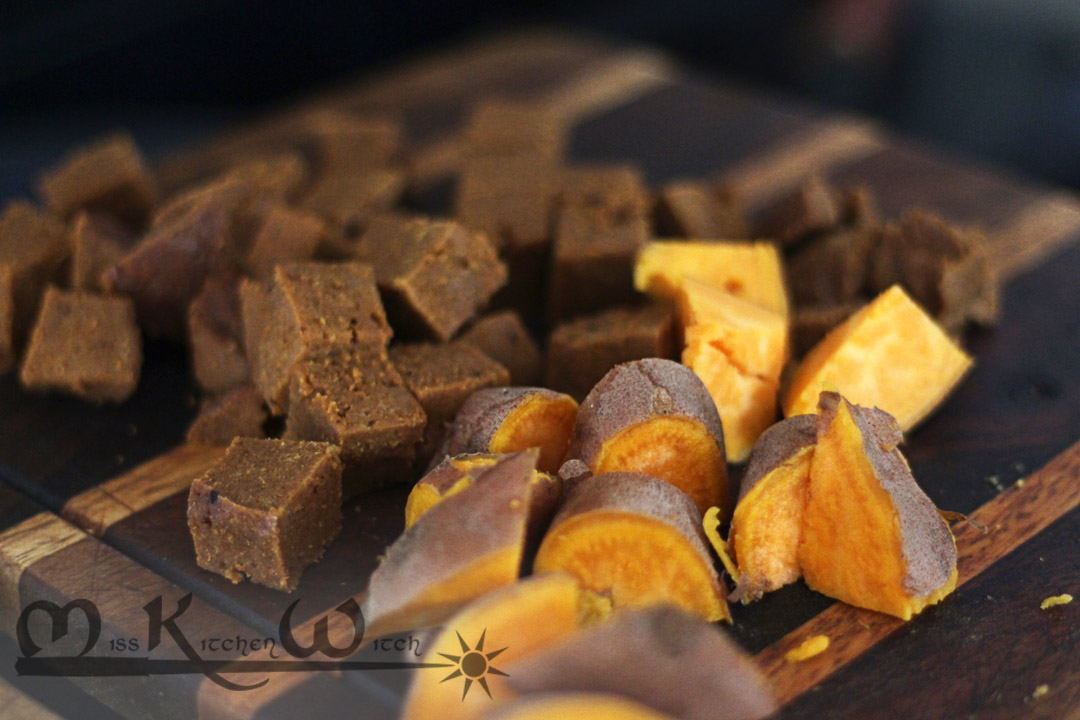 Apricot-Tequila Glaze  1/2 cup gold tequila 1/4 cup apricot preserves 1 tbsp apple cider vinegar  1 tbsp fresh oregano, shredded 1 tsp red chili flakes (or mild chili powder for less heat) 1/2 tsp garlic powder 1/2-1 tsp salt  1/4 tsp cayenne (opt)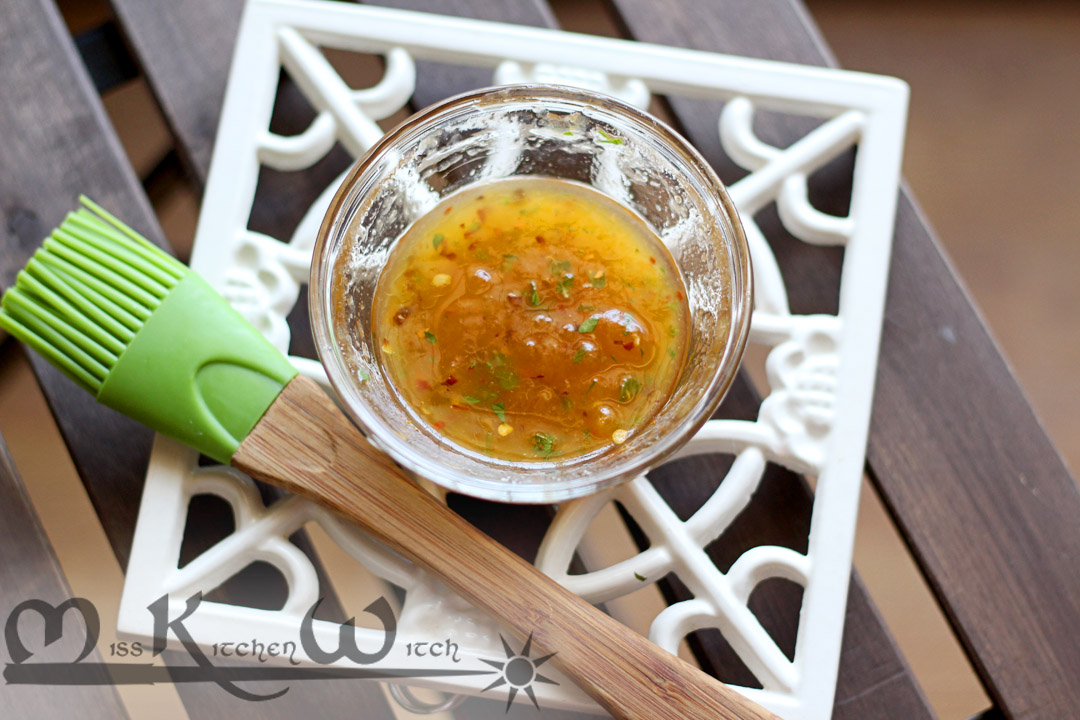 Whisk ingredients together in a small bowl and brush on the skewered kabobs just before grilling, or between turnings. When cooked through and ready to serve, sprinkle with a little extra oregano.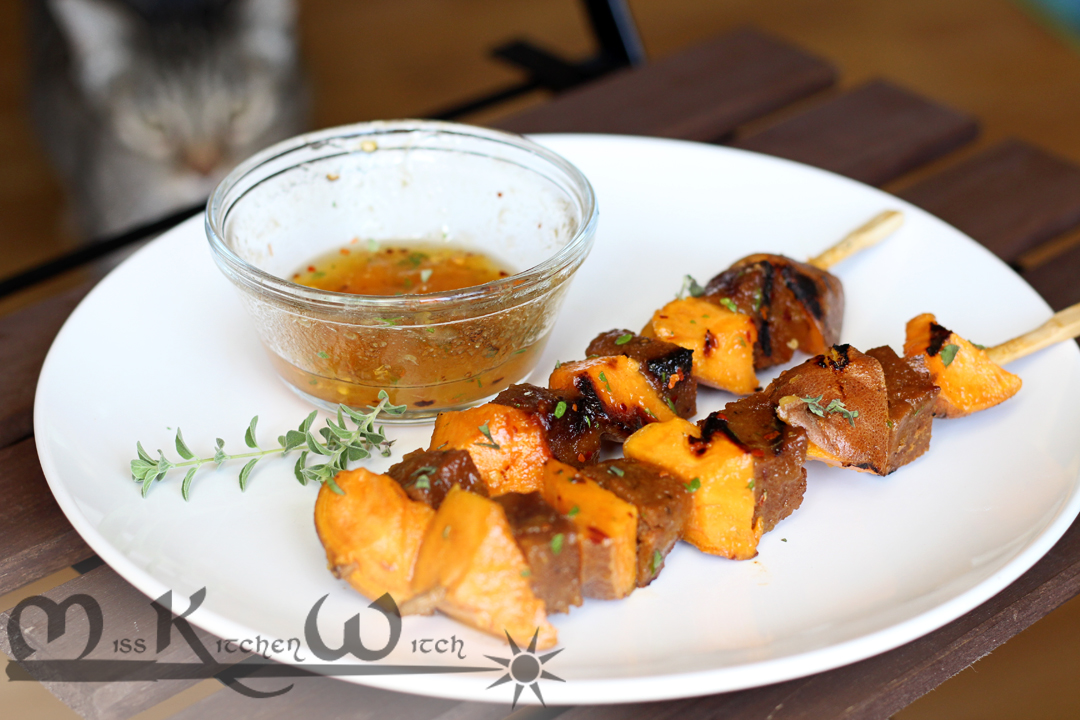 I just had to include this picture because of the blurry, yet adorable, photobomb Tiny Trixie pulled off. Looks like she wants some seitan!