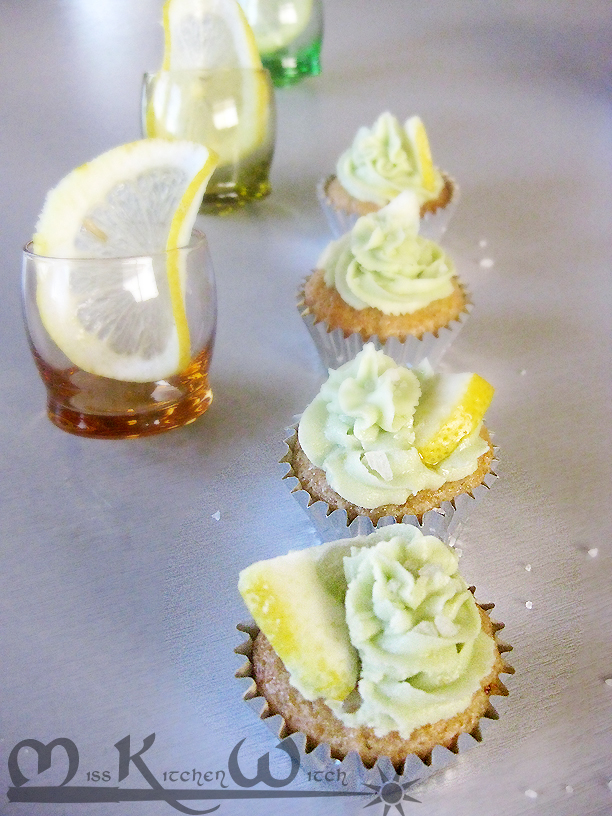 I made these for a Mexican-themed party thrown by some not-so-veg-friendly relatives. We put them down on the table next to all the other food (with no indication they were vegan) and they were the first thing to go, by far the most popular dish there. These capture the true essence of a margarita, unlike… other margarita cupcake recipes previously published by a very popular author (though I can't seem to understand why).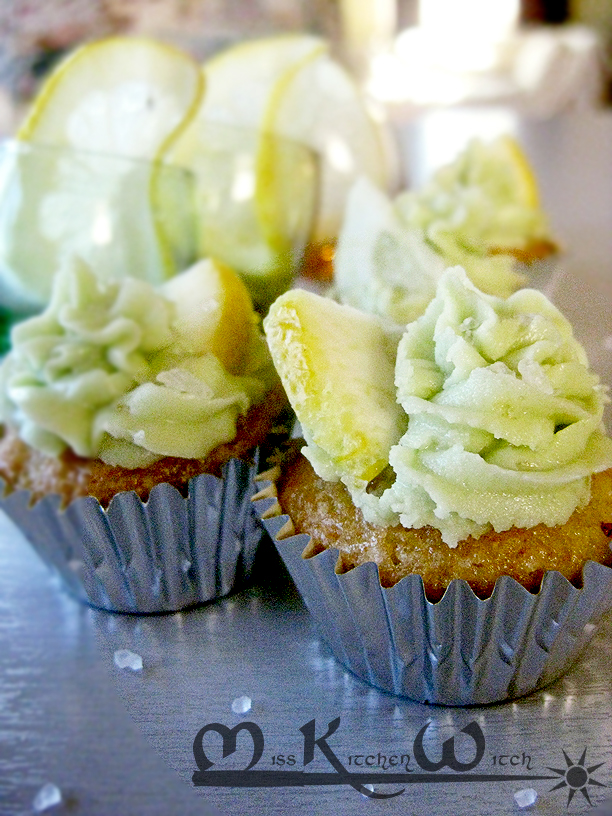 Margarita Cupcakes: El Auténtico
  Ingredients Cake Juice and zest from one lemon  Zest from one lime  3/4 cup coconut milk/cream  (if using cream, reduce the oil and increase the cream to 1 cup)  *I Like how this adds a little more of a tropical taste  1/4 cup oil  1/4 cup tequila  2 tbsp triple sec  1 tsp vanilla  1 cup sugar  1 1/3 cup cake flour  2 tsp corn starch or arrowroot  3/4 tsp baking powder  1/4 tsp baking soda  1/2 tsp salt    Frosting 1/3 cup vegan butter 1 1/2 cup powdered sugar  lemon or lime zest  1 tsp lemon or lime juice  1/4 cup tequila (Or more)  dash of salt  (one drop of each natural yellow and blue colouring: optional) Rock Salt
Combine the lemon juice with the coconut, stir and set aside. Sift together the dry ingredients including the sugar. Mix the coconut/lemon with the alcohol, vanilla, and oil. Gently combine the wet and dry ingredients, just until mixed. Portion out into cupcake cups, about 80% full. Bake for 12-15 minutes at 350°F. Remove when a tooth pick inserted into the middle comes out clean, or you start to see the tiniest bit of gold.
Remove from the pan and allow to cool on a rack. Right after placing the cakes on the cooling rack, brush the tops with more tequila, making sure to get around the edges too.
While the cupcakettes are in the oven, prepare the frosting. First cream together the sugar and earthbalance, then add the zest, juice, salt and a little bit of the tequila at a time. The frosting should be smooth and fluffy, but not stiff or wet. Right before frosting, brush the cakes again with tequila. Pipe the frosting on in your favorite design, then top with a tiny wedge of lemon or lime and sprinkle lightly with rock salt.