Though you wouldn't normally associate kale with Ireland, it is traditional in this recipe. Made around Samhain (Halloween) Colcannon is made when kale would come into season. Like many cultures that hide trinkets inside of cakes, the Irish would hide a ring or thimble in the dish to predict who would marry and who would end up a spinster!
Use organic potatoes and don't peel them to retain the great nutrients within the skins. Regional variants on the dish include using scallions, green onions, and leeks.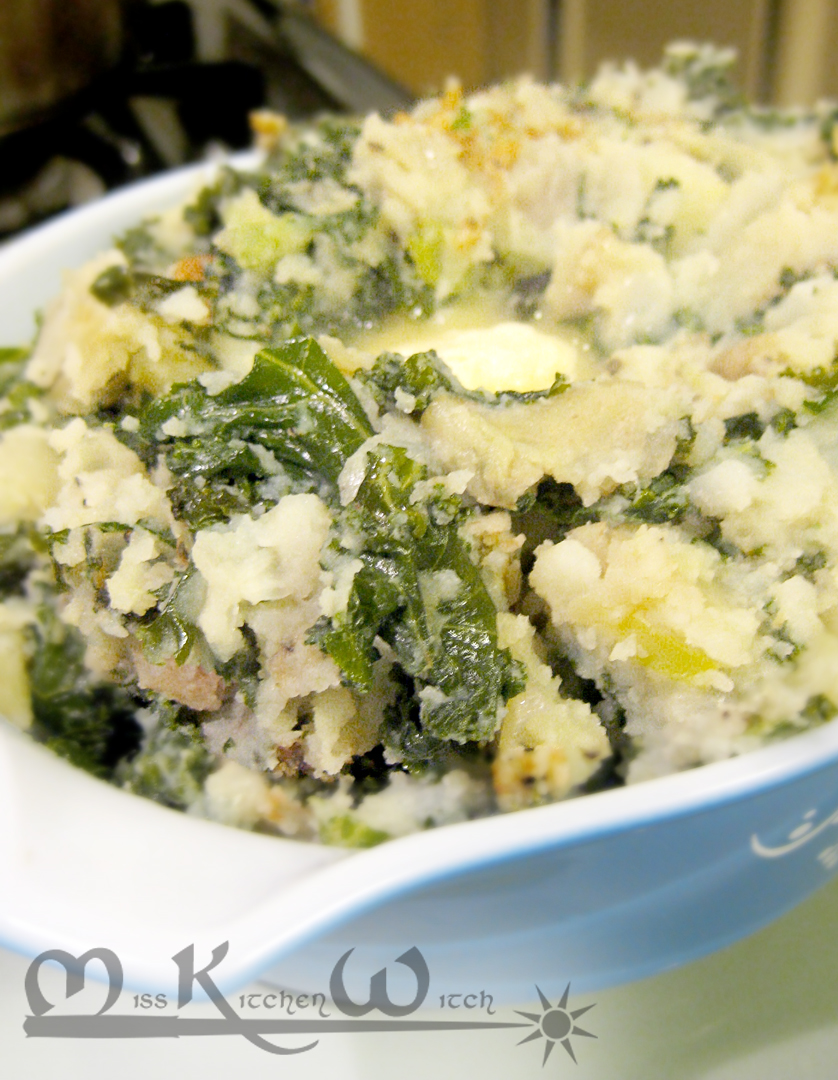 Colcannon (serves 4)
Ingredients
1 lb (3-4 large) golden potatoes, cubed
1 medium onion, diced
1 small bunch of curly kale or savoy cabbage, shredded
soy or other nondairy milk (opt)
2 tbsp vegan butter
Salt and Pepper
Place the potatoes in boiling water and cook until they are tender and mash easily under a fork. Drain and mashing, adding a little non-dairy milk or some of the cooking water if they appear dry.
While the the potatoes are cooking head some oil in a medium frying pan and add the onion, cooking for about 5 minutes until fragrant. Add the kale or cabbage and cover. Stir occasionally, cooking for about 10 minutes. Add the onions and kale to the mashed potatoes, and add salt and pepper to taste.
Heat remaining oil or vegan butter in the pan. When very hot, move the potato mixture to the pan and spread. Fry until brown then cut roughly into pieces and flip, cooking the other side. Serve in bowls with dabs of vegan butter.