Bubble and Squeak are little cakes of fried vegetables, typically potatoes and cabbage. The name 'bubble and squeak' was coined in 1785 to describe the noises it made when cooked over a fire. I remember it mentioned as a child in The Wind in the Willows, when the gaoler's daughter brings Toady bubble and squeak and then helps him to escape disguised as a washerwoman. I can still hear "Bubble and Squeak!?" in David Jason's voice from the stop motion!
It is often eaten for breakfast on Boxing Day (the day after Christmas) in the UK as a way to use up leftover veggies like mash (mashed potatoes), brussels sprouts, and cabbage. You might also see it made from leftover Irish Colcannon. Though, there is something weird about garlic not being traditional and many an english granny will be tutting at me for it's inclusion here.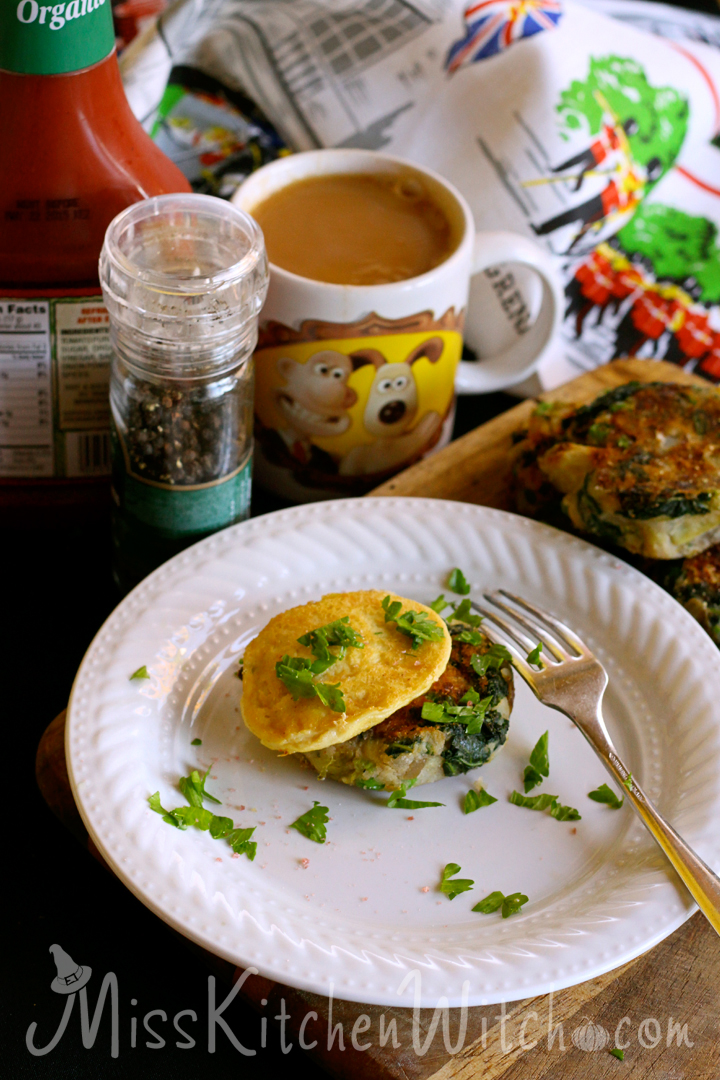 Vegan Bubble and Squeak (makes 14-16 patties)
Ingredients
4 large russet potatoes, cut into 2″ cubes
1/4 lb brussels sprouts, cleaned and halved
1 bunch curly kale, shredded along with stems
1/2 onion, finely chopped
1 cup fresh or frozen peas, thawed
1 tsp salt
1 tsp freshly ground pepper
1/2 tsp white pepper
1/2 tsp smoked paprika
4 cloves garlic, minced
vegetable broth
vegan butter or oil
Heat your oven to 450°F. Toss the brussels sprouts with a little bit of olive oil and a dash of salt on a heavy baking sheet. Roast for about 25 min, or until they are cooked, but still have a bite. Chop and cube the cooked sprouts, then set aside.
While the brussels are roasting, bring a large pot of water to boil. Gently add your cubed potato and cover. Cook for about 10-15 minutes or until soft and tender enough to mash easily. Drain off the water and reserve the water. Mash once potatoes are cool enough, adding in some of the reserved cooking water. Save the rest of the water for your garden!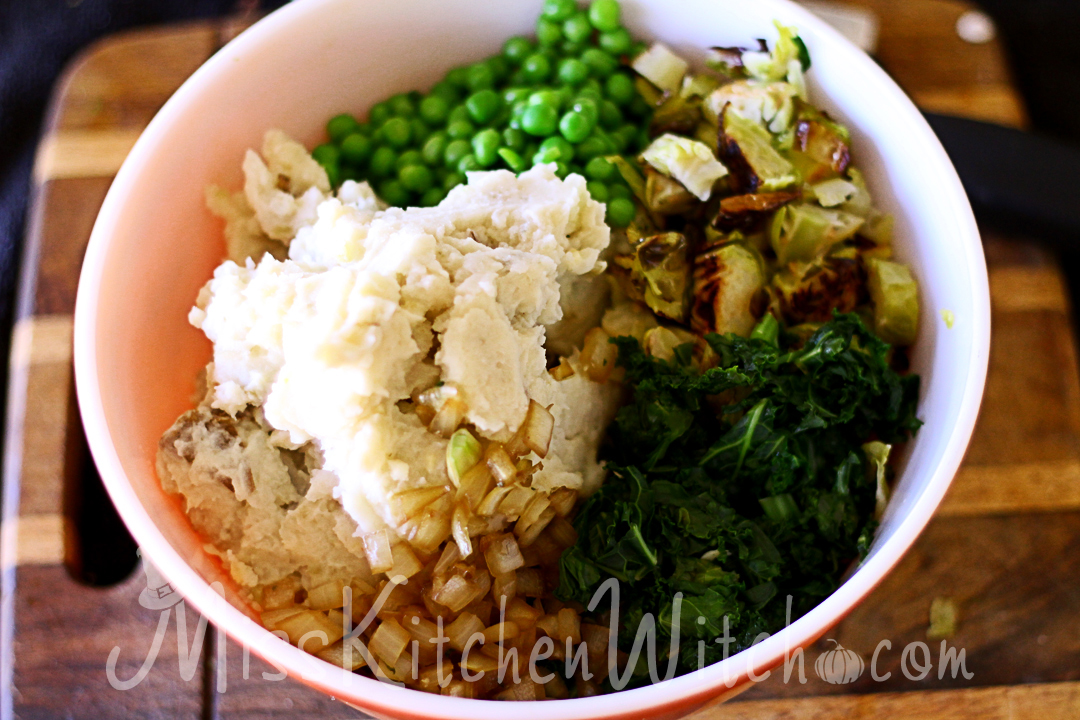 In a large frying pan heat a tsp of oil, add the chopped onion and kale. Add a few tbsp of vegetable broth and saute for 3 mins. Move the veggies in to the pot or bowl where your potatoes are. Clean and reheat that pan with a few tbsp of vegan butter or oil.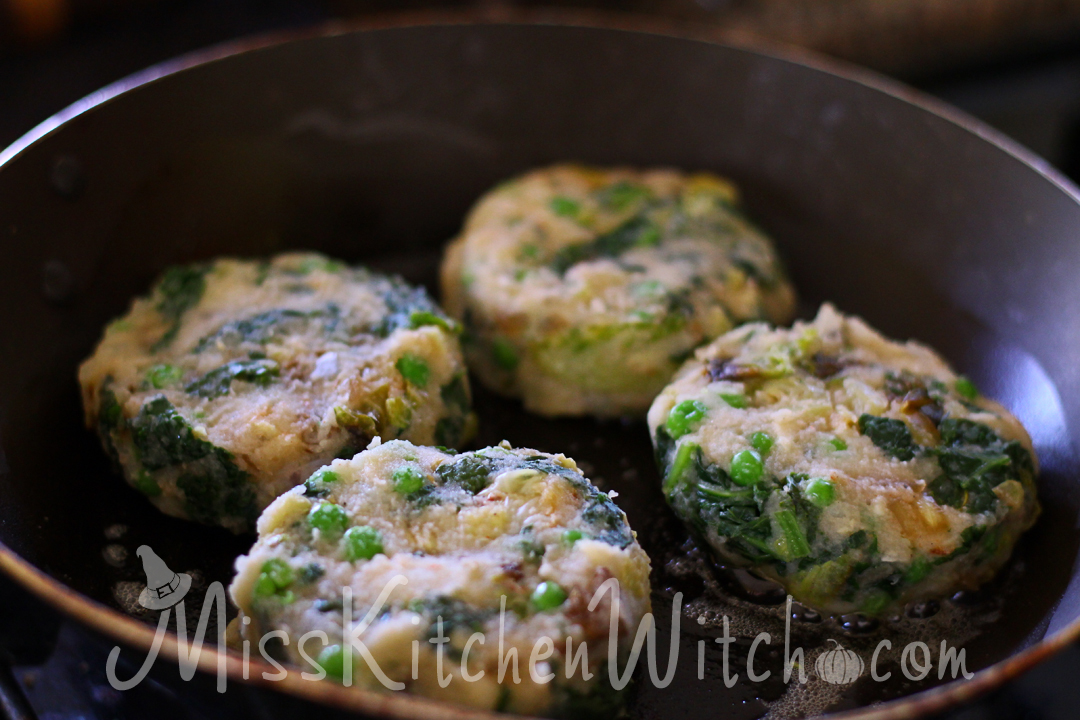 Mix together all the veggies and remaining seasonings, stirring completely. Form into small burger-sized patties. Turn the heat up slightly and add the patties. Fry for 5-8 mins turning over in the oil two or three times ensuring the potato and vegetables are thoroughly heated and browned on the outside edges. Add more oil and repeat with more patties.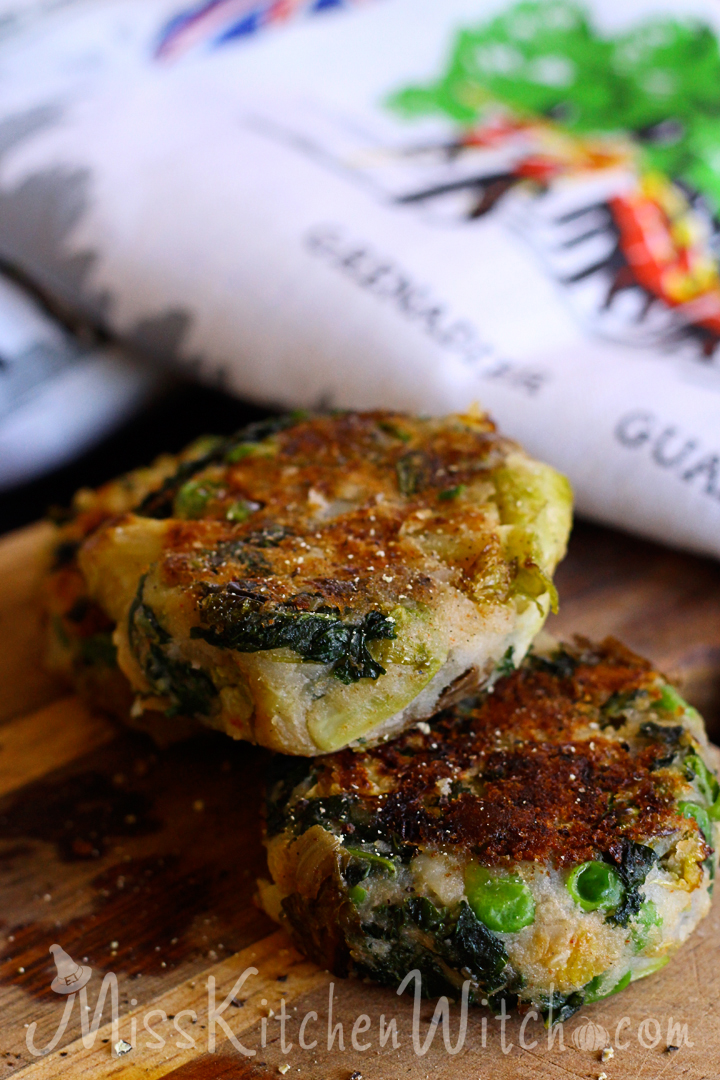 It's often served with a fried chicken's egg, so we made some mini tofu fried eggs and enjoyed them with ketchup.