These make a delicious, light summer dessert. Great on their own or with some vegan whipped cream or ice cream! I would describe it as a cross between coffee cake, pie, and creamy blondies.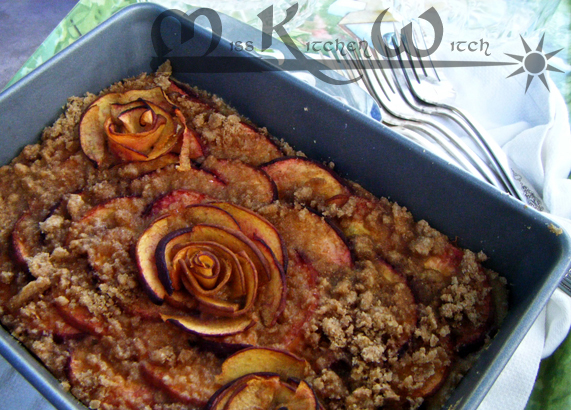 Peachy-Keen Bars
Ingredients  1/3 cup vegetable oil or vegan butter 1/3 cup raw sugar 1 cup whole wheat flour 1/4 tsp ground ginger 1 pack of silken tofu 1/3 cup agave 1 tsp arrowroot or cornstarch 3 peaches sliced 1 tsp vanilla 2 tbsp brandy
In a food processor first process the oil, sugar, ginger and flour until crumbly. Press half off flour mixture into a 9×9 tray. Bake at 350F for 10 minutes.
Next process the tofu with the remaining ingredients, except for the peaches and brandy. After the bottom crust is cooled, pour the tofu over baked crust. Arrange sliced peaches on top of that layer and sprinkle remaining flour mix over peaches.On top of that arrange some roses out of thinly sliced peaches.
Finally, sprinkle alcohol over everything and bake for 20 more minutes at 350F.