These were the second part to the cupcakes we took to that no-so-friendly relative's Mexican-themed party. These have a REAL kick, with a deep smokey touch from the chipotle.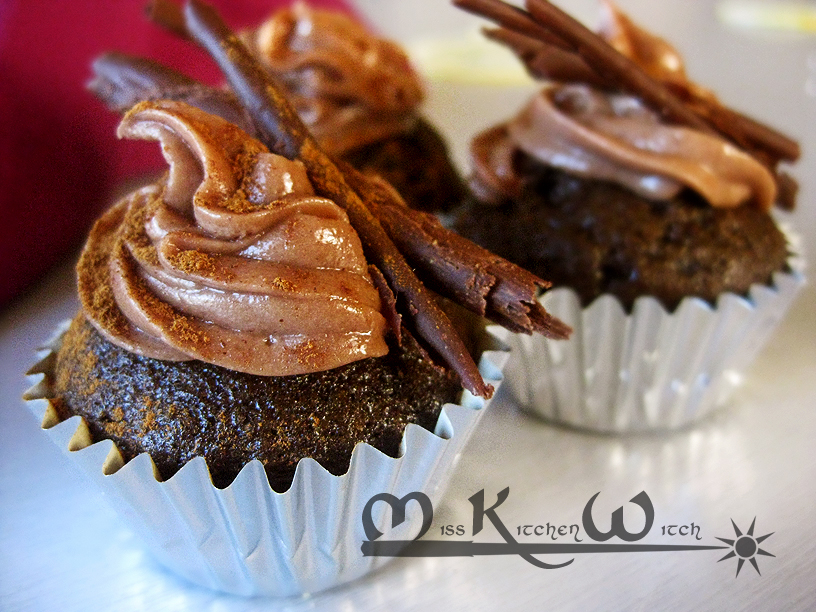 Mexican HOT Chocolate Cupcakettes (yields 2-3 batches of mini cupcakes)
Cake 1 tbsp lemon juice 1 cup almond milk 1 1/2 cups cake flour 1 cup sucanat 1/2 cup cocoa powder 1 tsp baking soda 1 tsp cinnamon 1 tsp cayenne pepper 1 tbsp chili powder 1 tsp vanilla extract 1/4 cup vegetable oil 1 chipotle in adobo sauce, diced   Mex Hot Chocolate Frosting  1 1/2 cups powdered sugar 3 tbsp cocoa powder 1/4 cup vegan butter 1 tsp vanilla extract 1 tsp cayenne 1/2 tsp cinnamon 2-3 tbsp almond milk
 Add the lemon juice to the almond milk and stir, set aside. Sift together all the dry ingredients, make a well in the middle of the bowl to add the wet ingredients. Add the vanilla, oil, and chipotle and about 1-2 tbsp of adobo sauce to the almond milk. Pour into the dry ingredients and mix until just combined. Pour into mini or regular cupcake cups and bake for 12-15 minutes at 350°F, or until a knife inserted into the center comes out clean. Once baked through, remove from tray and allow to cool on a baking rack before frosting.
While baking, whip together the powdered sugar, cocoa and vegan butter. Add the vanilla and spices. Add the nondairy milk a little at a time to get the right consistency. It should be soft and smooth enough to pipe, but not wet or runny. If it is too wet, just add a little extra sugar and cocoa to absorb the moisture. If too dry, add another tsp or so of almond milk. Transfer to a pastry bag and pipe on the frosting in the design you like best. I topped them off with a chocolate cigarette and a dusting of cinnamon.