Day 9 of the Vegan Month of Food (sorry, I took Day 8 off)
There is no shortage of Peanut Butter Cookie Recipes on the internet, vegan or otherwise. Also, I'm sure these cookies aren't the first of of their kind, but they are downright delicious. I'm sharing this recipe because it's easy, fool-proof, and everybody loves them. Switch out the jelly to whatever flavor you have on hand. My favorites are peach (here) and raspberry. A good cookie jar filler, lunch box treat, and munchie snack—they are the cookie version of your childhood favorite!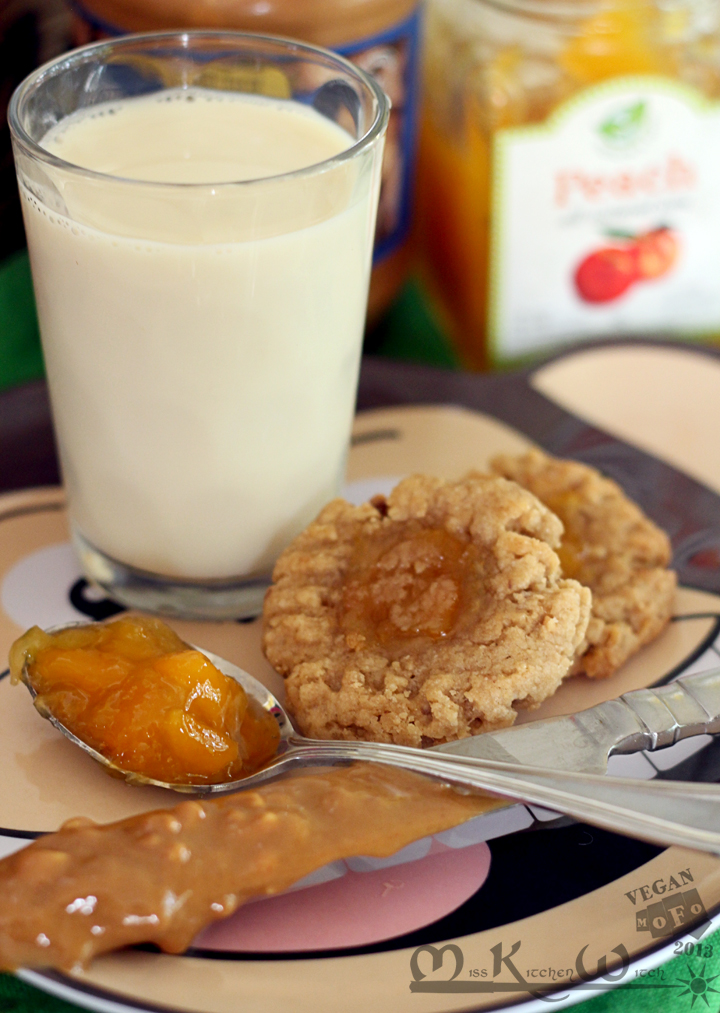 Vegan Peanut Butter & Jelly Cookies (makes 30 cookies)
Ingredients  1 cup peanut butter (CRUNCHY!! or not)  1 cup sugar  1/4 cup apple sauce  1 1/2 tsp ener-g egg replacer or cornstarch, whisked with 2 tbsp water 1 tsp vanilla extract  1 1/2 cups flour (wheat or all-purpose gluten-free)  1/2 tsp salt  1/2 tsp baking soda  Jelly of your choosing
Preheat your oven to 350°F. In a large bowl, cream together the peanut butter, sugar, applesauce, prepared ener-g, and vanilla. In a separate bowl, mix the dry ingredients: the flour, salt, and soda. Add the flour mix to the wet ingredients, 1/3 at a time. If still a little dry, add a tablespoon of water.
Scoop the dough with a soup spoon and roll into balls, that is a little smaller than a ping pong ball. Place on an ungreased baking sheet, lined with parchment paper if preferred. Flatten with a cross cross using a fork. Press your thumb into the flattened cookie to make an indentation. Fill that little bowl with a teaspoon of jelly or a little less.
Bake for 10 minutes, until they just start to turn a wee bit golden around the edges. Move to a rack to cool and enjoy~