Concluding our Marshmallowy, Dandies Vodka experiments (for now), I knew you you'd all be expecting a cocktail based on a S'more. Many recipes will have you looking for a vegan substitute for Godiva Liqueur or chugging down heavy soy creamer. I felt that a straight up, clean martini style s'more was the only way to go.
You have the sweetened marshmallow vodka, an unsweetened chocolate vodka, and a splash of scotch whiskey in place of bitters for that heady smoke finish. Garnished with all the elements of the perfect s'more, you really can't go wrong. Be warned that this isn't as sweet as it sounds. If you're using store bought marshmallow vodka, you might want to add a teaspoon of simple syrup if you're usually weary of martinis.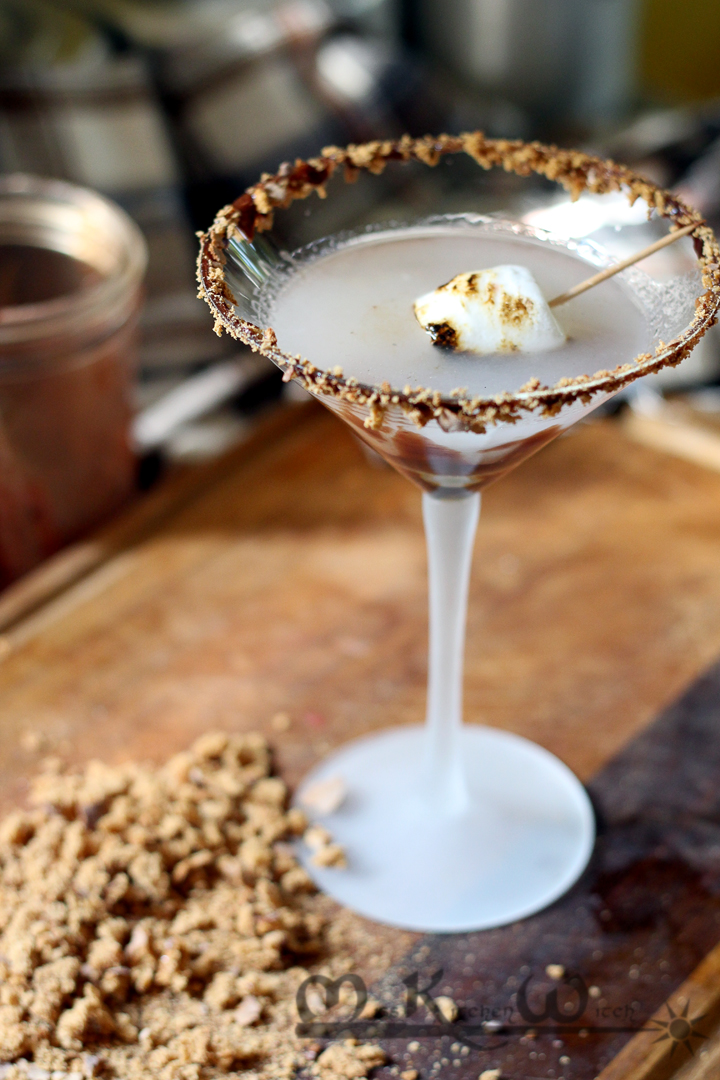 Toasty, Smokey Vegan S'more Martini (fills 1 Large martini glass or 2 smaller glasses)
Ingredients 2 shots
Marshmallow Vodka
1 shot Chocolate flavored Vodka (not chocolate liqueur) a splash Single Malt Scotch Whiskey (smokier the better)
Chocolate Syrup
1 Graham cracker or plain flavored cookie, crushed 2
Dandies Marshmallows
The best way to coat the rim of your cocktail glasses is with a spoon. Doesn't waste as much as pouring it onto a plate and so on. Take a large, shallow spoon full of chocolate syrup and rub the edge of the glass in the syrup, turning the glass as you go. Repeat with the second glass. Dip each rim in cookie crumbs. Pour about a tablespoon of chocolate syrup into the bottom of each glass.
With a long soaked skewer or wooden chopstick, toast the marshmallows over your stove or with a Crème brûlée torch. Skewer on to toothpicks.
In a cocktail shaker full of ice, combine the vodkas and whiskey. Shake to combine then strain into prepped glasses. Garnish with your toasted Marshmallows and enjoy responsibly.