To continue the Marshmallow Vodka Madness, I had to try spiking some homemade hot chocolate. There are a few ways of making really good hot chocolate from scratch. The easiest is to just melt down some chocolate chips, about 2 tbsp per cup of nondairy milk. Add a dash of vanilla to that. My usual way is to keep some of my Chocolate Syrup on hand, then just heat up a few cups of soymilk and stir it in.
Perfect next to a summer campfire while toasting marshmallows or sipped while curled up under some blankets on a cold winter's eve. The Marshmallow Vodka makes it so creamy, it reminds me of when we'd stir marshmallow fluff in to our hot chocolate as kids. It's so smooth, you barely notice the kick.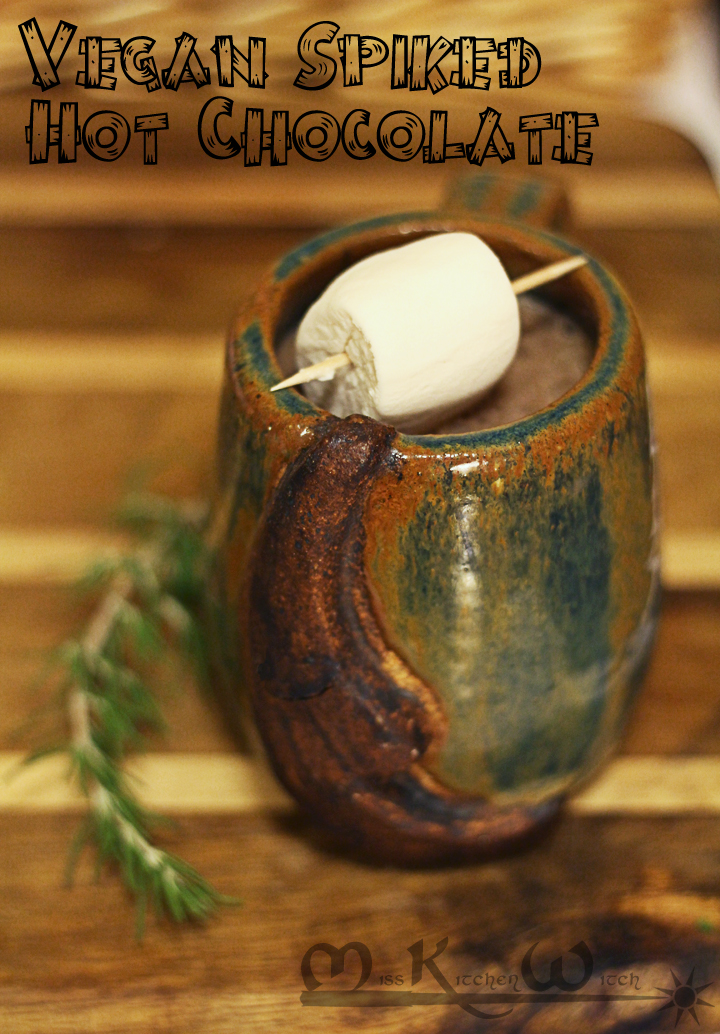 Vegan Spiked Hot Chocolate with Marshmallow Vodka (serves 2)
Ingredients  2 cups soymilk (or soy cream or other nondairy milk of your preference)  2 tsbp cocoa powder  2 tbsp raw sugar  1 tsp vanilla extract  dash of salt  2 shots Marshmallow Vodka
In a small sauce pan, whisk together the sugar, cocoa, and salt. Place over low-medium heat and stir in the soymilk. Once it is heated completely and everything has dissolved, remove from heat and add the vodka and vanilla.  Serve immediately, garnished with more marshmallows, chocolate shavings, or a dust of cocoa powder.