This recipe encompasses so many flavor elements, it's hard to nail down each one before the next hits you. Rich, sweet, savory, tart, and chocolatey. As delicious as it is, be warned—don't over do it. One scoop is more than enough with the level of olive oil in this recipe. However, it's so decadent, it's easy to savor every spoonful.
The darker the better when picking an olive oil for this recipe. Something less processed with bring out the fruity tones of the olive, mimicking the fruit of the balsamic vinegar. The chocolate brings down the tartness with a little earthy warmth. This is the perfect finish to a mediterranean dinner party, topped with a sprinkle of chunky sea salt.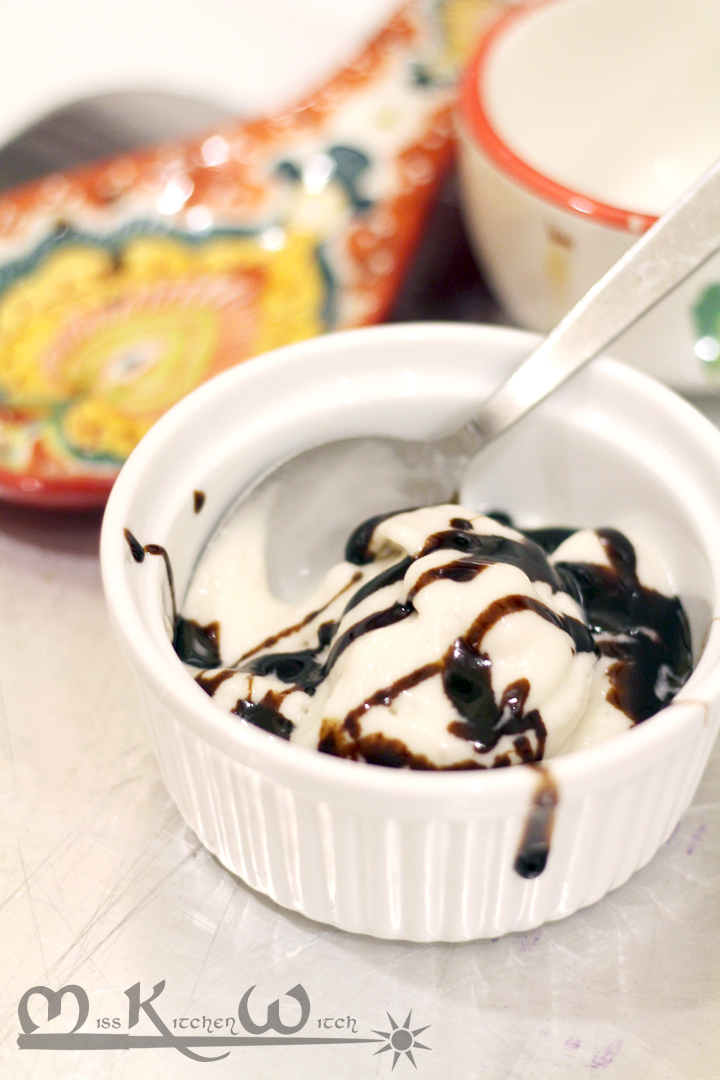 Vegan Olive Oil Ice Cream
1 can coconut milk 1 1/2 cup soy milk or almond milk 3 tbsp cornstarch 1/2  cup soaked cashews  2/3 cup sugar 1/2 cup extra virgin olive oil, the darker the better
Balsamic Chocolate Reduction
1 cup balsamic vinegar 2 tbsp sugar 2 tbsp cocoa powder   
For the ice cream, mix cornstarch with 1/2 cup of the soy milk and whisk. Set aside.
Blend remaining soy milk, coconut milk, and drained  cashews on high until completely smooth. Transfer nut mixture to a saucepan and bring to a boil. When boil is reached, add cornstarch-milk mix and turn down a little. Cook over low heat for 2-3 minutes or until thickened.
Transfer mixture back to blender. Add sugar and blend briefly on a low. While blending, slowly pour in the olive oil to emulsify. Blend for another 30 seconds. Let it cool thoroughly in the fridge, about 1 hour, before transferring to chilled ice cream machine.Process per manufacturer's instructions.
For the sauce, place the balsamic vinegar in a saucepan and bring to a boil. Simmer over low heat without stirring, until it is reduced to 1/2 cup (could take up to 20 mins). Remove from the heat and immediately stir in the sugar and chocolate. Stir until everything is combined.
When ice cream is finished: scoop, drizzle with the reduction, and sprinkle with a pinch of chunky sea salt.