Peaches are no stranger to the odd taco. You can find peach and mango salsa pretty much anywhere these days. The sugar helps cut the spiciness, or enhances it. Sweet roasted corn has the same effect. In this recipe the peaches are grilled first, to soften and caramelize the edges with balsamic vinegar. Dice them up before adding them to your taco or add them whole.
The other fillings consist of sweet roasted corn, onions, kale, red and yellow peppers, and ginger tempeh. The ginger plays really well with the peaches and doesn't overwhelm or distract from the dish. Top it all off with a vegan sour cream or chili sauce.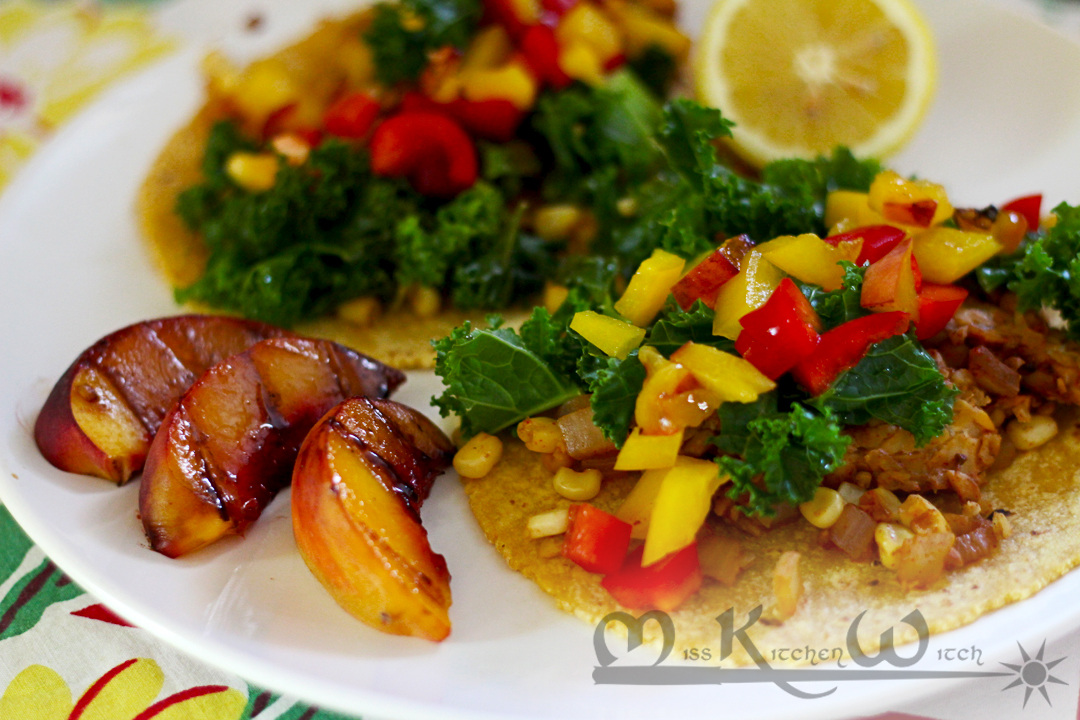 Grilled Peach & Ginger Tempeh Tacos (yields enough filling for 6-8 tacos)
Ingredients  1 block of tempeh, cubed  1 small onion 1/2 cup sweet corn, (roasted opt)  2 tbsp soy sauce 1 tbsp mild chili powder  1 tsp dried ginger  1/4 tsp cayenne (opt) 4 cups kale 1 small red bell pepper, diced 1 small yellow bell pepper, diced  2 peaches, sliced  2 tbsp balsamic vinegar  juice from half a lemon 
In a large frying pan, cook the onion for 2 minutes over medium heat in a few tablespoons of water. Add the tempeh and seasonings and cover. Stir occasionally, adding a little water if needed. Once the onion starts to cook down add the corn and scrape the tempeh to the side. Place the kale in the frying pan with the tempeh, adding a few tablespoons more of water and cover. Turn down to low and allow the kale to steam from the residual heat.
Meanwhile in a separate pan or grill, cook the peaches. Drizzle with the vinegar and lemon. Add a little bit of oil if necessary. Cook on each side for 3 minutes, just until the surface of the peach starts to caramelize with the vinegar. You don't want the peach becoming complete mush. Remove and cut up (if desired). Serve in warmed tortillas with the bell pepper raw.