I generally try to dig up a little bit of history on dishes and treats with each post, sending you away with a nugget of information planted deep in your grey matter. Unfortunately, I cannot find where Honey Roasted Peanuts originated pre the 1980s patent. I imagine them being roasted on bustling Boston victorian street corners or old timey carnivals in South Carolina. Alas, I cannot confirm such thoughts.
What I can tell you is that peanuts aren't really nuts. They are little legumes from the bean family originating from Peru. I might as well credit good ol' George Washington Carver with Honey Roasted Peanuts since it was he that popularized the cultivation of peanuts for human consumption. All nuttiness aside, these are roasted with primarily agave syrup instead of bee regurgitation. The agave is cut with quince jelly, which has the aroma and crystalizing texture of bee honey. I suggest Happy Girl Kitchen jelly or you can also use the amazing Bee Free Honee, which tastes spot on. You can also use other nuts if you're a peanut hater, but you have to share them with me. Sorry, those are the rules and I totally made them up.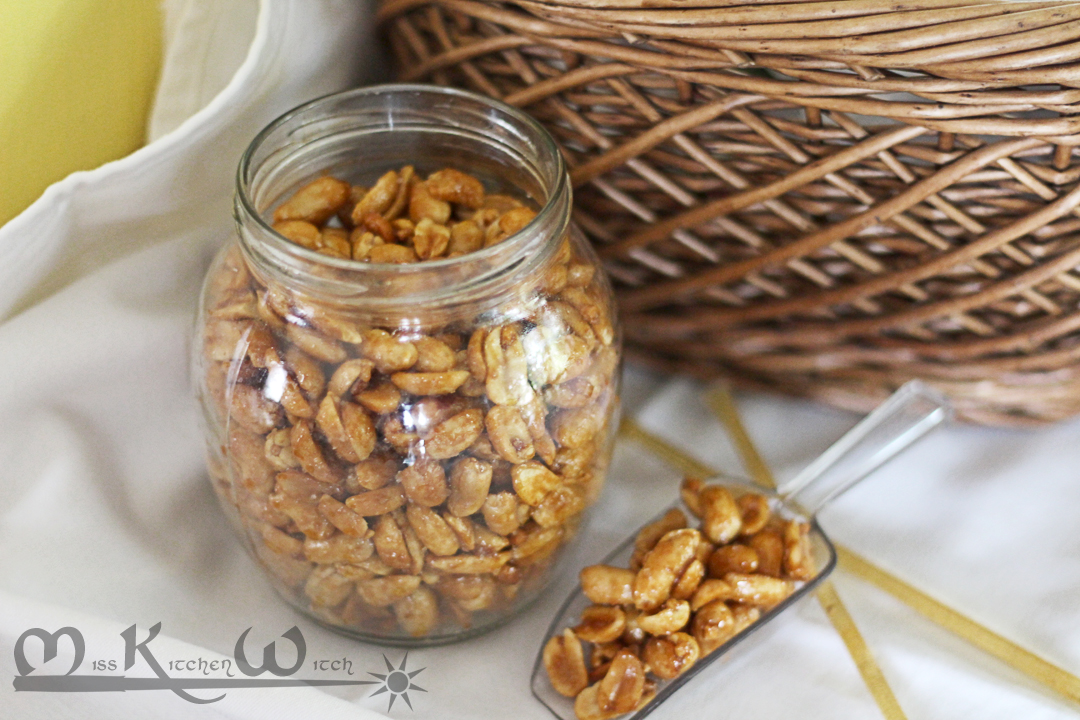 Vegan Honey Roasted Peanuts 
Ingredients  1 lb blanched peanuts  1/4 cup agave syrup (increase to 1/3 if omitting quince jelly) 2 tbsp quince jelly  2 tbsp vegan butter or oil 1 tsp sea salt  1 tsp vanilla extract 1/2 tsp cinnamon (opt) 2 tbsp turbinado sugar 
Preheat oven to 325°F. Line a baking sheet with greased foil. In a small sauce-pan, melt the syrup, jelly, oil, salt, and cinnamon (if using). Cooking for 5 minutes. Remove from heat and add vanilla. Pour over the peanuts in a medium bowl, stirring and coating them completely.
Pour out on to the baking sheet and spread evenly. Bake for 25-30 minutes, stirring every 5 minutes or so. They burn very easily and stirring breaks up the clumps. Once golden-brown, remove from the oven. Cool for 5 minutes, then sprinkle with the turbinado sugar and extra salt if needed. Continue to stir every few minutes as they cool down to break them apart, it might be easier to do this by hand. Store in an airtight container for up to a month.