This was created in almost an accidental series of events. Meaning, there was a bunch of stuff in the fridge, we needed to go shopping, and this is what resulted. Honestly, Monkey Man wanted potato salad. I said "Hey, look! We've got sweet potatoes too. What goes with sweet potatoes?" and the Southwest Potato Salad was born.
It's a hybrid of traditional American mayo-based potato salad and German vinegar-based potato salad, but with roasted veggies and vegan bac'n. Some great vegan bac'n options include Lightlife's Smokey Tempeh Strips, Tofurky's Maple Bacon Tempeh, and Wayfare's Pig Out Whole Grain Bacony Bits! I'll give you my recipe another day. Pst that means stay tuned!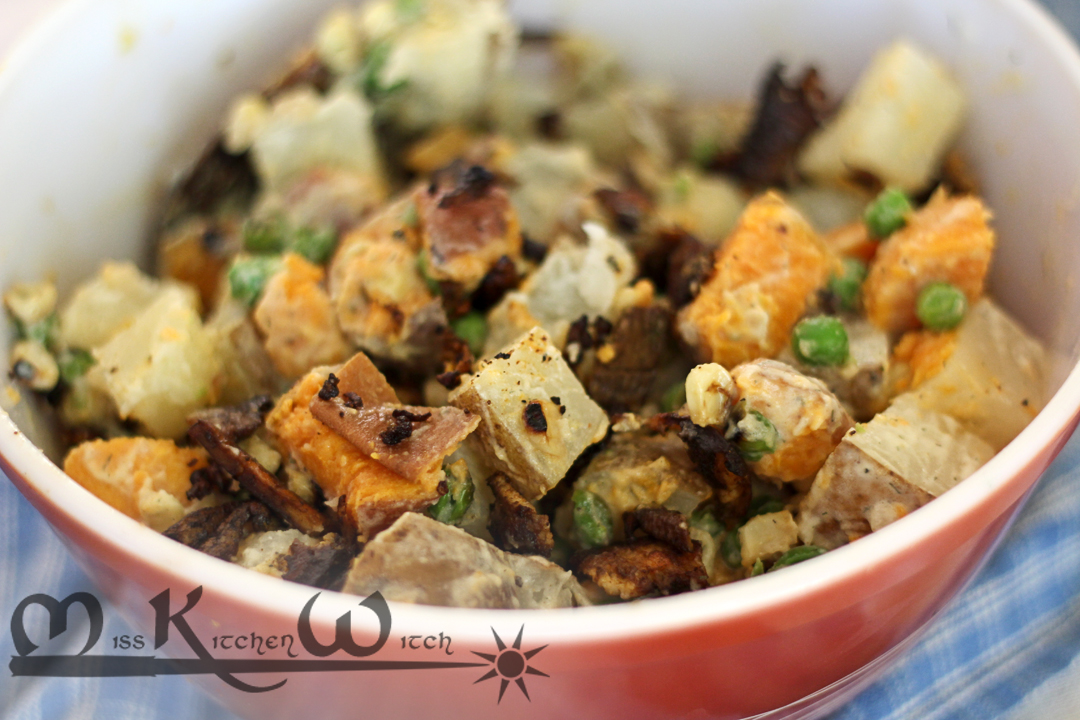 Southwest Potato Salad (Serves 4)
Ingredients  4 red potatoes, large cubes 3 small-medium sweet potatoes, large cubes  1/2 cup peas  1/2 cup sweet corn  1/4 cup veganaise  3 tbsp apple cider vinegar  1 tbsp mustard  2 tbsp soymilk  1 1/2 tsp dill  2 tsp garlic powder  2 tsp sea salt salt and black pepper to taste  Vegan bac'n for garnish, about a 1/4 cup 
Steam the potatoes until cooked, but still firm and hold together (about 10-15 minutes). If roasting, preset your oven to 450°F and roast the potatoes with 2 tbsp olive oil for about 20 minutes. If you decided to use frozen peas and corn, you can also roast those in a lightly greased pan, turning often so they don't burn. Allow to just barely start to turn gold before removing. Otherwise, grill 'em up in a frying pan over medium heat, a little bit of olive oil, and a dash of sea salt.
Whisk the veganaise, vinegar, mustard, soymilk, and seasonings together to make a sauce. Once potatoes, corn and peas are done cooking, allow to cool completely before combining. Toss gently and pour the sauce over the veggies, a little at a time. Just before serving, sprinkle some vegan bacon over the top. Serve warm or chilled.