The last batch of granola left us craving more. I know, I was poking fun at all the outlandish sweetened flavors of granola there are on the market. My intentions were simple enough, but then it got a little crazy. The heat and vanilla must have gone to my head because I don't remember much. It was all a blur of nutmeg, raw sugar, and whole grains. Next thing I knew, the monster had taken over.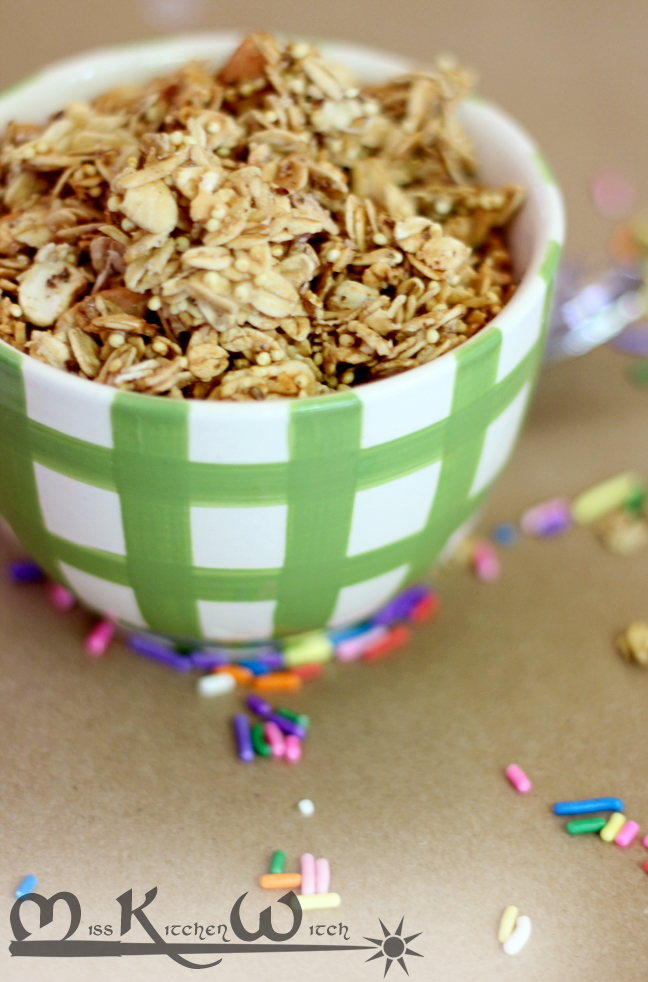 Vegan Vanilla Donut Granola (serves 8-10)
Ingredients  4 cups oats  1 cup millet or quinoa (uncooked)  1/2 cup cashew pieces or sliced almonds  2/3  cup raw sugar (1 cup for more clusters) 1/4 cup flax meal 3 tbsp coconut oil  3 tbsp soy protein powder (preferably vanilla) 2 tbsp apple brandy or apple sauce  2 tbsp water 2 tsp vanilla 1 tsp nutmeg  1/2 tsp salt
Preheat oven to 350° F. In a large bowl toss together the oats, millet/quinoa, and nuts. In a sauce pan over medium heat combine the sugar, oil, flax, apple sauce, water, nutmeg, and salt. Once it has started to liquidize, add the soy protein and vanilla extract and remove from heat.
Pour the sugar mix over the oat mixture, a little at a time, stirring to coat. Once all the dry ingredients are thoroughly coated, pour on to an ungreased baking sheet. Bake for 25 minutes, turning half way through. Allow to cool completely before storing in an airtight container. Add dried strawberries for a strawberry jelly donut flavor or sprinkles if you enjoy going overboard!