Being of the Nickelodeon Generation, my childhood was instilled with a deep foreboding for this small cabbage-like bud. I was 10 when I first ate them on a camping trip back east—sauteed lightly with a dab of butter and sprinkle of salt. Dismayed at the time I spent believing the evil television shows spread about this glorious leafy green, I've been trying to make up ever since.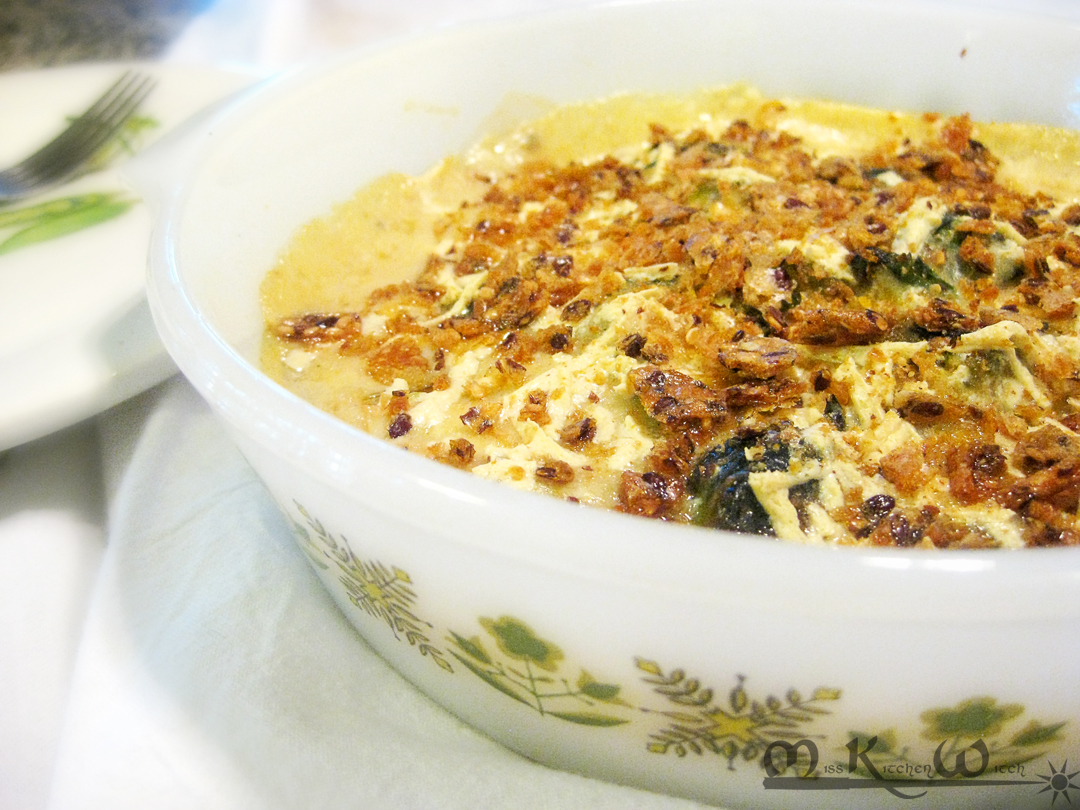 Brussels Au Gratin
(Serves 4) Ingredients 1-lb brussels sprouts, halved 3 tbsp vegan butter 2 tbsp all-purpose flour (or gluten-free flour) 1 cup unsweetened Soymilk 1 tsp garlic powder 1/2 vegetable bouillon cube salt and pepper to taste 6 tbsp vegan cheese 2-3 tbsp gluten-free bread crumbs or crushed crackers (here I used the black pepper crackers from Mary's Gone Crackers)
On a large baking sheet, coat the brussels sprouts with a tablespoon of olive oil and some salt and pepper. Roast the brussels sprouts for about 10 minutes at 400°, turning once until they just start to become tender. While the brussels are roasting, heat the vegan butter and flour in a small sauce pan over medium heat making a roux. Once the roux starts to cook, slowly whisk in the soymilk. Add the bouillon, salt, and pepper. Cook the sauce until it starts to thicken.
Remove sauce from heat and melt in half of the vegan cheese. In an oven-safe dish, fold the roasted sprouts into the sauce. Sprinkle the bread crumbs and remaining cheese and return to oven and bake for about 20 minutes or until it starts to turn gold and bubble.