This is the almond milk recipe that I used right when I first became vegan. I'd drink it everyday with a few ice cubes as a cool, refreshing snack or pour it over my muesli. Simple and versatile, I like to keep some on hand for soy-free baking and smoothies. The vanilla and sugar in this recipe are used to reduce the slightly metallic taste that sometimes occurs, which might not occur if using filtered or distilled water. The sugar and vanilla is not strong enough to make it taste like a flavored or sweetened almond milk. You can increase these ingredients if that is what you're going for.
This picture features my new Cuppow Lid, which turns a mason jar into a to-go cup. Or a sippy cup like Monkey Man likes to say. It makes me feel like such an awesome hipster.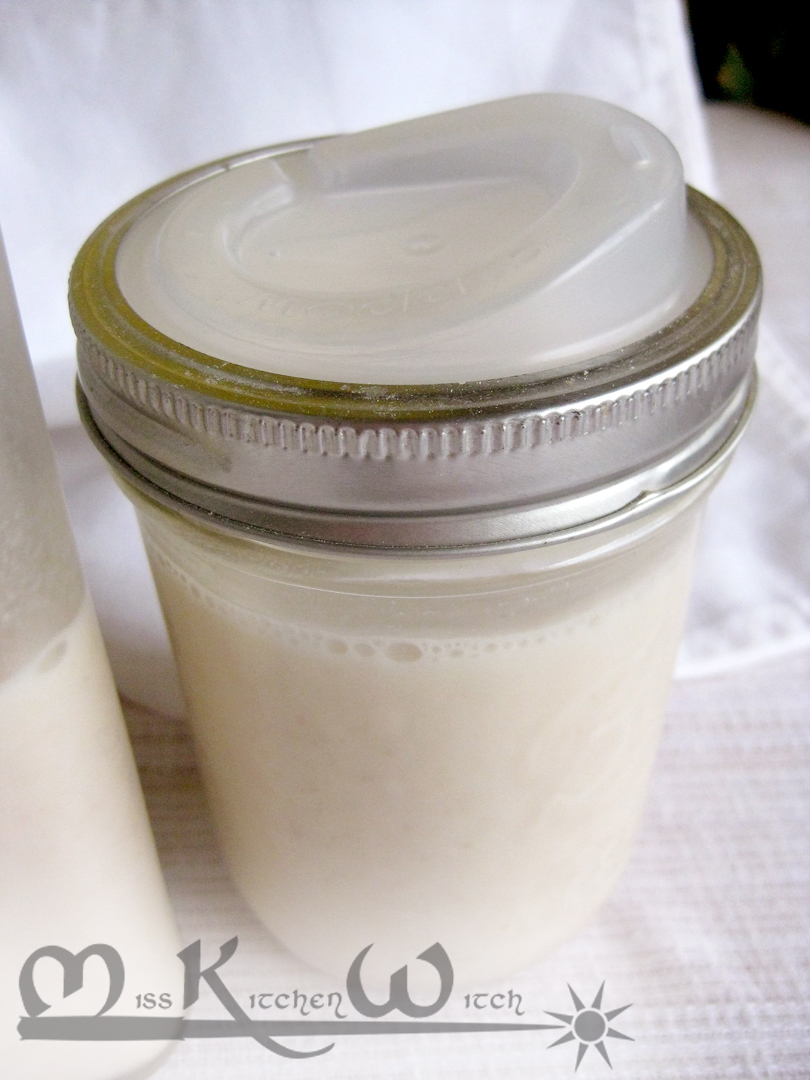 Classic Almond Milk
1 cup of raw almonds (soaked overnight and skinned if you don't have a highpower blender) 1 liter water 1 tsp vanilla  1 tbsp confectioners sugar
Blend almonds with about a pint or two of water, as the almonds become more finely ground add more until you reach around a liter. This does not have to be exact, as I usually eyeball it with my blender. Let the blender run for up to 5 minutes to get it as smooth as possible. Add the vanilla and sugar and blend for another 10 seconds.
After blending I may strain it through a reusable coffee filter, cheese cloth or fine strainer. This is optional, it just helps remove some of the skins if left in and yields a creamier milk. If unstrained there will be some almond meal at the bottom of the glass. Strained will not offer the same amount of protein and vitamins, but it still quite nice.