This month I was asked to do a little review of the Vegan Cuts Snack Box—a box full of surprise vegan goodies, delivered to your door every month… Let's dive right in.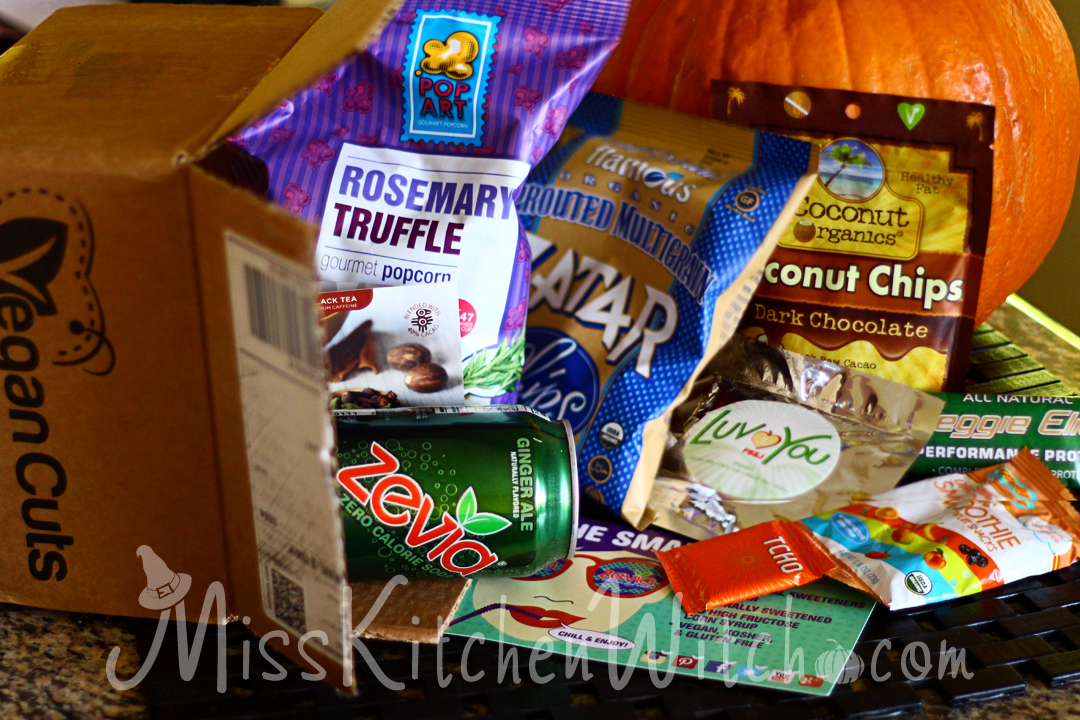 I was hoping for something a little more Halloween-y or fall-themed… but who can complain when you've got a box of super delicious snacks sitting in front of you? You've probably OD-ed on pumpkin spice lattes anyway.
First out of the box was some Pop Art Rosemary Truffle Popcorn. Tasty, but heavy handed on the rosemary. We picked up this flavor and the Thai Coconut Curry flavor (which I prefer) from Cost Plus World Market a few months ago. We ended up mixing the rosemary with the herbed popcorn from Trader Joes because it was almost bitter on it's own. Great in small quantities though, we just tend to inhale popcorn.
I'm saving the Zatar Chips for Disneyland, the only place we really pog on chips. We pack them with hummus or salsa for a little D-Land picnic on Tom Sawyer's island. So I can't say if these are good yet, but they sound scrummy!
Also in there was some Veggie Elite chocolate flavored protein powder. Since I don't really use or need extra protein powder, I'll have to leave that one for the boyfriend. He will sometimes make a big smoothie and add vegan protein powder to his half. I'm thinking this might be nice in our peanut butter-berry-banana-soymilk smoothie.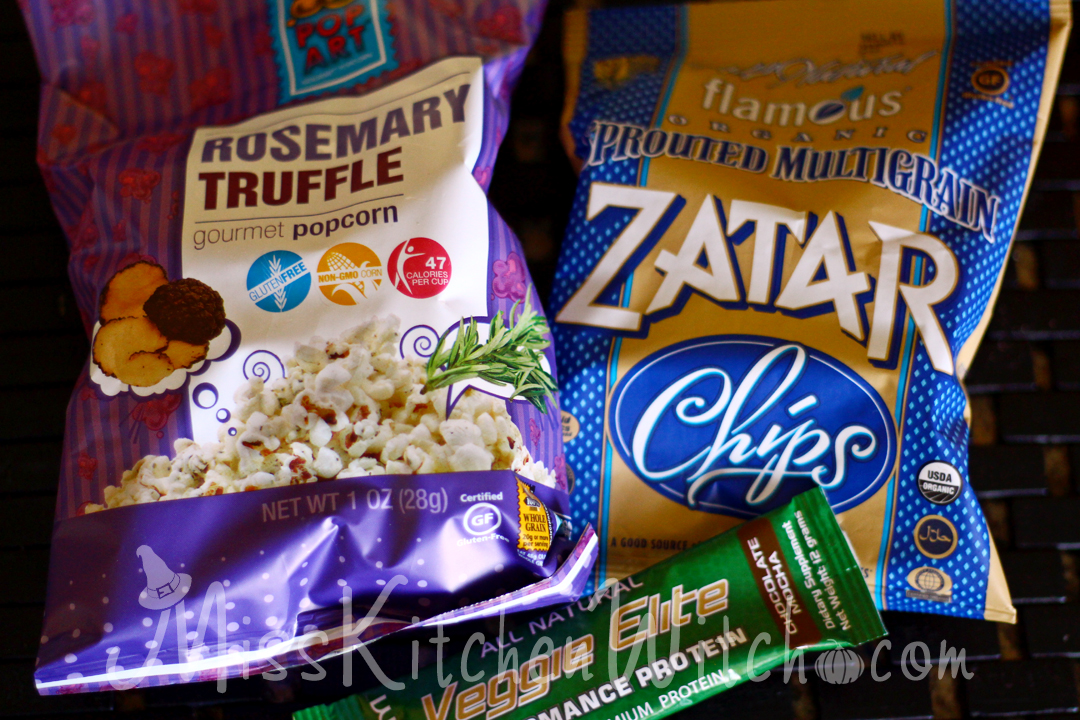 Next out was a Zevia Ginger Ale, definitely an old favorite.  More Moscow Mules for me! Check out my recipes for Zevia cocktails!
The Coconut Organic Chips will probably be eaten by my boyfriend since I can't do dried coconut. Otherwise, I think they'd look smashing on top some cupcakes—hey, where's the next potluck at?
Luv You PB&J bar is just what it sounds like: peanuts and raisins. It's like a crunchier and less sweet, patty-shaped lara bar, but way more filling.
TCHO dark chocolate sample (organic and fair trade) was pretty good. As described on their insert, it did taste very fruity, but almost bittersweet. I think I've had this before, but can't remember where… Probably Expo West. I'd pair this chocolate up with a nice Pinot Nior, just so you know.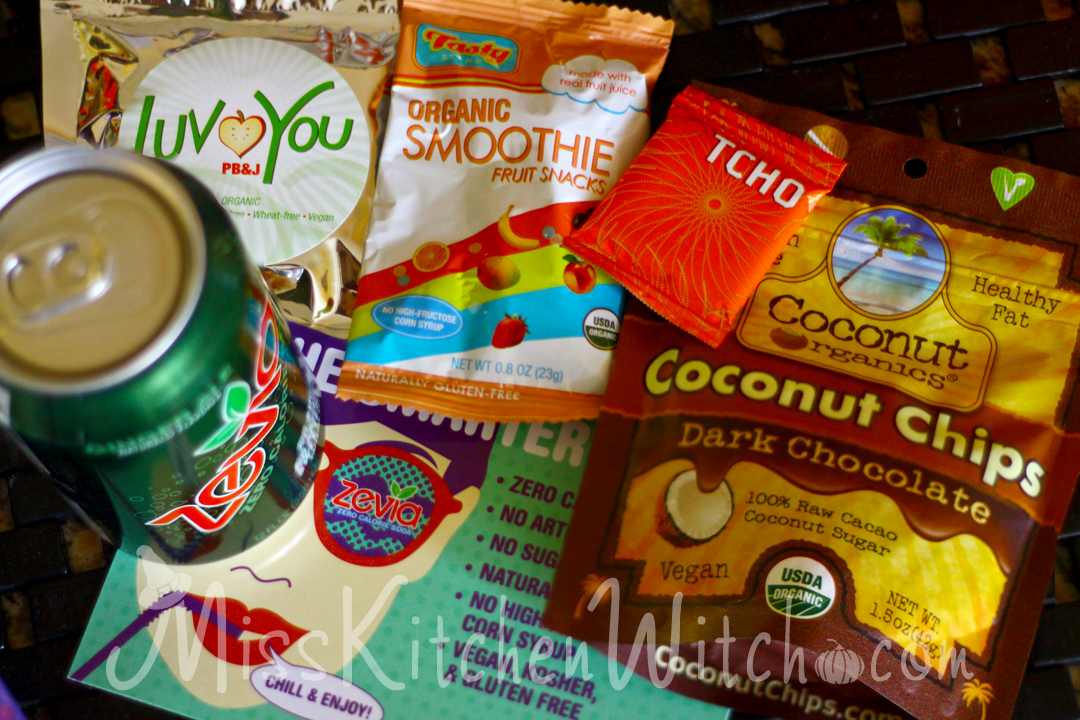 I was totally blown away by Tasty Brand's fruit snacks though, I've never had such smooth, squishy gummies! Most veg gummies are too firm and clearly made with cornstarch, almost like turkish delight. Tapioca is the way of the future—from cheeses to gummies. I might cave and order a whole case of these little sweets! I'm kind of a gummie fiend and these were AMAZING.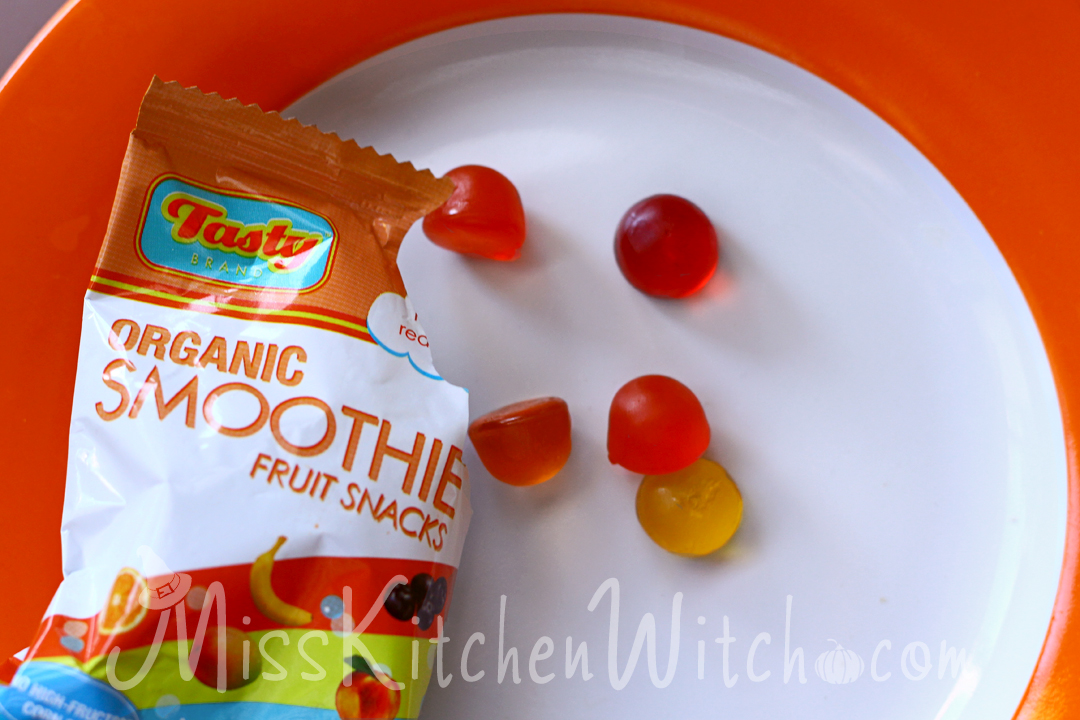 There was also some Numi chocolate tea in the box, but it got mixed up with some other Numi tea I already had. So, I don't know which chocolate flavor it was, the spiced chocolate or the chocolate rooibos. Either way, if you like chocolate and herbal tea, you'll love this yummy brew!
Don't miss out, trot on down and try out Vegan Cuts Snack Box today—and check out all the other great goodies they offer. I stocked up on Chocolatey No Nos recently, but now I'm eyeing the holiday chocolate pack!