Rock Cakes are a British treat made popular during World War II as a recipe that went along with rationing. They are a cross between a cookie, scone, and fruit cake—usually containing little or no egg, less sugar, and dried sweet fruit. They are mentioned a few times in the Harry Potter books, made by both Molly Weasley and Rubeus Hagrid. Hagid, all good intentions aside, is rubbish at baking. He was likely trying to do what all rubbish bakers do: substitute with crazy ingredients and then try to wing it. Or he could possibly left them in the oven a good hour too long.
This recipe, not too much like a real rock cake, is more in the vein of a crinkle cookie. Crunchy on the outside—rich, dark, and moist on the inside. The toasted carob gives it an almost fruity taste and would have made it safe for Fang (Hagrid's Dog) to eat. Plus, the extra carob and sugar on the outside gives them a grainy appearance, making them look even more like little rocks. We first hear of Hagrid's infamous rock cakes in The Sorcerer's Stone when Harry takes Ron out to visit Hagrid.
Harry Potter and the Philosopher's (Sorcerer's) Stone: Ch 8, p 140.
"This is Ron," Harry told Hagrid, who was pouring boiling water into a large teapot and putting rock cakes onto a plate.
"Another Weasley, eh?" said Hagrid, glancing at Ron's freckles. "I spent half me life chasin' yer twin brothers away from the forest."
The rock cakes were shapeless lumps with raisins that almost broke their teeth, but Harry and Ron pretended to be enjoying them as they told Hagrid all about their first lessons. Fang rested his head on Harry's knee and drooled all over his robes.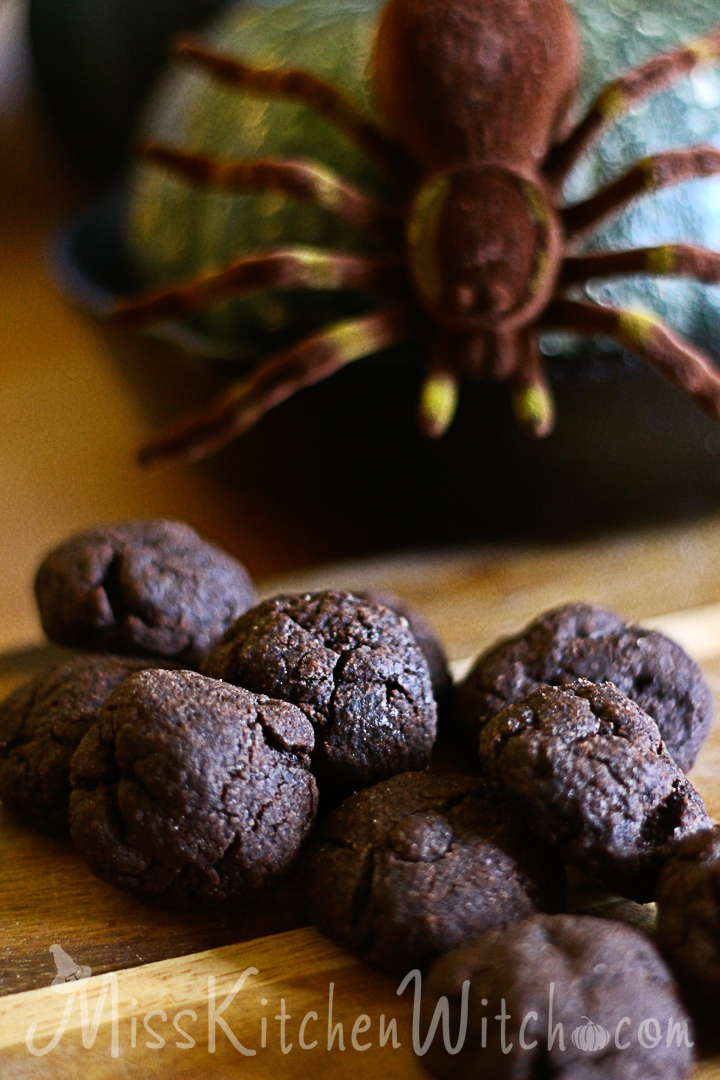 Hagrid's Carob Crinkle Rock Cakes (makes 24-30)
Ingredients
1/2 cup toasted carob (or unsweetened cocoa powder)
1/3 cup vegetable oil (I used rice bran)
1/4 cup soymilk (or other nondairy milk)
1 tbsp flax meal
1 tsp vanilla extract
1 cup all-purpose wheat or gluten-free flour
3/4 cup sugar
1 tsp baking powder
1/2 teaspoon salt
1/2 cup dried cherries, chopped (opt)
1/4 cup powdered sugar
1 extra tbsp carob
Preheat oven to 350°. Mix oil and carob in a small bowl until smooth and incorporated. Whisk together the flax meal, soymilk, and vanilla and set aside. In a large bowl stir together the flour, sugar, baking powder, and salt.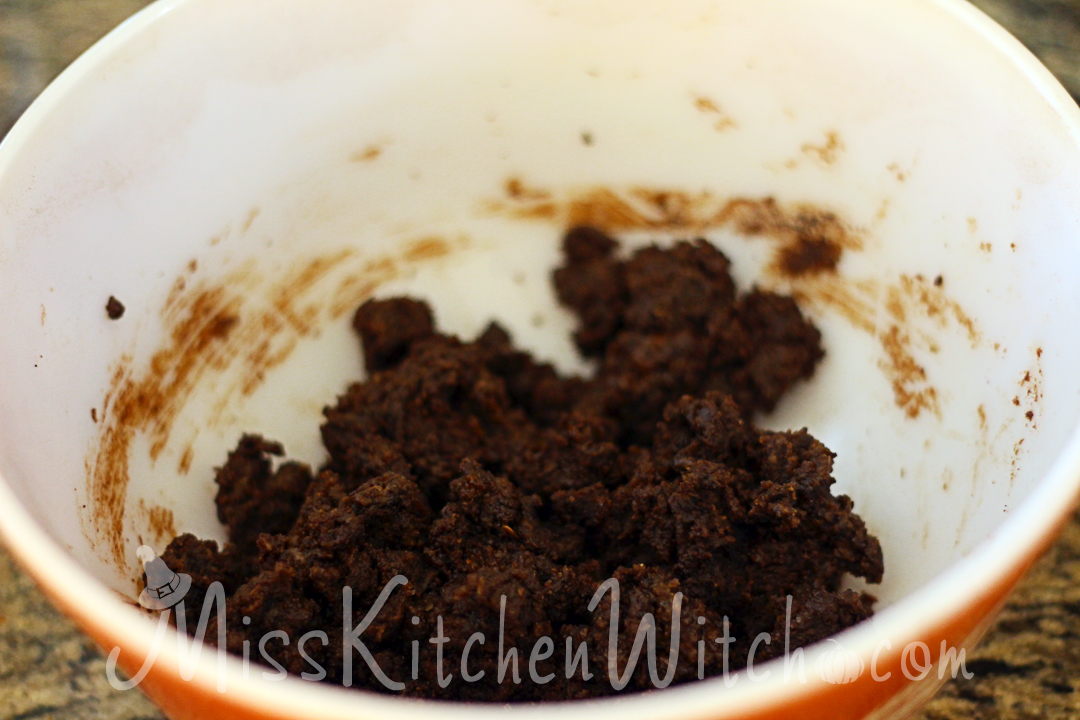 Gradually add flax mixture to carob mixture, whisking until well blended. Pour over the flour mix and stir until just combined. Add chopped cherries if using. Cover and chill dough for 30 minutes or shape dough into 3/4″ balls then chill (hardens faster when already shaped).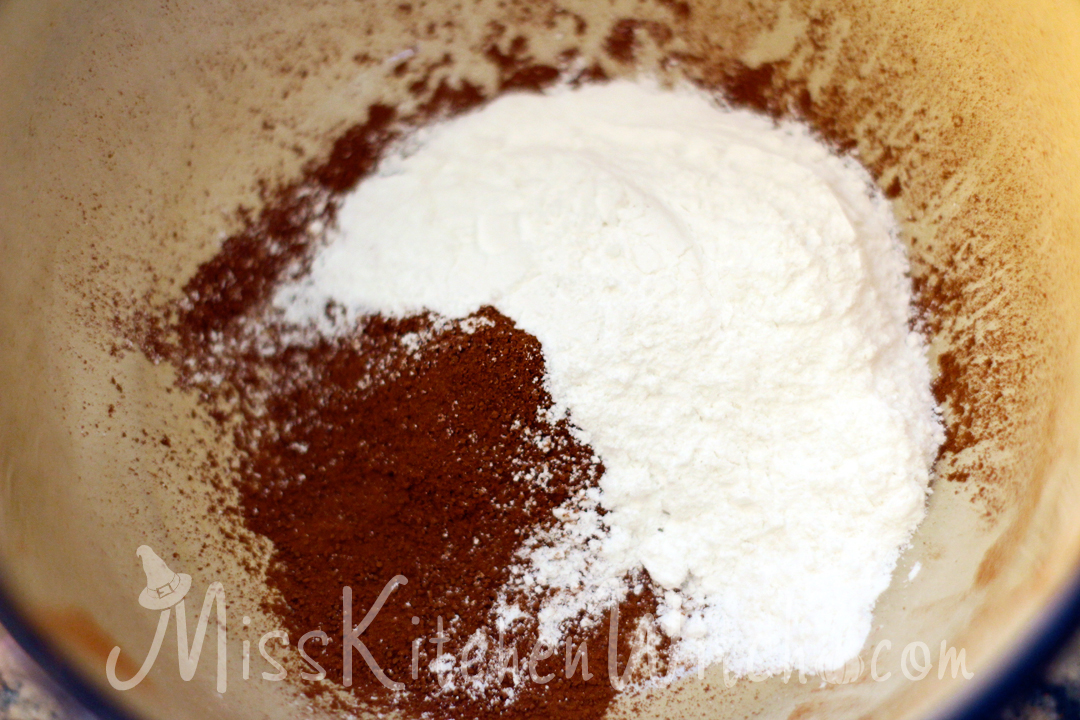 Place powdered sugar and extra carob in a bowl. Roll scooped dough in powdered sugar mix and arrange on parchment-lined baking sheets.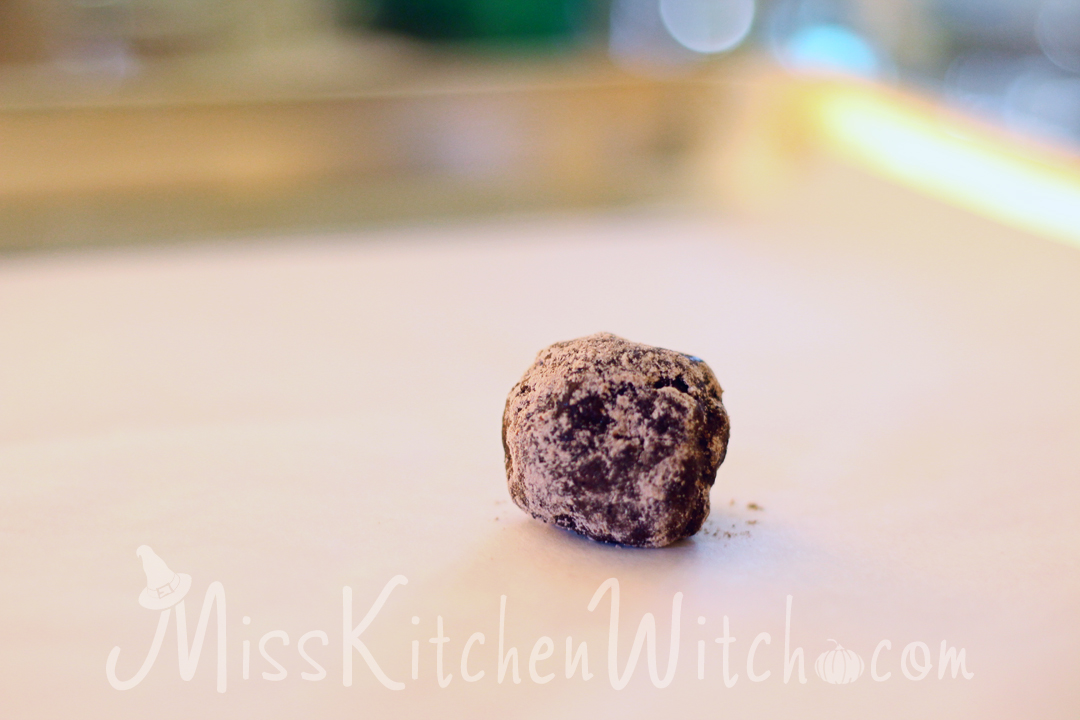 Bake for 8-10 minutes near the top of the oven, this is essential to making them crack. Cool cookies 1 minute on baking sheet; transfer to wire rack and cool completely if you don't plan on eating them straight out of the oven!