I don't believe there is anything more quintessentially Harry Potter than Pumpkin Pasties. It may surprise some of you that I have been making vegetarian cornish pasties for ages, long before I picked up The Sorcerer's Stone, you'll see a version of these savory pumpkin pasties on my fall catering menus. Pasties are basically a hand pie filled with meat and/or vegetables.
Pumpkin pasties pop up throughout the series and for some reason I always imagined them as being savory, though it is logical that they'd be sweet. Either way is delicious and I've included options for both.We read about pumpkin pasties very early on, right after Harry meets Ron Weasley and boards the Hogwarts Express. They are one of the treats on the Honeydukes Express sweet trolley that serves the Hogwarts Express.
Harry Potter and the Philosopher's (Sorcerer's US) Stone. Ch 6: p 101.
Around half past twelve there was a great clattering outside in the corridor and a smiling, dimpled woman slid back their door and said, "Anything off the trolley, dears?"
Harry, who hadn't had any breakfast, leapt to his feet, but Ron's ears went pink again and he muttered that he'd brought sandwiches. Harry went out into the corridor.
He had never had any money for candy with the Dursleys, and now that he had pockets rattling with gold and silver he was ready to buy as many Mars Bars as he could carry—but the woman didn't have Mars Bars. What she did have were Bertie Bott's Every Flavor Beans, Drooble's Best Blowing Gum, Chocolate Frogs, Pumpkin Pasties, Cauldron Cakes, Licorice Wands, and a number of other strange things Harry had never seen in his life. Not wanting to miss anything, he got some of everything and paid the woman eleven silver sickles and seven bronze Knuts.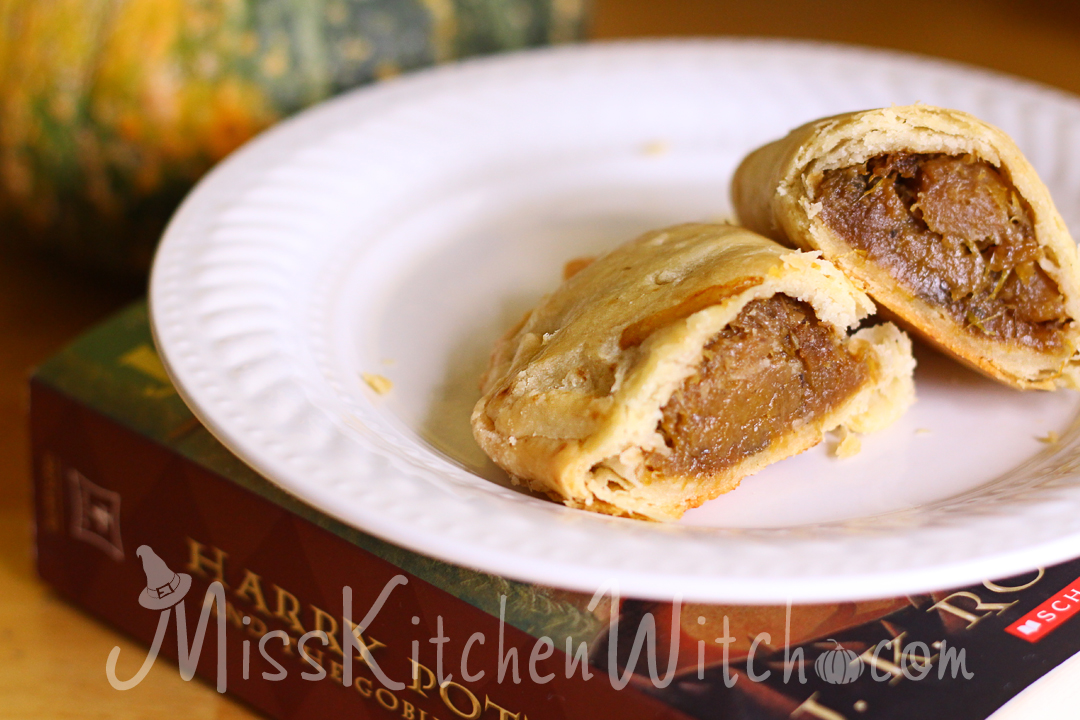 Hogwarts Express Pumpkin Pasties (makes about 8)
Savory Vegan Pumpkin Pasty Filling
Ingredients
2 cups cooked (unsweetened) pumpkin
4-6 cloves garlic, minced
1 tbsp braggs liquid aminos
1/2 tsp ground sage or 1 tsp rubbed sage
1 tsp fresh thyme or 1/2 tsp dried
salt and pepper to taste
olive oil for cooking
If the pumpkin is freshly cooked, chop into small cubes. Heat a few tablespoons of olive oil in a medium nonstick pan over low-med heat. Add the garlic and herbs to the oil and cook briefly, until fragrant. Add the pumpkin and cook until dark and heated through. Season with salt, pepper, and braggs. Add more herbs if needed. Filling may taste strong, but will mellow out with baking and seem more mild wrapped in pastry. Set aside.
Sweet Vegan Pumpkin Pasty Filling
Ingredients
2 cups cooked pumpkin
1/4 cup your preferred sweetener (sugar, agave, maple, etc)
2 tbsp soy or almond milk (more if your pumpkin is quite dry)
1 1/4 tsp cinnamon
1/2 tsp ginger
1/4 tsp nutmeg
1/4 tsp cloves
1/4 tsp salt
2 tsp corn or tapioca starch (double if using a liquid sweetener)
1 tsp vanilla extract
Mix the sugar and soymilk in a small sauce pan over low heat. Once the sugar starts to dissolve add everything but the starch. Cook until just heated. If your pumpkin is not pureed, let it cool briefly then blend or process it until smooth.
Add the cornstarch (or tapioca) and vanilla and taste to adjust the spices if you want them stronger. Set aside.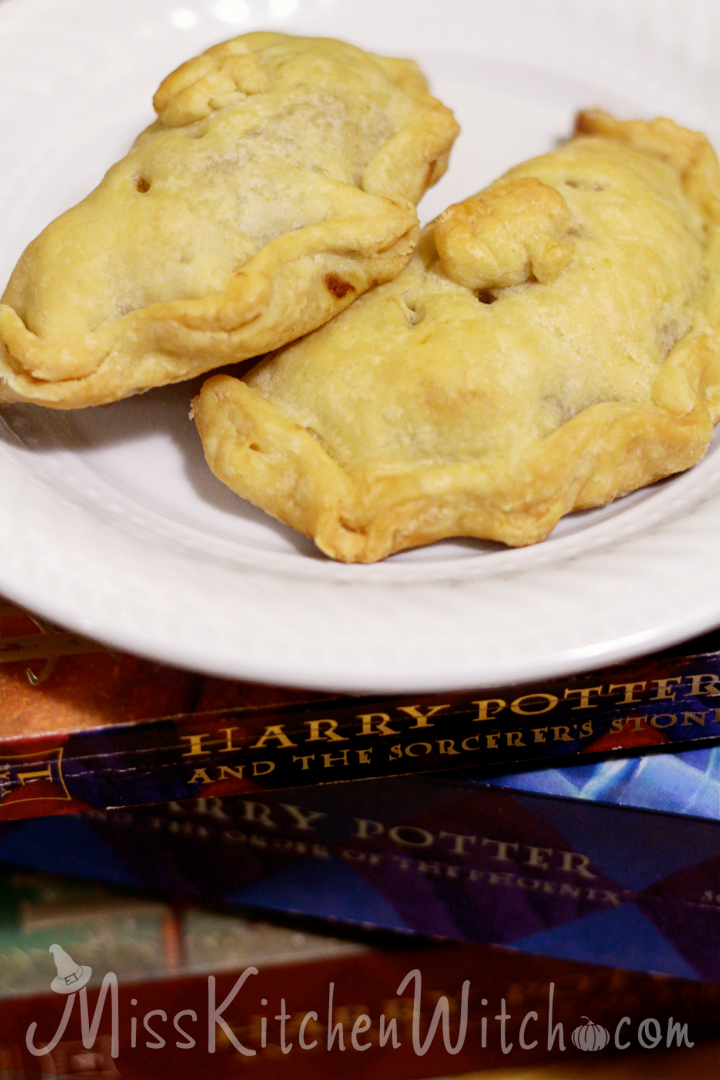 Making Hogwarts Express Pumpkin Pasties
You'll Need:
1 batch of your favorite dairy-free pie crust. I generally use Michael Ruhlman's ratio crust of 3:2:1 (flour:fat:ice water). In ounces, measure out three parts flour, add 2 parts vegan butter, then incorporate a little ice water at a time—up to that one part. 9oz flour:6oz earthbalance:less than 3 oz water makes about 8-10 pasty crusts.
Any nondairy milk for brushing onto the pasties
raw sugar (opt)
Preheat oven to 375°F. Roll out the dough in parts and cut with a extra-extra-large biscuit cutter or small bowl. I used about a six inch bowl, but anything between 4-6 inches is ideal. Drop a few tablespoons of filling on to one side of your circle and fold in half.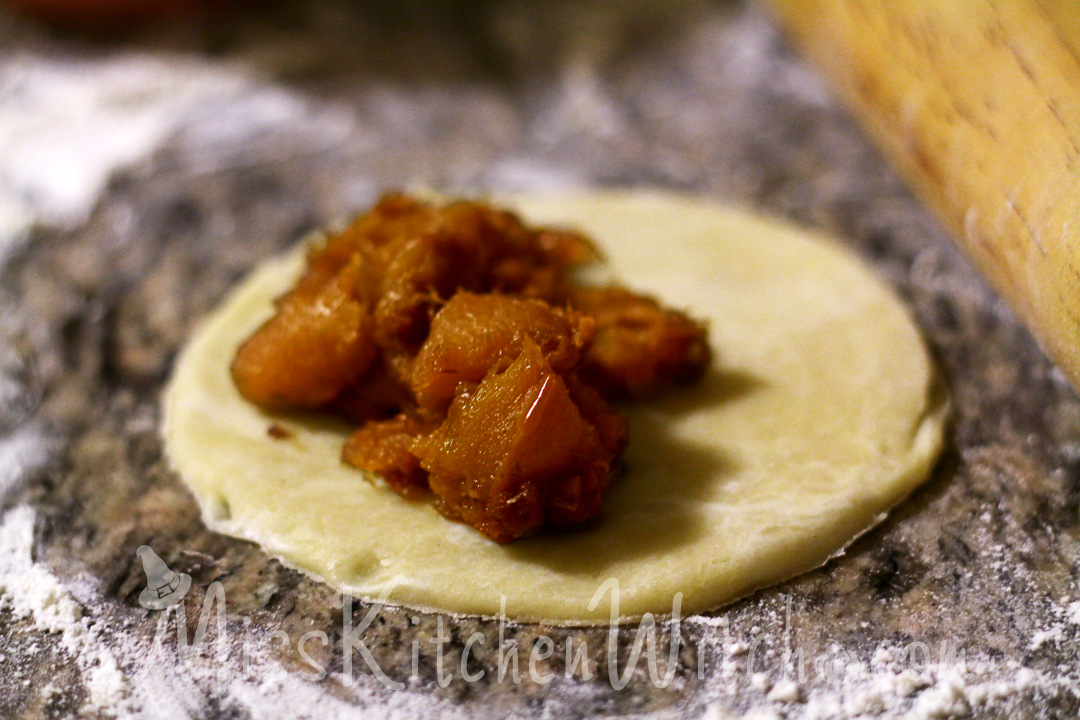 Pinch the edges together, dabbing the inner side with water if needed. Fold the edges over and in towards the filling. Crimp with a fork or pinch into whatever design you like.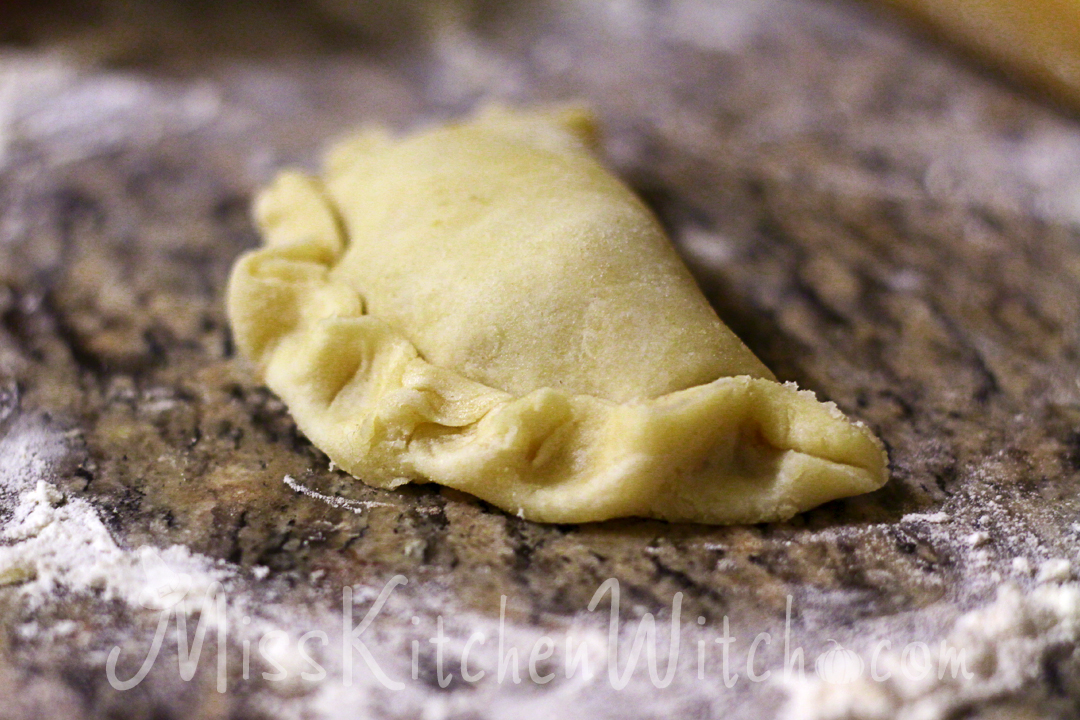 Brush with small amounts of the soymilk to create a nice golden crust. Sprinkle the sweet ones with raw sugar if you like—it also helps to tell them all apart. I add a tiny pastry pumpkin shape for decoration.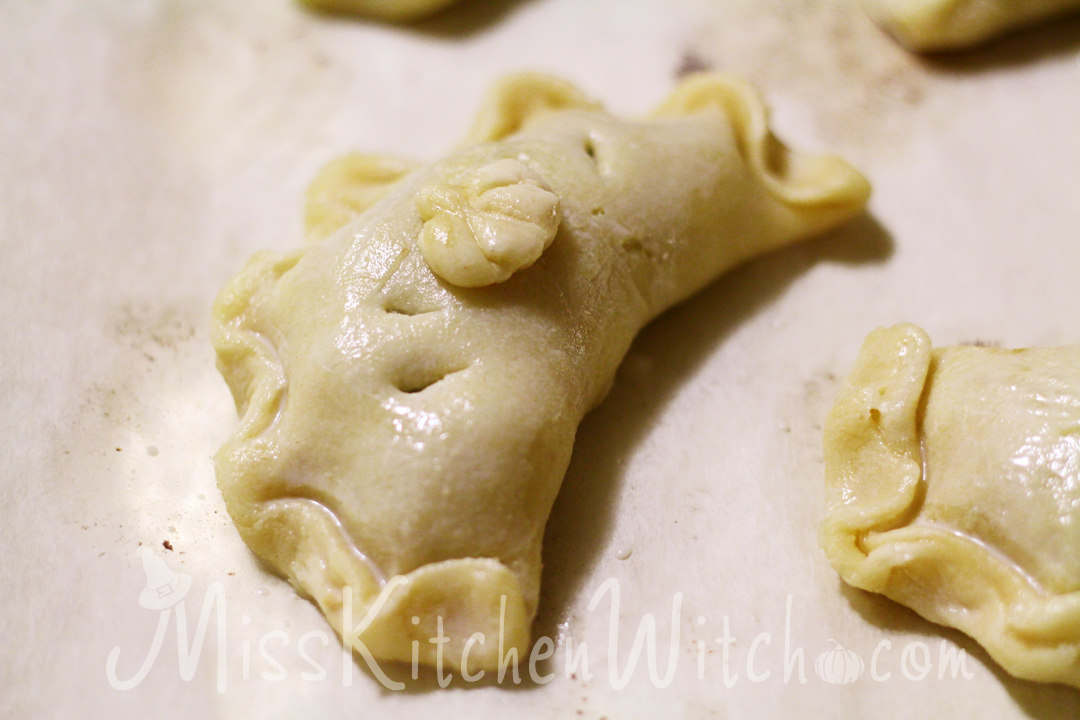 Arrange on a baking sheet, a few inches apart. Bake for about 15-20 minutes, or until golden brown.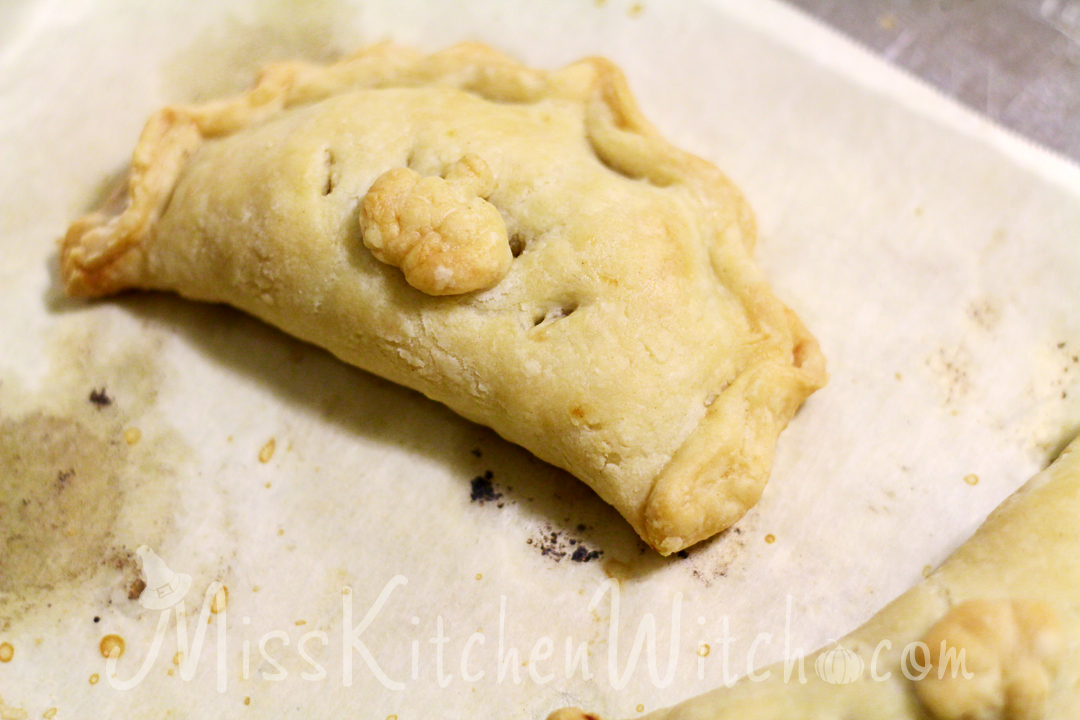 Remove from oven and allow to cool on the sheet for a few minutes before moving. Enjoy hot or save for later, as they are very easy to reheat.