I'm sure you all probably know that biscuits are basically cookies outside the US— Though they are usually crispier in texture, like shortbread or gingersnaps. I can assure you Professor McGonagall isn't offering Harry Potter a bready biscuit to go with his gravy, but a little cookie. I'm rather surprised American publishers didn't force Rowling to change that, but glad nonetheless. These cookies/biscuits have a little crunch on the outside and are nice and fluffy on the inside. I really hope they were baked from scratch by the Hogwarts House Elves and not transfigured from real newts by Professor McGonagall…
McGonagall practically forces Ginger Newt Biscuits on Harry a few times, the first being after Harry loses his temper in front of the awful Professor Umbridge. Harry is sent to Professor McGonagall, the head of Gryffindor House, who tries to impress upon Harry that Umbridge is essentially a spy for the Ministry of Magic.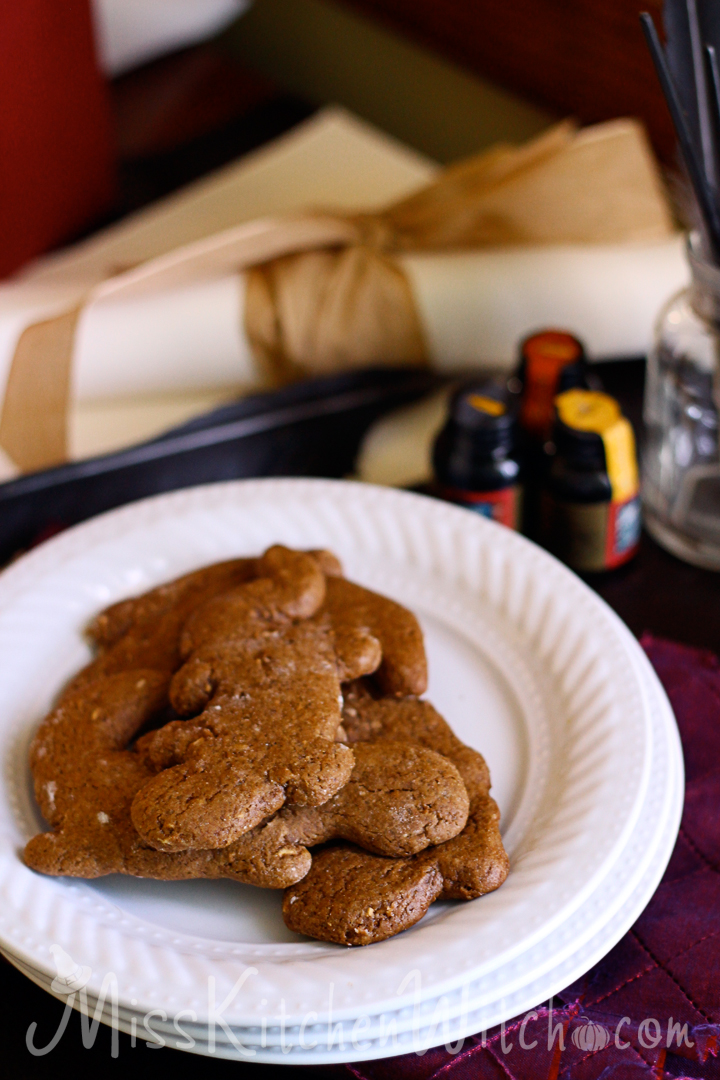 Harry Potter and the Order of the Phoenix. Ch 12, p 248.
Professor McGonagall sat down behind her desk, frowning at Harry. The she said, "Have a biscuit, Potter."
"Have—what?"
"Have a biscuit," she repeated impatiently, indicating a tartan tin of cookies lying on top of one of the piles of papers on her desk. "And sit down."
There had been a previous occasion when Harry, expecting to be caned by Professor McGonagall, had instead been appointed by her to the Gryffindor Quidditch team. He sank into a chair opposite her and helped himself to a Ginger Newt, feeling just as confused and wrongfooted as he had done on that occasion.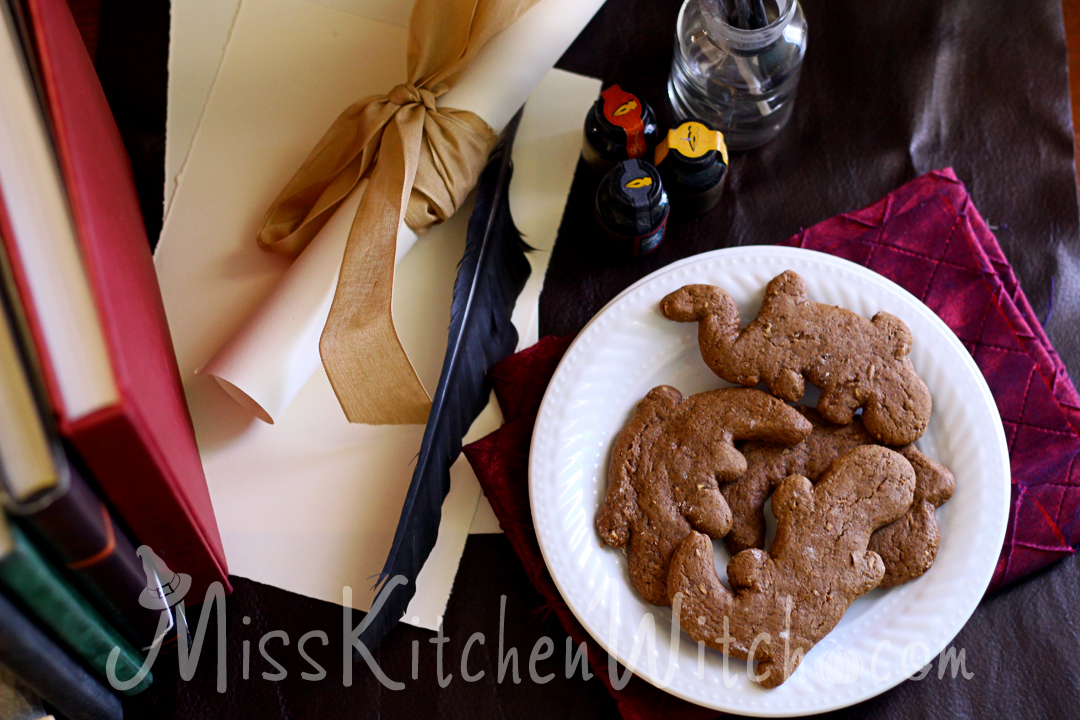 Professor McGonagall's Vegan Ginger Newt Biscuits (makes about 24 med-large newts)
Ingredients
2 cups plain flour
1 tsp baking soda
2 tsp ground cinnamon
1 tsp ground cloves
1/2 tsp ground nutmeg
1/2 tsp ground ginger
1/2 tsp salt
1 cup sugar
6 tbsp molasses or dark treacle
1/4 cup vegetable oil
2 tsp ener-g + 4 tbsp water
1 tbsp raw ginger, minced
In a large bowl, sift together the flour, spices, soda, and salt. Separately, beat the sugar, oil and molasses until oil is fully incorporated and mixture looks soft. Add the enger-g powder to the water and whisk until smooth, then add to the sugar mix.
Slowly add the dry ingredients to the bowl and stir until just combined, add a teaspoon of water if it appears too dry. Fold in the raw ginger.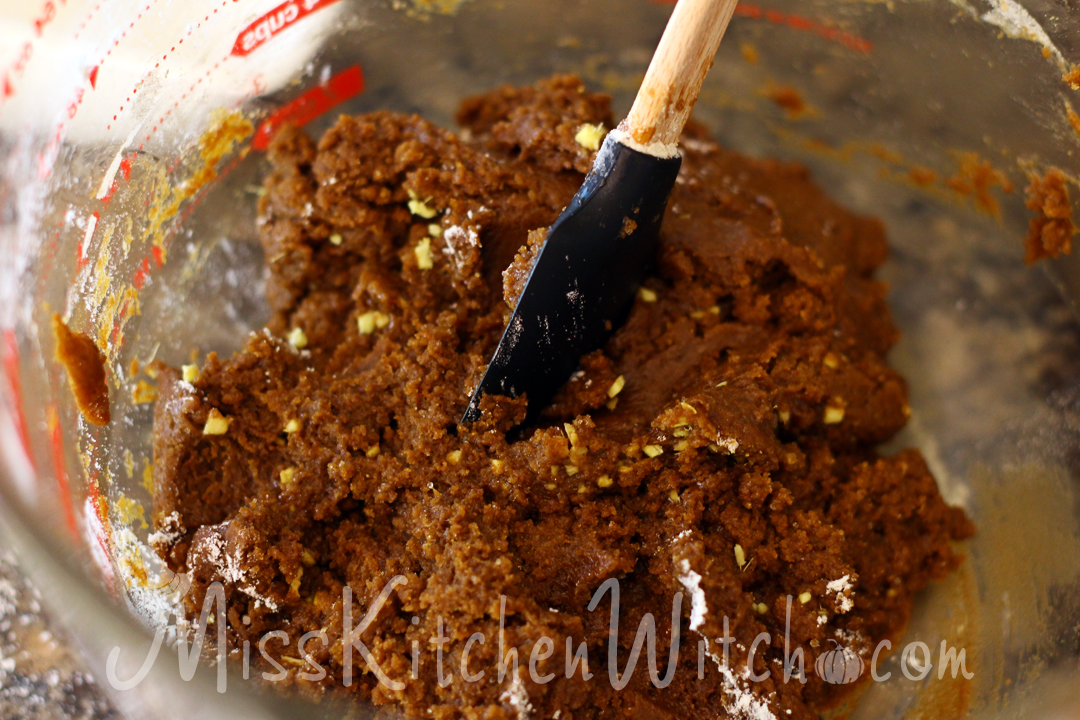 If you're lucky enough to have a newt or gecko shaped cookie cutter, roll out the dough on a floured counter top and proceed as you would making gingerbread or sugar cookies. I was not so lucky. I first tried to use a stencil to cut out the newts. It took FOREVER and didn't look so great.
Finally, I just started shaping them freehand. Start with a scoop of dough the size of a ping pong ball and form it into a fat snake with a little belly.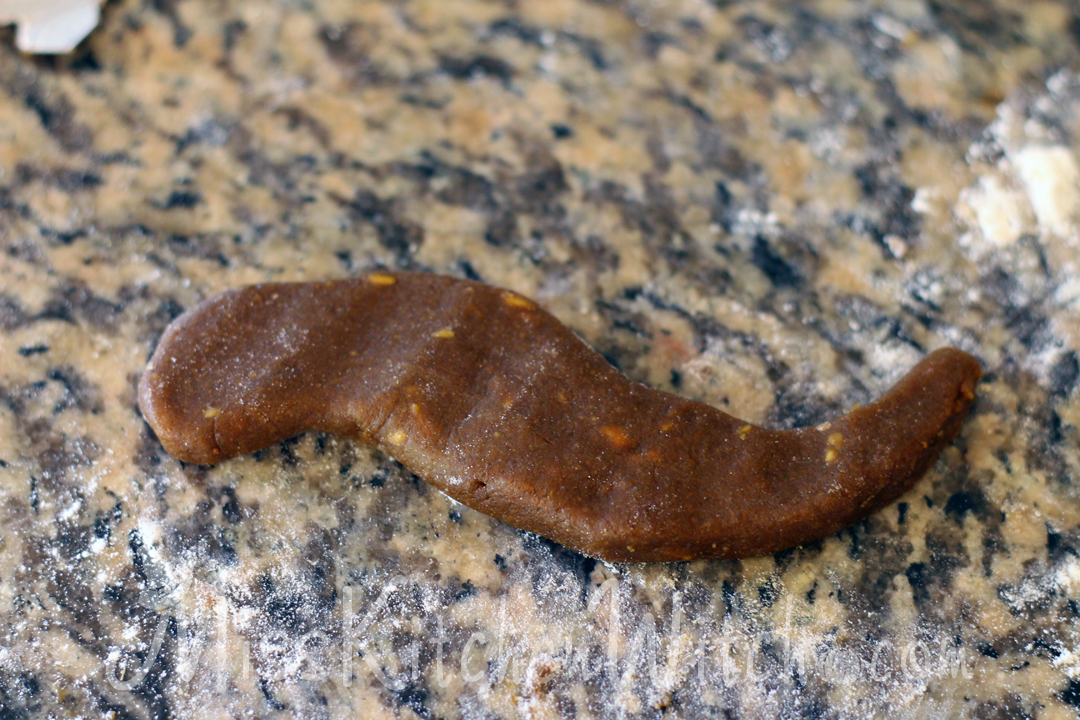 Then attach some little legs and smooth out the joints. Try not to use too much flour on your counter or the legs won't stick or use a little bit of water to moisten the dough where you're attaching the legs. Don't worry, they don't have to be too smooth as they do puff up a little in the oven.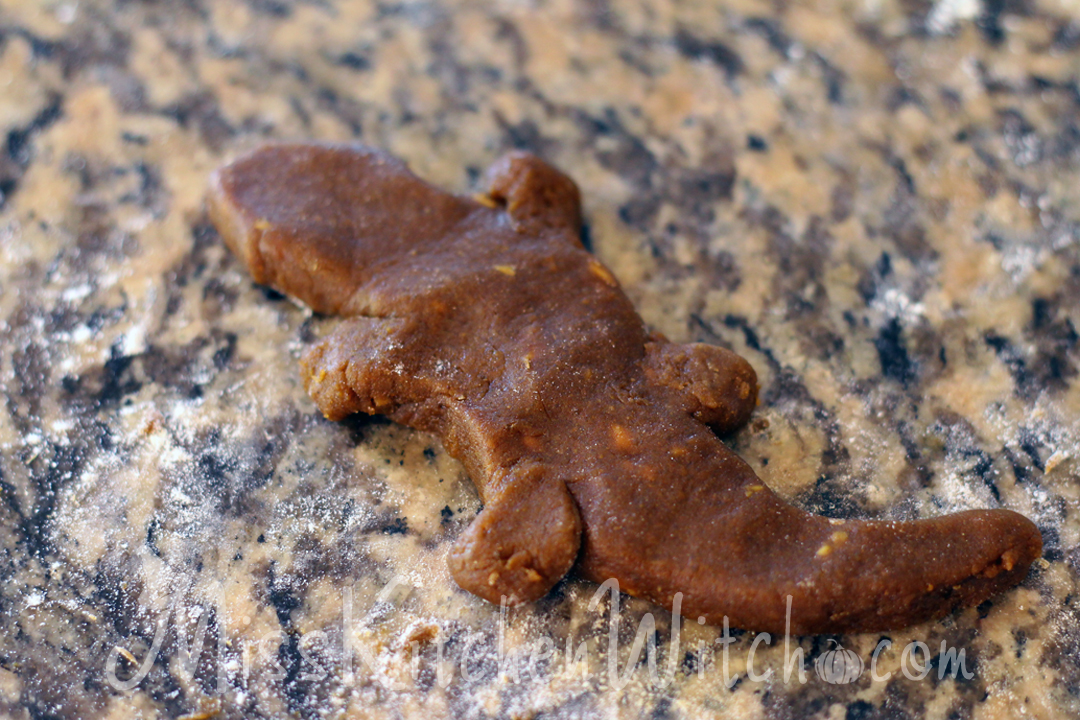 Place the trays of formed newts into the fridge to chill briefly and preheat the oven to 350°F.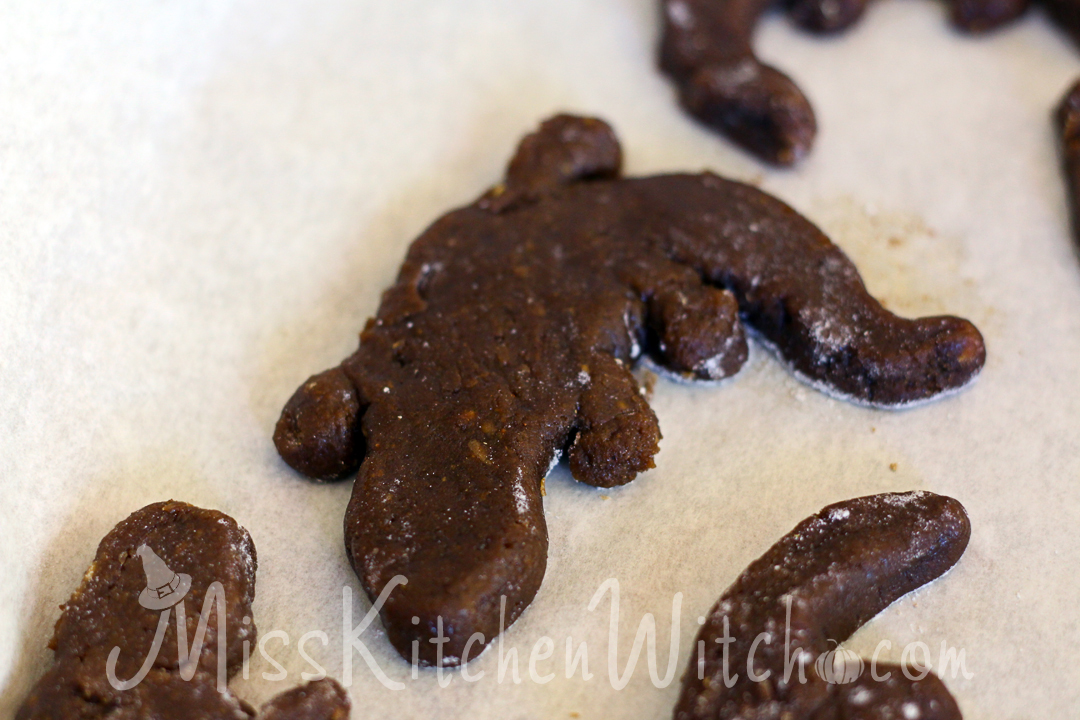 When the oven is hot, move them straight from the fridge to the oven and bake for 12 minutes. The tops should be crackled slightly, but you don't want the little feet to burn. Let the biscuits cool on the trays for 2 minutes, then transfer to a rack to cool completely.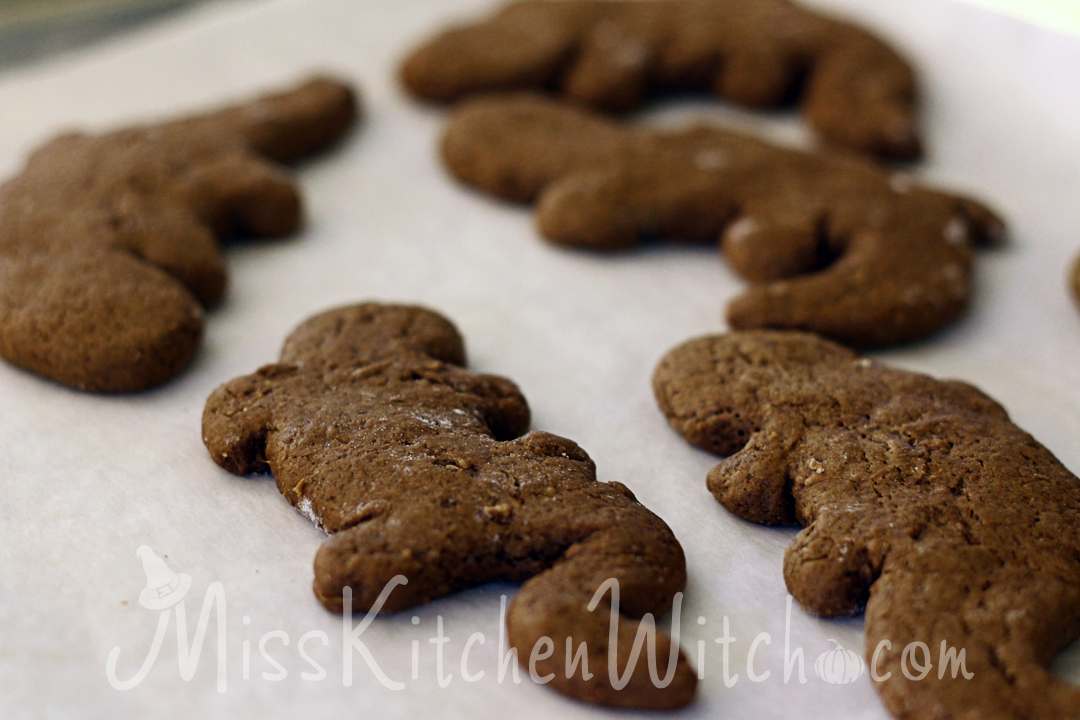 Perfect for fall, winter, or anytime with a hot cup of tea…