Skipping ahead a little, this retro Sweet Potato Bake fits into the 70s perfectly with a beautiful array of orange and brown! I was a little daunted to take on this recipe, not because of difficulty in veganizing, but it looked so damn sweet.  Why so much sugar when you're already dealing with really sweet fruit and veg. Not to mention then piling on sugary marshmallows. Both suggested brands of yams are also canned in a heavy syrup. No surprise when you see that this was an ad by Royal Prince/Princella Canned Goods and Kraft.  I can honestly say that never bought such a thing. If I am elitist for saying so, please feel free to set me straight in the comments.
Though, when I finally found a bag of Chicago Vegan Food's Mini Dandies at retail—I couldn't wait to make this! I did drastically reduced the fat and sugar and made a half batch for the photos. The recipe below will make double of what you see in the pictures. I would also add more marshmallows, but I wanted you to be able to see the Yammy Yummies beneath. This would make a great Thanksgiving Sweet Potato bake or dessert for a Holiday Brunch!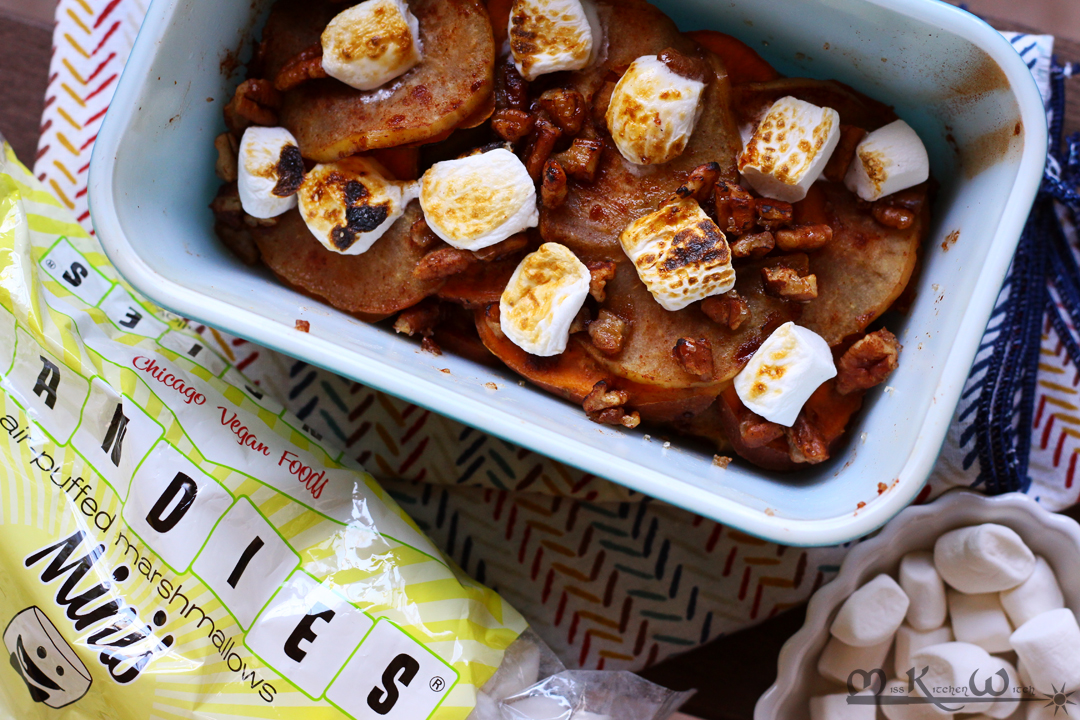 Apple Mallow Yam Yums (serves 4-6)
Ingredients
3 apples, cored and thinly sliced into discs
3 tbsp raw turbinado sugar
1/3 cup pecans, chopped
1/2 tsp cinnamon
3 medium yams
2 tbsp vegan butter or cold coconut oil
1-2 cups Mini Dandies Marshmallows
Steam the yams until just barely cooked, but not at all mushy or soft (about 10 minutes). Slice into 1/4″ discs.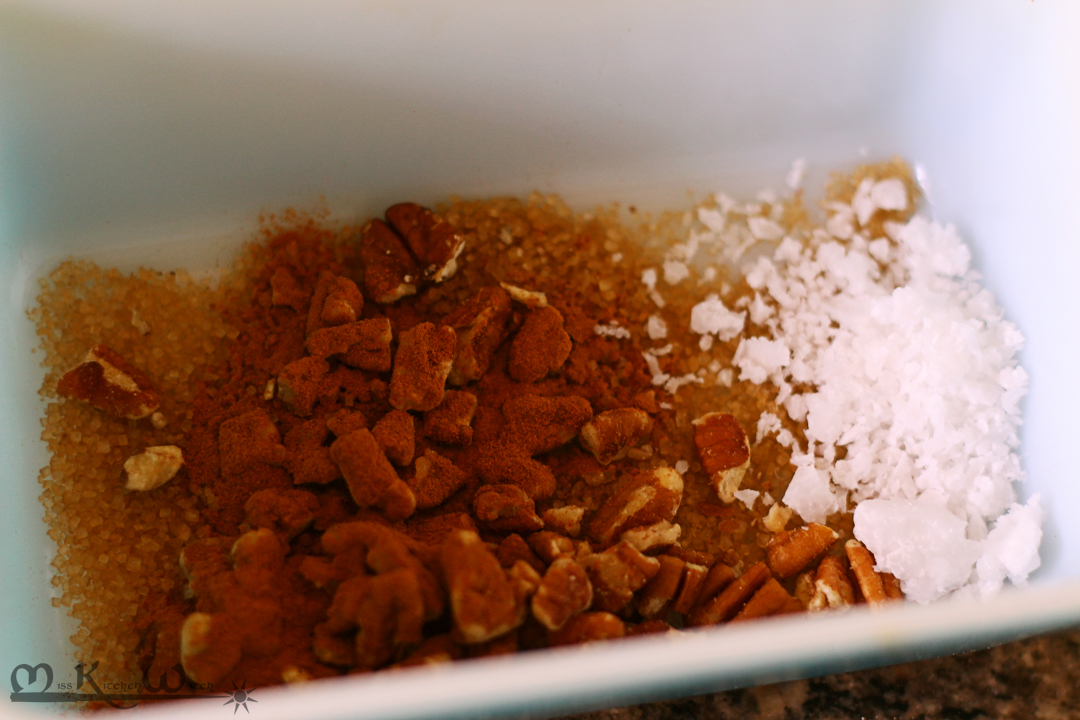 Preheat oven to 350°F. Toss apples and nuts with sugar, cinnamon, and a pinch of salt. In a casserole dish, arrange apples and yams by alternating layers. Dot with the vegan butter or coconut oil and cover with foil.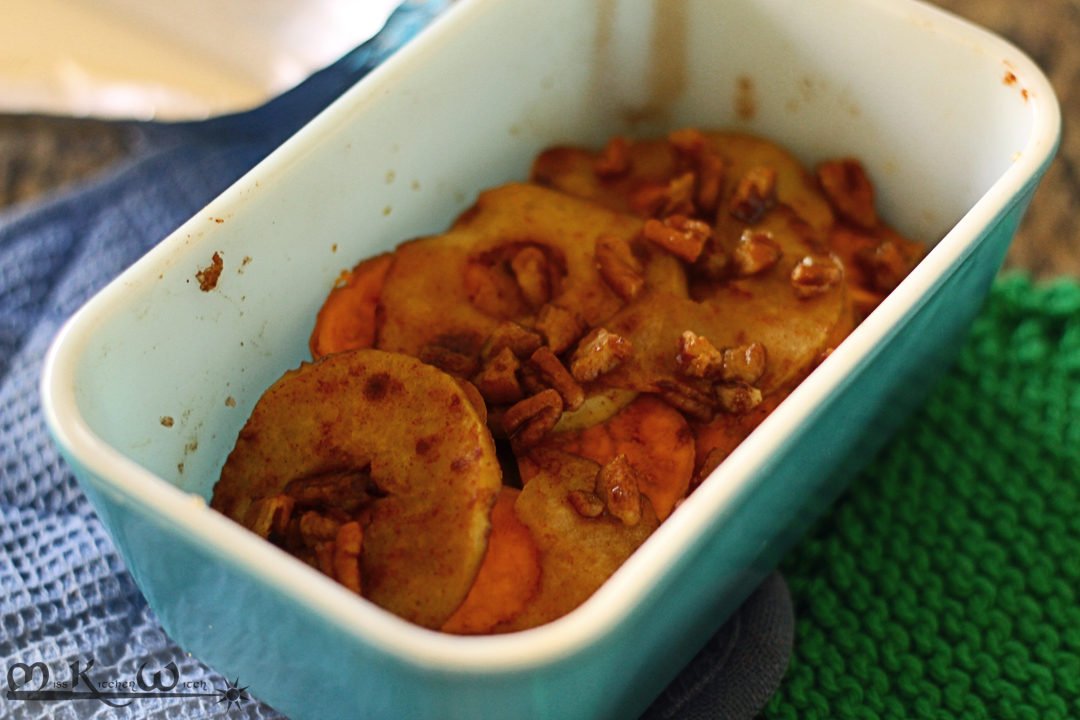 Bake for 15-20 minutes or until the apples are tender. Uncover, sprinkle the dandies marshmallows over the top, and broil until lightly browned. Alternatively, leave the oven at 350°F and let the marshmallows heat up and melt slightly. Then remove from the oven and brown with a Crème Brûlée torch.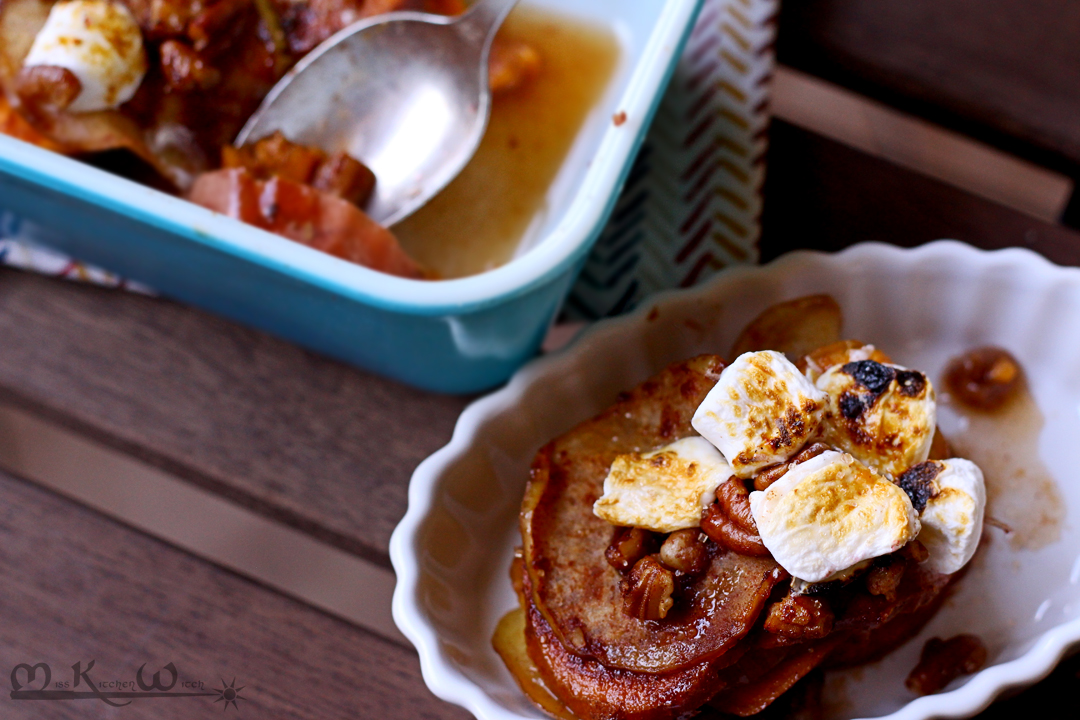 Serve warm!