Vegan cheeses have become quite a thing as of late. I know of more than a dozen small time artisan and big brand cheeses popping up all over the country—aged nut cheeses, spreadable, wedges, shreds… You name it and they are making it. It is an inspiring trend considering the only vegan cheese available when I went vegan was tofutti cream cheese (still a favorite) and Follow Your Heart blocks. Though, I still love making my own cheeses. Once you've tried it, seen how easy and delicious it is, you'll never go back. I make cheese for picnics, camping trips, parties, and every special occasion. Plus, there is a good chance that you'll already have most of the ingredients on hand.
This retro recipe inspiration comes from an article in Southern Living Magazine. The "apple" is formed from a soft and semi-sliceable cheese, which is dusted with smoked paprika. You can add some other spices to the paprika, like ground red pepper flakes, cayenne, or even a red curry spice mix!  This cheese ball is low in fat and pretty temperature stable, so you don't need to worry about it being solid coconut fat and melting away after an hour out at a party. Yet, in all honesty, it will probably be eaten by then.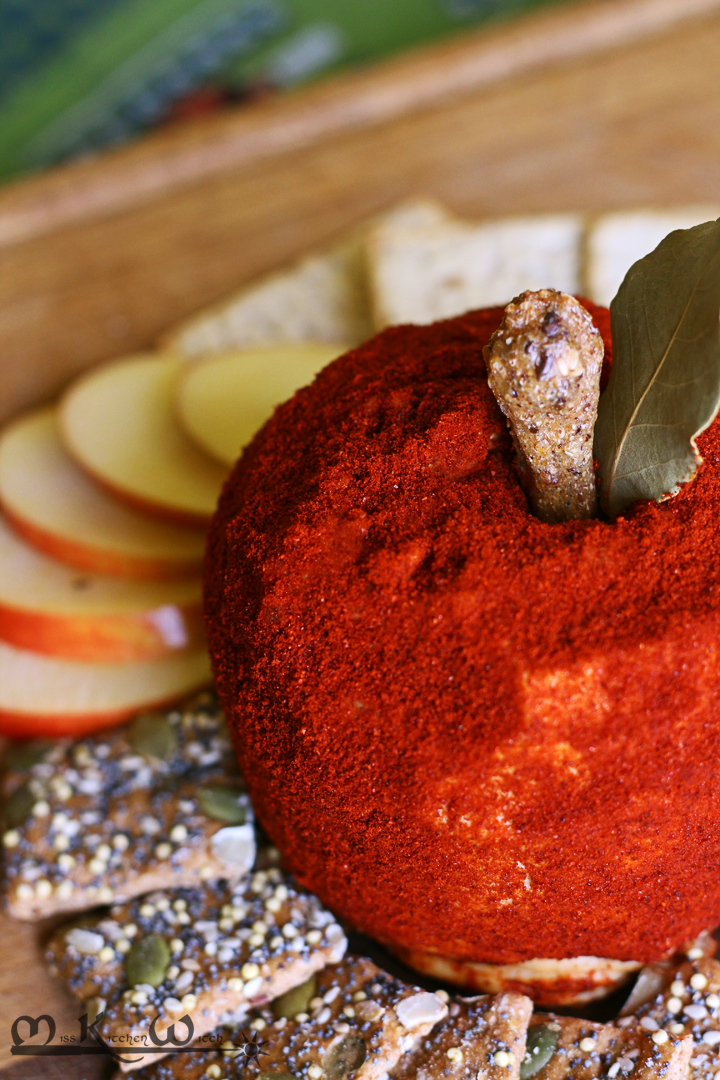 Retro Apple Cheese Ball (serves 8-10)
Ingredients
2 cups soymilk or almond milk
1/2 cup nutritional yeast flakes
1/4 cup quick-cooking rolled oats
1/4 cup raw cashews
1/4 cup cornstarch
2 tbsp fresh lemon juice
2 tbsp cooking sherry (opt: sub another 2 tbsp of lemon if not using)
2 tbsp vegan Worcestershire sauce (Robbie's Naturals, Wizard's, or Annie's)
1 tsp Tabasco
2 tsp sea salt
1 tsp garlic powder
presentation
smoked paprika for dusting
1 cinnamon stick, Pretzel stick, or bread stick for the stem
1 large whole bay leaf
Lightly oil a pint container, mold, or a container that will allow for easy removal. I use a cylindrical piece of tupperware because you lose less later on when you shape it into an apple.
Combine all ingredients in a high power blender and process for several minutes until completely smooth. Pour into a saucepan over medium heat  and cook, stirring constantly, until VERY thick and smooth. Spoon into the prepared container and chill, uncovered. If making more than a day ahead of time, cover the cheese once the container no longer feels warm. If serving that day, chill just until it is cool and set. Even when completely set, it will still be soft and quite jiggly.
To serve, turn out of the container onto a plate and cut into a roundish-apple shape, making sure to add the dimple for the top.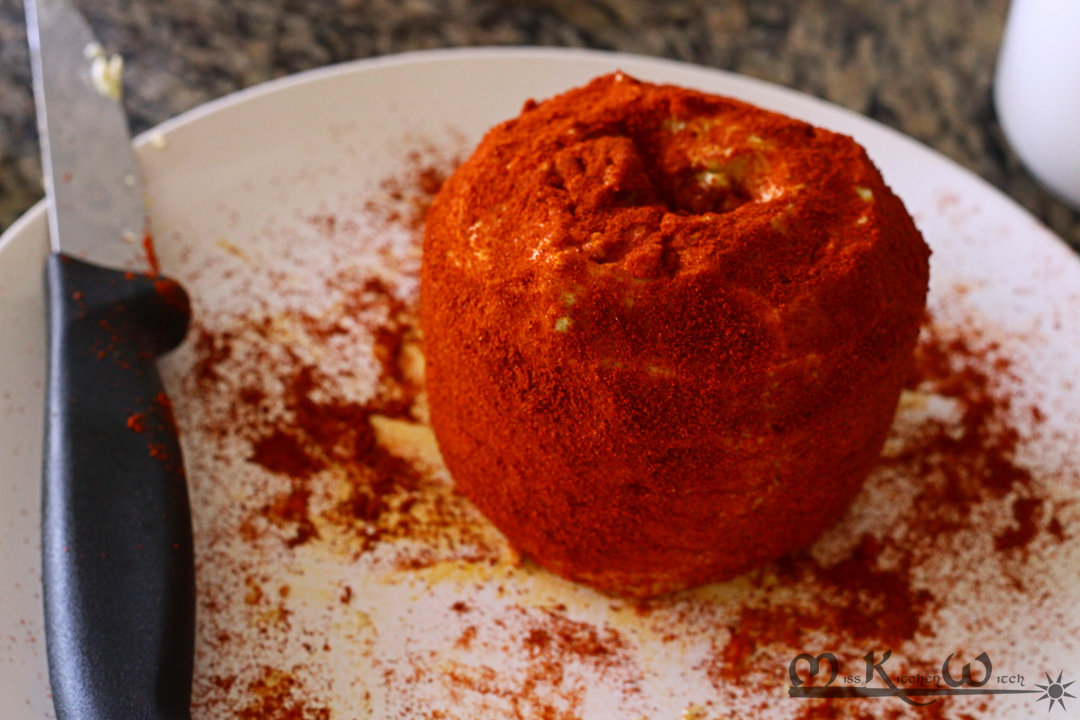 Generously sprinkle paprika all over the entire ball, making sure to get all the sides. Transfer to your serving plate, patching in any open spots with additional paprika.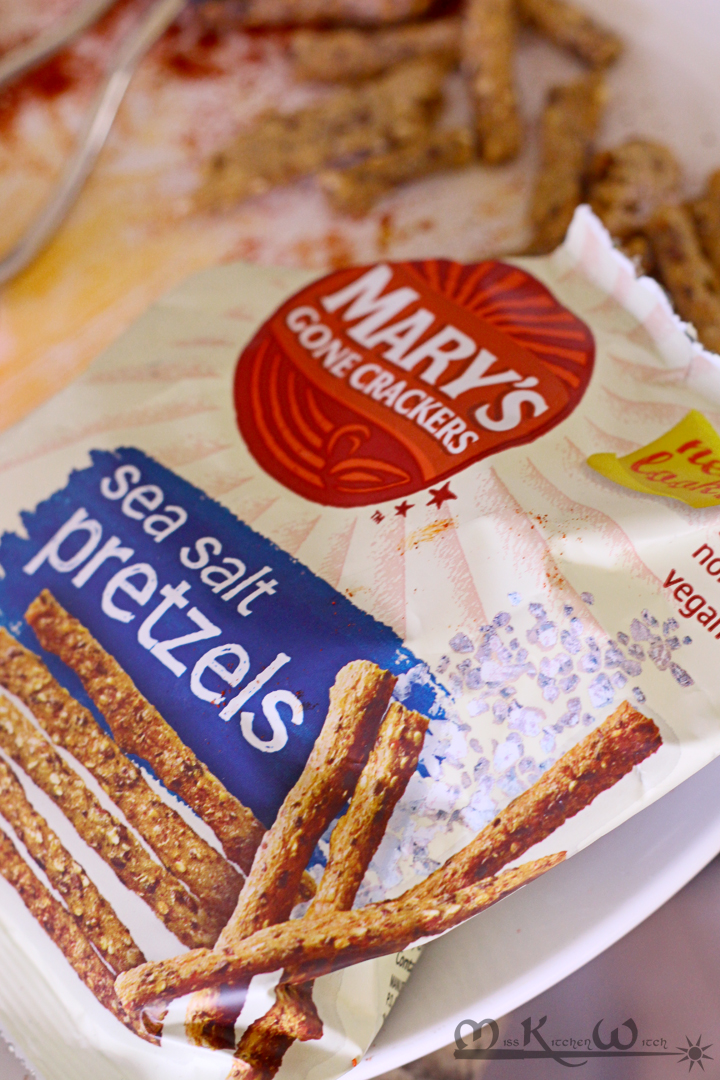 Insert the 'stem' and bay leaf on top. I found Mary's Gone Crackers pretzel sticks to be absolutely perfect—and then you get to eat the rest of the bag with the cheese!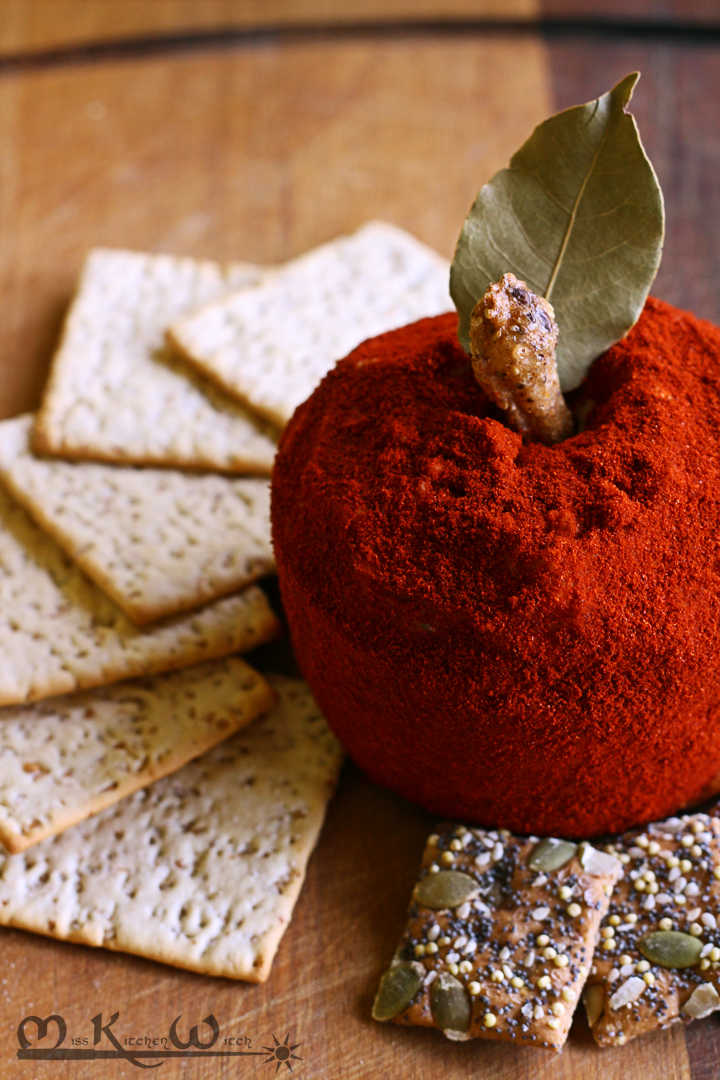 Return to the refrigerator if not serving right away. Though, it is better at room temperature. So, pull it out about an hour before serving. It may also need a quick, fresh dust of paprika if the outer layer absorbs some of the moisture from the cheese. Serve with crackers, bread, pretzels, fruits, veggies, etc… and marvel in your cheese making greatness.