Another recipe compiled from pre-made ingredients, this one would have been quite easy for the busy 1950s housewife. It's hardly a recipe that has disappeared, any search will turn up hundreds of blogs using the same formula: cream of mushroom soup, ground meat, some type of frozen vegetable (optional), onions, tater tots, and cheese. Though you might find a little variation, one can't help but think that this recipe was invented by Campbell's Soup.
I used the same idea, but with fresher and healthier ingredients—except for the tater tots. If you want to make this entirely fresh, swap the tater tots out with some homemade hashbrowns. I went with green beans, which was the most common veggie you'd see in the vintage clippings, but I also added corn and some folks would call that a Cowboy Casserole. Either way, it's still a very easy recipe and pretty tasty. This would even be a great way to make soup leftovers. Pour the soup or stew into a dish, top with tater tots, and bake. It doesn't get easier than that!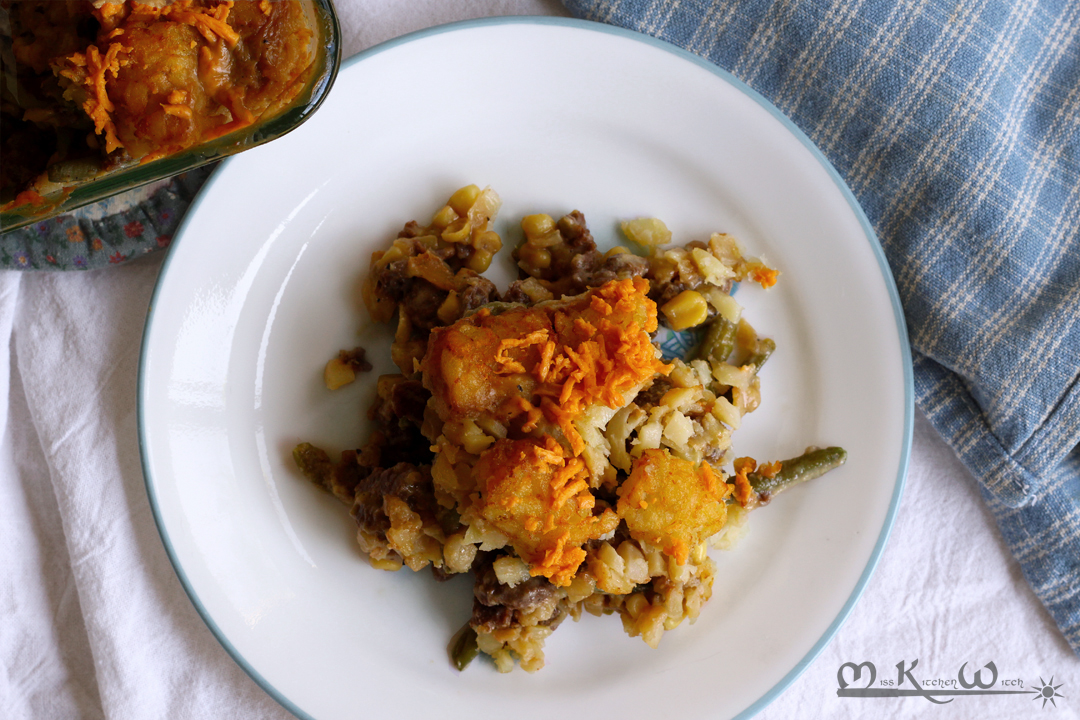 Vegan Tater Tot Casserole (serves 4-6)
Ingredients
olive oil
1/2 large onion, chopped
3 garlic cloves, diced
2 1/2 cups TVP chunks (or 1 package of your favorite vegan ground beef)
1 bouillon cube
2 tbsp Braggs Amino Acids or soy sauce
2 tbsp flour (all-purpose wheat or brown rice)
1 cup sweet corn
8 oz green beans, trimmed and chopped
2 cups soymilk
1 tsp salt and black pepper
dash nutmeg
Frozen Tater Tots
1 cup Daiya or Follow Your Heart Vegan Cheddar Cheese
In a large skillet or pan, saute the onion and with a tablespoon of oil. Cook on medium-high heat for about 3 minutes or until the onion starts to become translucent. Add the TVP, 2 cups of hot water, and bouillon. Depending on the type of TVP you use, it may need a little more water if it still looks dry or is hard in the middle. Once the TVP has absorbed most of the water, turn the heat down to medium and add the braggs, veggies, and flour.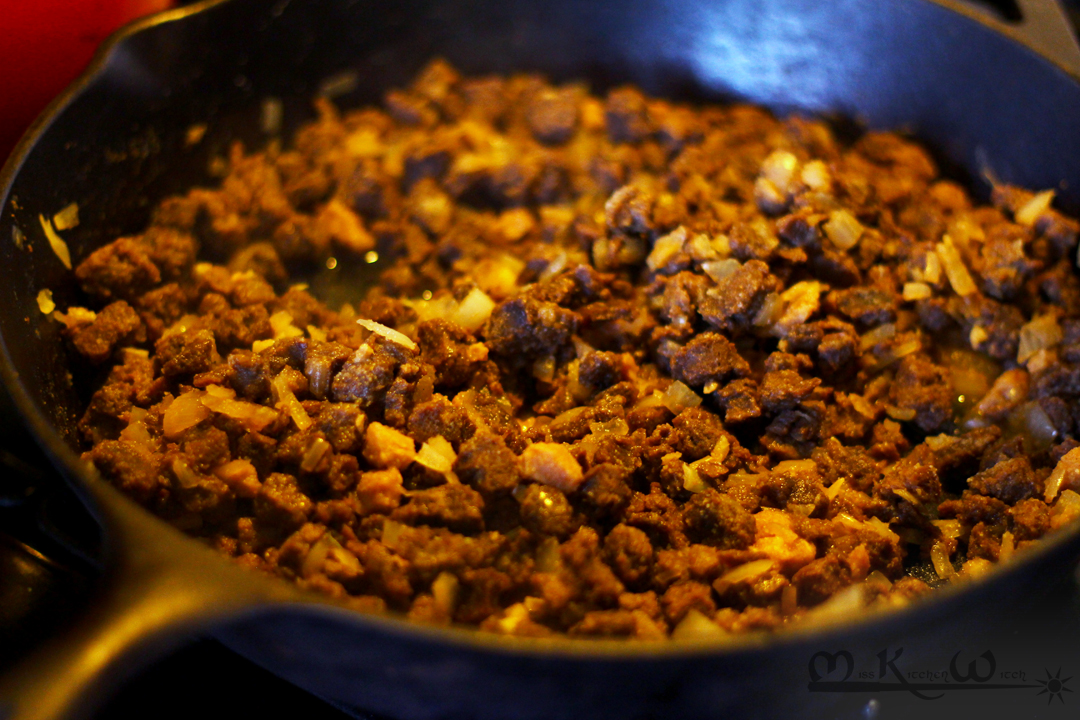 Cook for about 5 minutes, just to cook off some of the liquid of the green beans and to develop the flour into a roux (thickener for the sauce). Slowly add the soymilk, stirring constantly to prevent lumping. Season with salt, pepper, and the nutmeg. Cook a few minutes more, until slighly thick. Preheat oven to 375°F.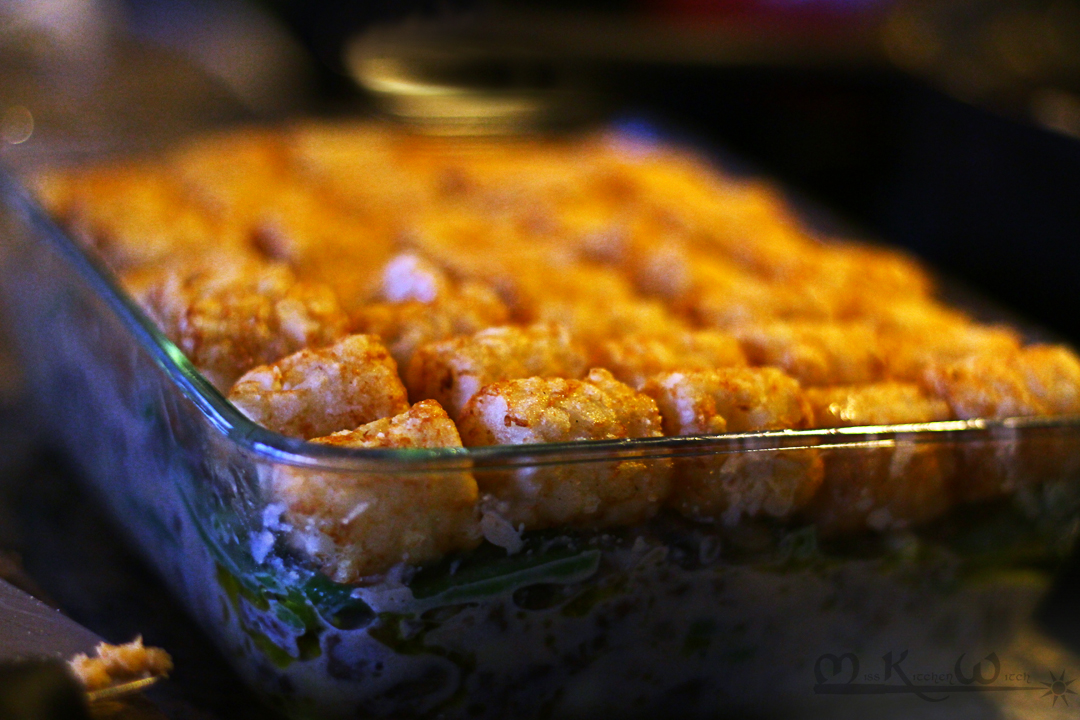 Pour the veggie-meat mix into a casserole dish. Layer the top with frozen tater tots, then sprinkle the cheese over the top. Bake for about 30 minutes.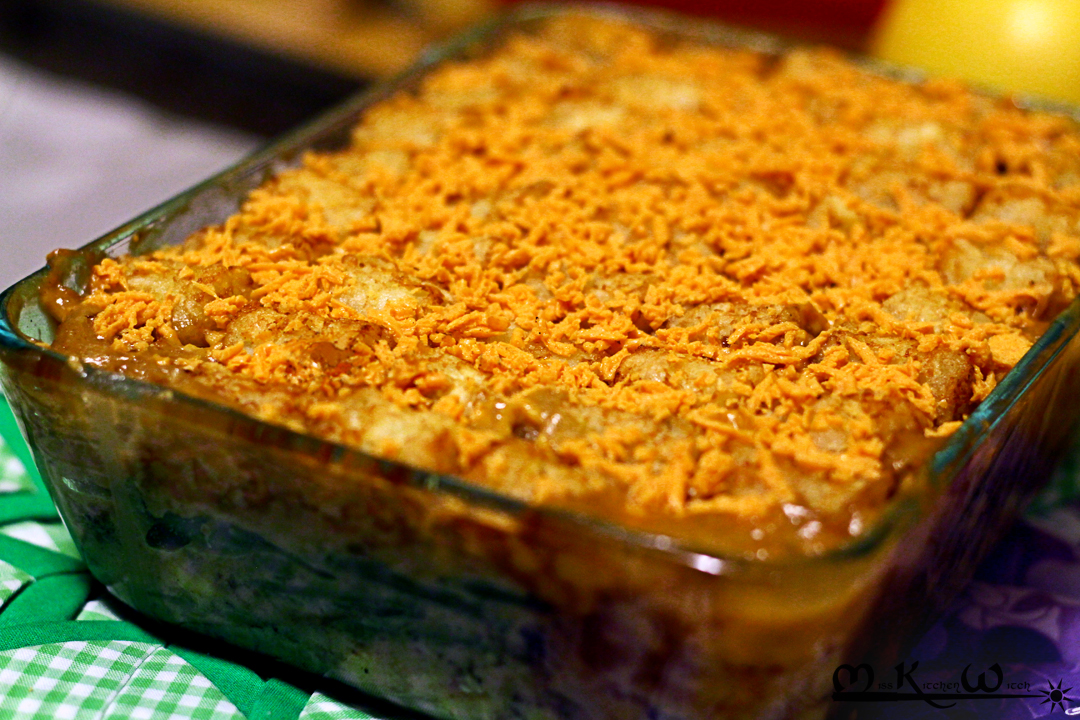 Tater tots should be crispy and cheese should be melted. Unfortunately, our cheese doesn't get as melty as we keep it in the freezer. Remove and let sit 3 minutes before serving.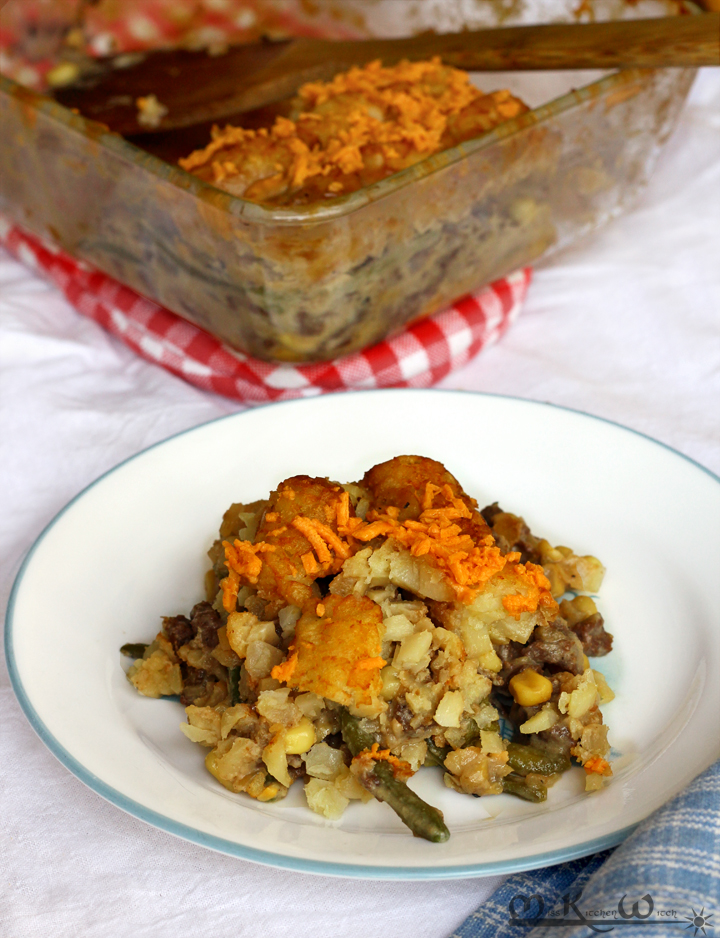 If you'd like to make this ahead of time, bake the tater tots before assembling the casserole. Layer all your ingredients and wrap tightly with foil. Just keep it refrigerated or frozen until ready to bake. You can bake it directly out of the freezer, but it will require a longer cooking time.