Cadbury Cream Eggs were the only candy that I ever missed after going vegan. I remedied that quite quickly. This recipe is as messy as hell and they don't stay in perfect egg shapes, unless you own a mold. I would look at how to properly temper chocolate if you have the time to make a nice, hard shelled chocolate. Otherwise just stick with melted chocolate chips!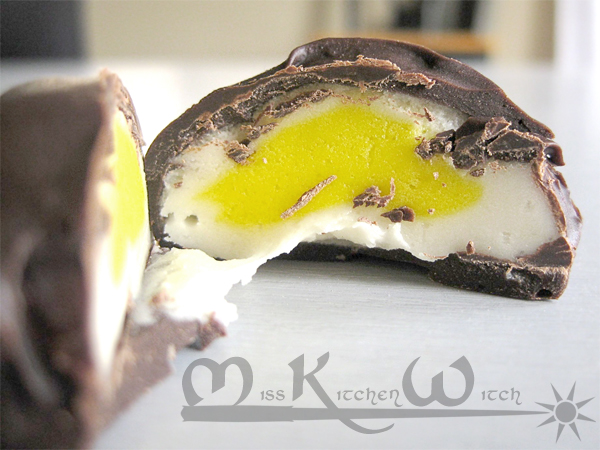 Vegan Cadbury Cream Eggs
 Ingredients 1/4 cup a sugar syrup, corn, brown rice, etc 2 tbsp vegan butter 1/2 tsp vanilla extract 1 2/3 cups of vegan powdered sugar, sifted dash of salt food coloring 1/2 a bag of semi sweet or dark vegan chocolate chips
Mix together the sugar syrup, vegan butter, extract, and salt. Sift in the powdered sugar and beat well. Pull out a quarter of the fondant and add a few drops of natural yellow food coloring*.
Cover and refrigerate for at least 2 hours, until very firm. You can also freeze it if you are an impatient ninja. Next, you have to work quickly, as the warmth of your hands will melt the fondant and make it sticky. Dampen your hands (very lightly) and scoop a rounded teaspoon of yellow into a flat tbsp of white. Encase the yellow in the white fondant, wrapping it in a layer twice as thick.
Place on a greased plate or pan. If the fondant is at all warm it will still stick despite the oil, so don't worry- its not you. Try and get them as egg shaped as you can. A couple of mine were very circular and funky. Freeze or chill again. Right before that time is up and your fillings are almost completely hard, start on your chocolate.
Melt chocolate over low heat. You can either drop your eggs in and roll them in one at a time or skewer them on a kabab to coat them. Since the chocolate is warm you will have to again, work quickly before the fondant melts. Alternatively, you can place the eggs on a rack and pour the chocolate over them.
Once they've been coated, allow for the chocolate to harden. If not tempered, chill.  The moment we've all been waiting for– NOM nom nom!