My Mom used to make this for us all the time, it was one of her specialities. She used ricotta cheese, but I've sub-ed it out with firm tofu. A while back, Monkey Man and I won the Daiya video contest with this recipe. You can scroll all the way down to watch the video done in the style of Scott Pilgrim.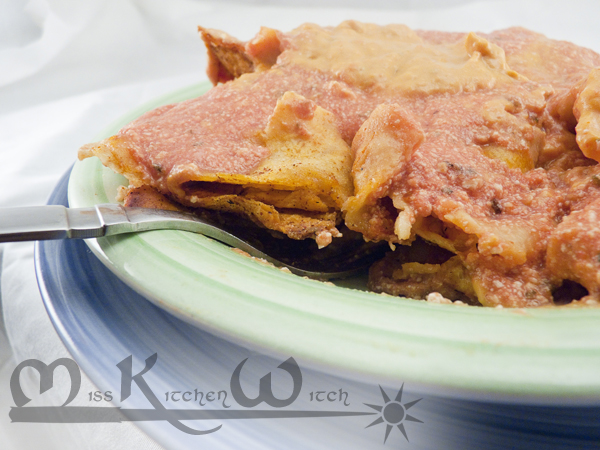 Chilaquiles (serves 4-6)
Ingredients 8-10 flour tortillas 3 tbsp olive oil 2 tbsp mild chili powder 1 1/2 cups tomato sauce 1/2 package firm tofu, drained 1/4 cup soymilk 1/4 cup nutritional yeast (opt) 1 teaspoon garlic powder 1/2 teaspoon chili flakes 1 teaspoon salt A squeeze of lemon Black pepper to taste Daiya Cheese Shreds
 Tear up the tortillas into large bite-sized pieces. Heat the olive oil in a large to medium frying pan over medium heat. Add chili powder and cook for about 30 seconds, then add tortillas and stir, coating the tortillas with chili oil.
Blend all the remaining ingredients (except cheese) until smooth. Pour the blended mixture over the tortillas in the frying pan. Top with Daiya and cover, turning down heat to medium-low. Let cook until heated all the way through, about 25 minutes.