Curry is in my top 5 favorite foods. It pretty much my favorite comfort food and go to recipe when I don't know what to make for dinner. It's important to have a good curry spice blend (without fish or shrimp) and a decent chili sauce. Yellow curry is very mild so you can add some hot pepper if you like.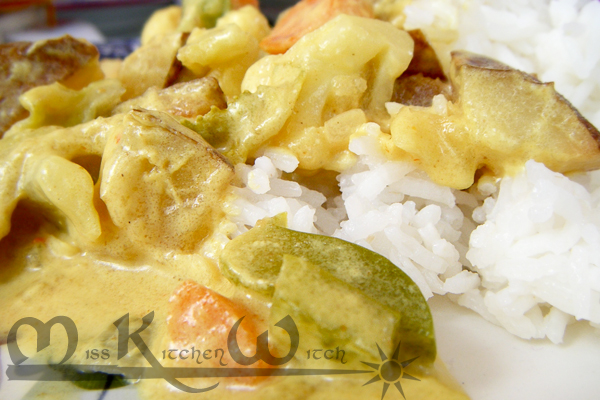 Yellow Curry in a Hurry
Ingredients 1 tbsp of olive oil 3 cloves garlic, minced 1 large onion, chopped 1 tsp grated ginger 2 carrots, cut into rounds 3 potatoes, cut into 1/2 inch cubes 1 large bell pepper, chopped 2 tbsp of curry powder 2 tbsp of sweet/hot chili sauce 1 tbsp lime juice 1 cinnamon stick 1 can of coconut milk 1 package of tofu, cubed (can be fried beforehand) 1 Apple (gala or fuji), cubed
Heat the oil in a large pot over medium heat. Add the onion and cook until translucent and tender. Add the garlic and ginger and keep stirring until fragrant, about a minute or so. Next add the spices, chili, and lime. Next drop in the slower cooking vegetables– mainly the potatoes. Add a little water, while these are all cooking to prevent sticking. You can use vegetable broth if you like too,
I like adding a bouillon cube to add a little extra flavour. Throw in the cinnamon stick and continue to cook on low-med heat until all the vegetables start to cook. Stir in the coconut milk, apple, and tofu and cook until heated through. Season with salt to taste. Serve over basmati or jasmine rice topped with fresh cilantro!