Soft pretzels lend themselves to very strong food memories. When you eat them you instantly remember that baseball game, the movie theater, or for me—Disneyland. Many soft pretzels are accidentally vegan, but quickly get bastardized when many establishments smear them with dairy-based butter. I also don't like taking chances with all those micro ingredients and preservatives. If they're tastier at home and easy enough to make, why bother with synthetic and commercial pretzels?
My original goal was to make Mickey Mouse shaped pretzels like the ones at Disneyland, but they need a little work. We still took them along on our Disney-adventure with a little pot of vegan cheese sauce. While soft and chewy, as pretzels should be, the rye flour really adds to the flavor of the dough. You can also toss in a cinnamon and sugar mixture , dip in a spicy mustard, or shape them into slashed balls and you've got some pretzel dinner rolls!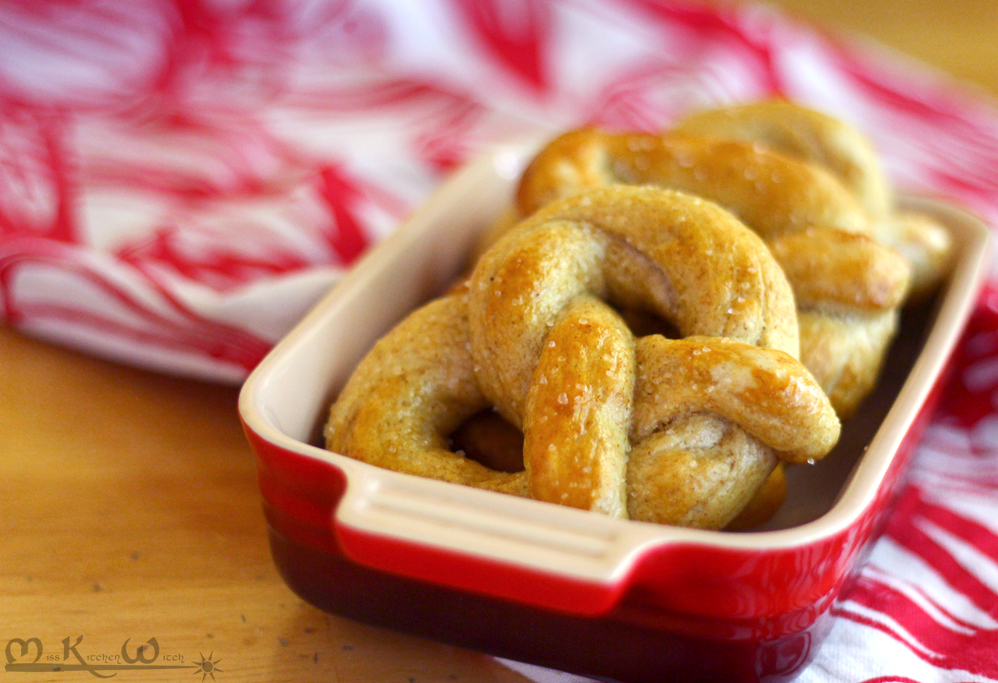 Vegan Soft Baked Rye Pretzels (yields 8)
Ingredients
1 1/2 cups wheat flour
1 cup + extra for kneading rye flour
2 1/2 tsp yeast
1 scant cup warm water
1 tsp salt
1 tsp sugar
2 tbsp oil or vegan butter
1 cup boiling water
2 tbsp baking soda
coarse pretzel or sea salt (opt)
Proof the yeast in a large bowl with the warm water and sugar. Let sit five minutes to ensure it foams up and is active. Add the salt and the flour, 1/2 cup at a time. Mix until well-combined. At about 2 cups of flour, it will have formed into a soft ball. Dump out onto a floured countertop and knead, sprinkling on remaining flour. Knead for about 5-10 minutes or until the dough is smooth, elastic, and uniform. Place in bowl with a tablespoon of oil and turn it over to coat. Let rise until doubled, about 50 minutes.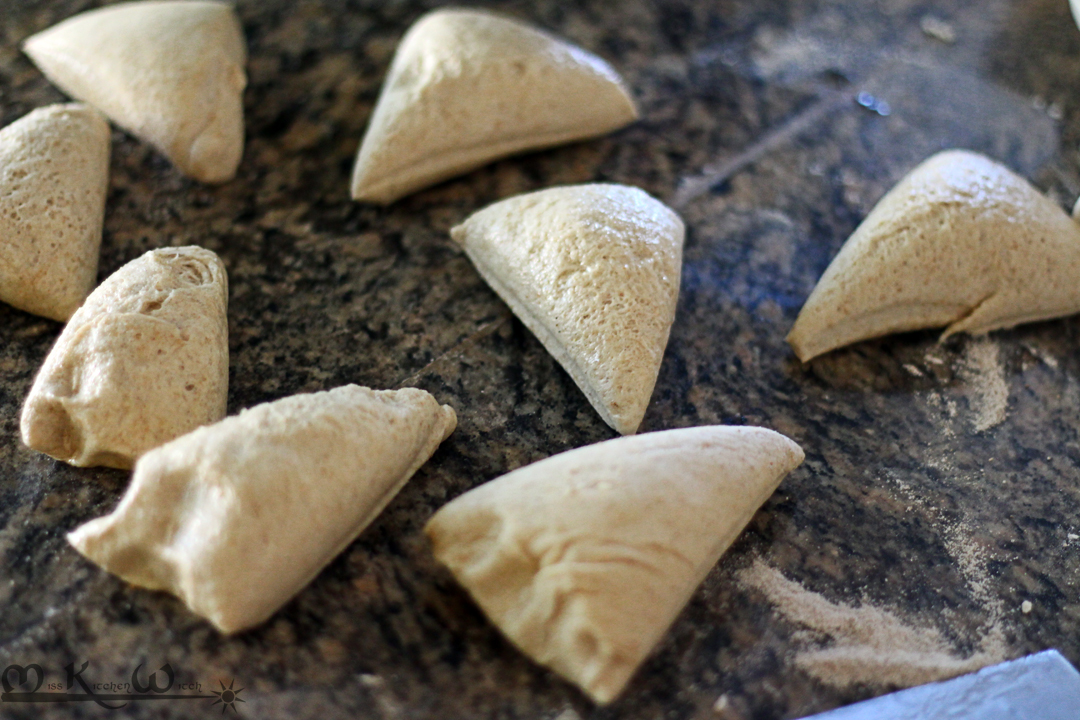 When you're ready to start shaping the dough, preheat your oven to 475°F. Oil a baking sheet or line it with parchment paper. Divide the dough into eight equal pieces. Allow the pieces to rest, uncovered, for 5 minutes. Pour the baking soda and boiling water into a square baking pan.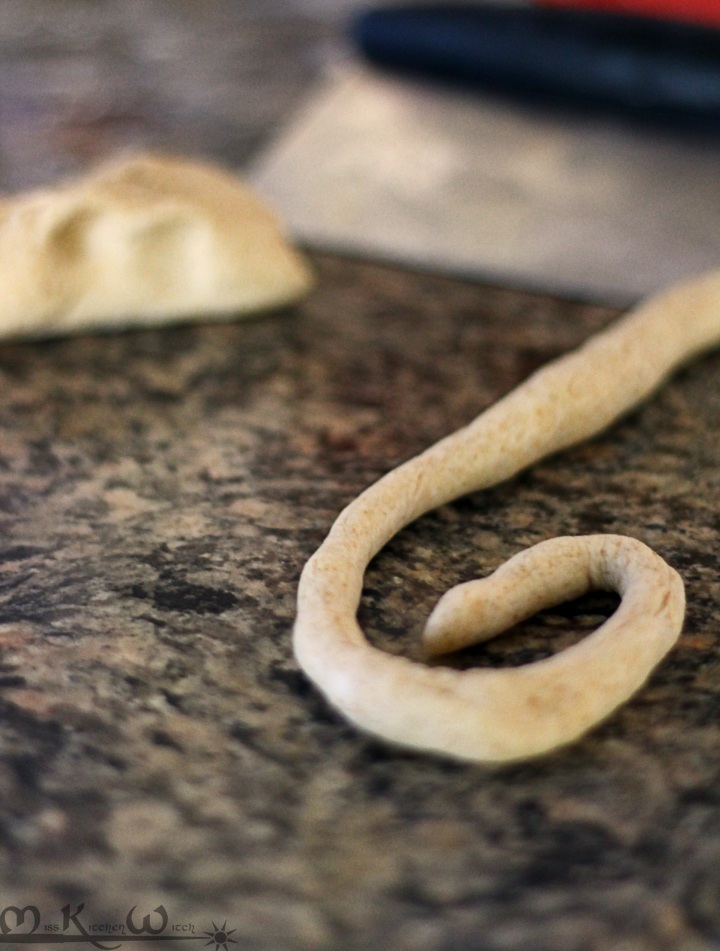 Roll each piece of dough into a long, thin rope 2 feet long, and twist each rope into a pretzel. Working with 2 pretzels at a time, place them in the pan with the baking soda-water and spoon the water over them. Keeping the water on the warm side will help them rise more.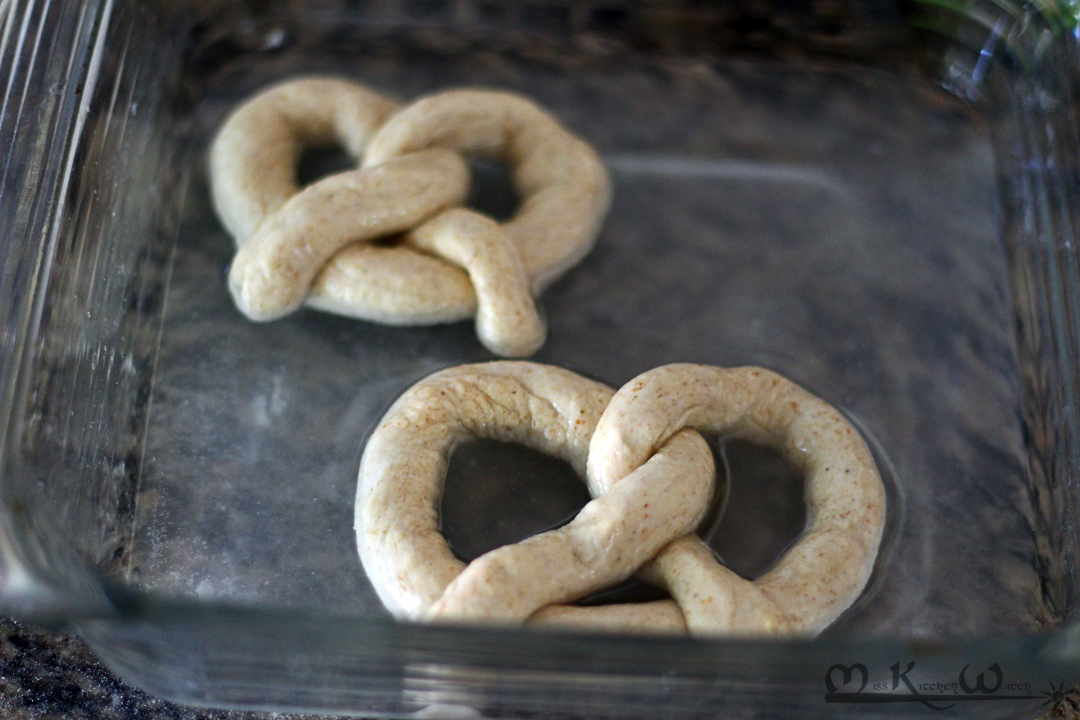 Leave them in the water for 2 minutes, then let them drain with a large slotted spoon and place them on the baking sheet. This "bath" will give the pretzels a nice, golden-brown color and chewy outer skin. Traditionally, the bath would be lye, but we'll stick with baking soda for now!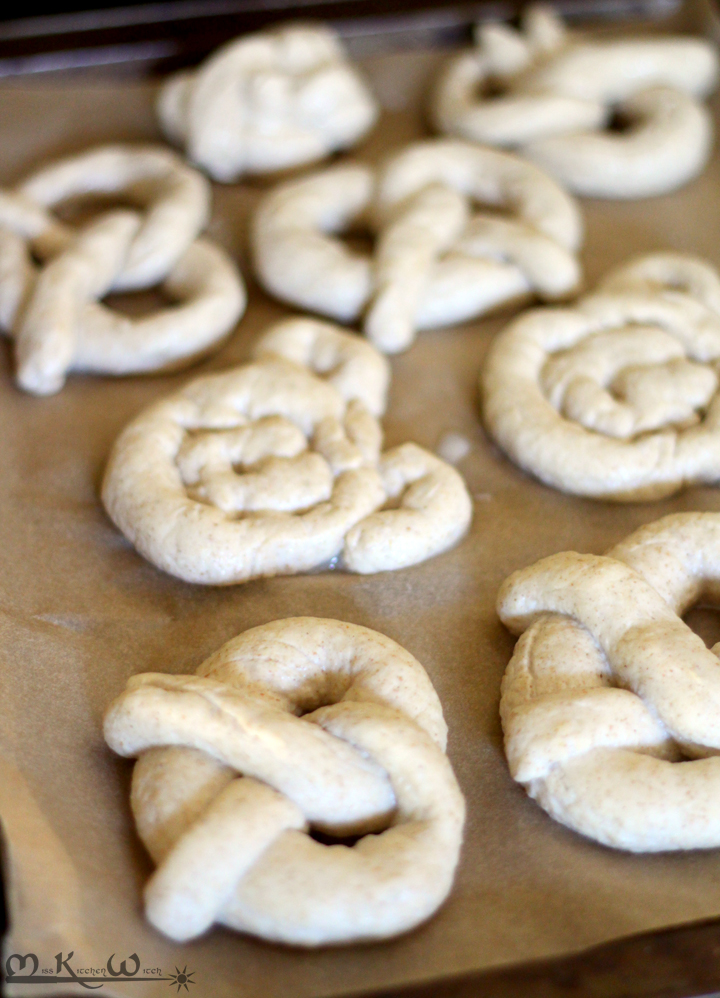 Sprinkle them lightly with salt, if desired. Allow them to rise for 10 minutes. Bake for 8-10 minutes, or until they're golden brown.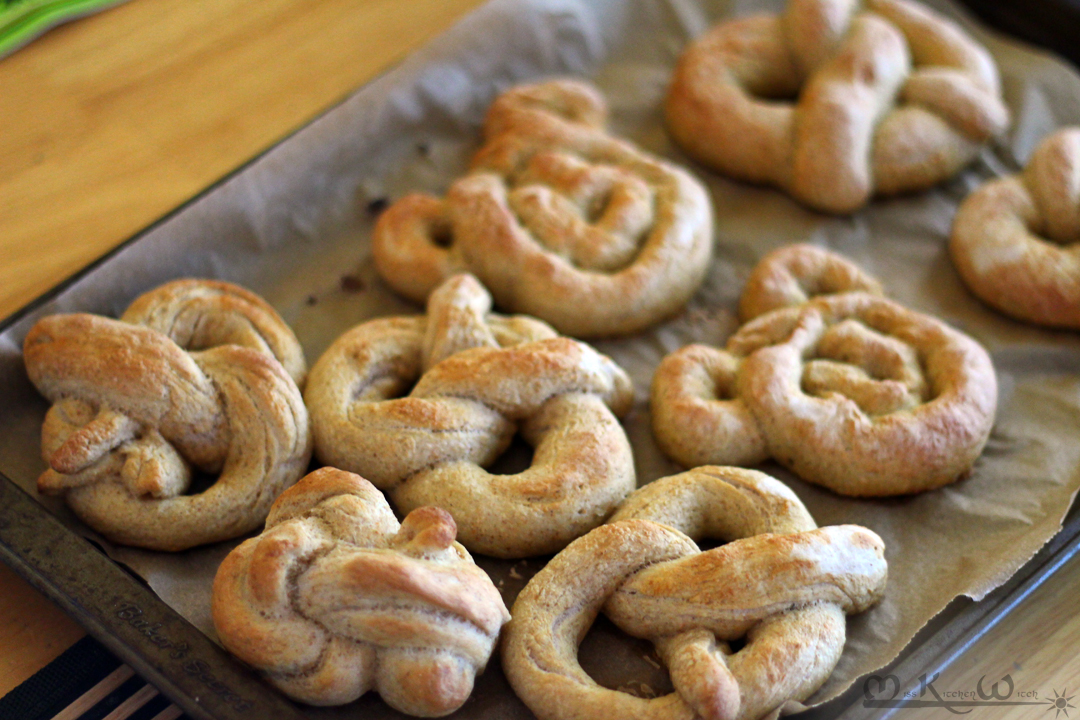 Remove the pretzels from the oven and brush them thoroughly with the oil or vegan butter until you've used it all up. Serve warm or reheat later.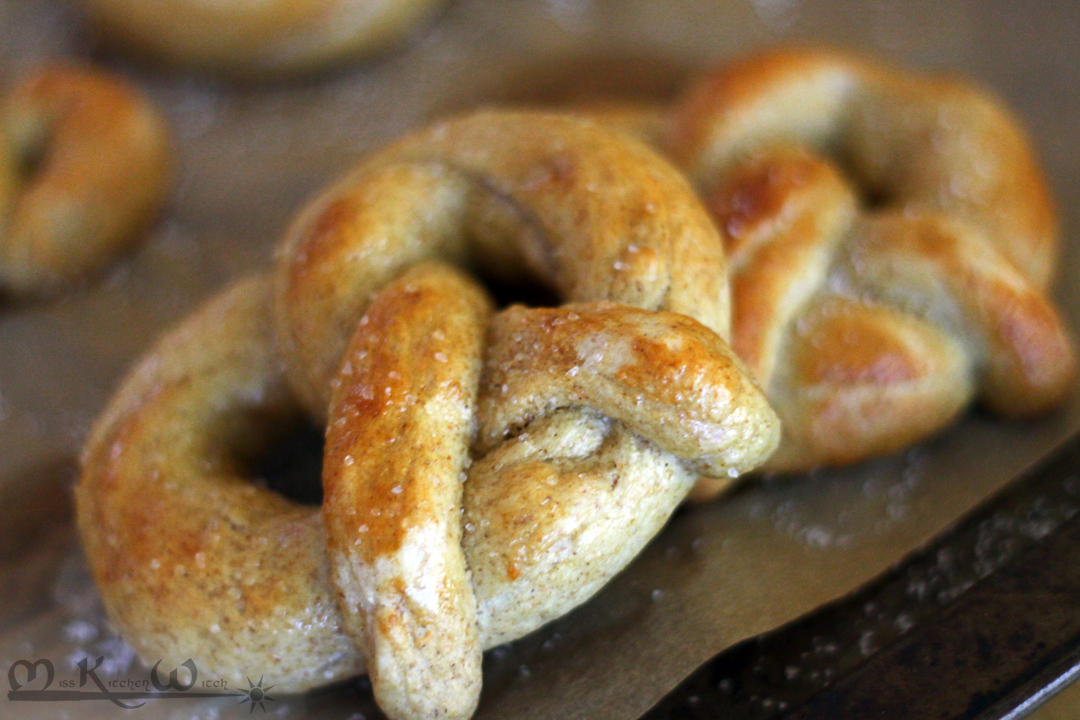 My Mickey pretzels were a little too compact, but I'm getting there.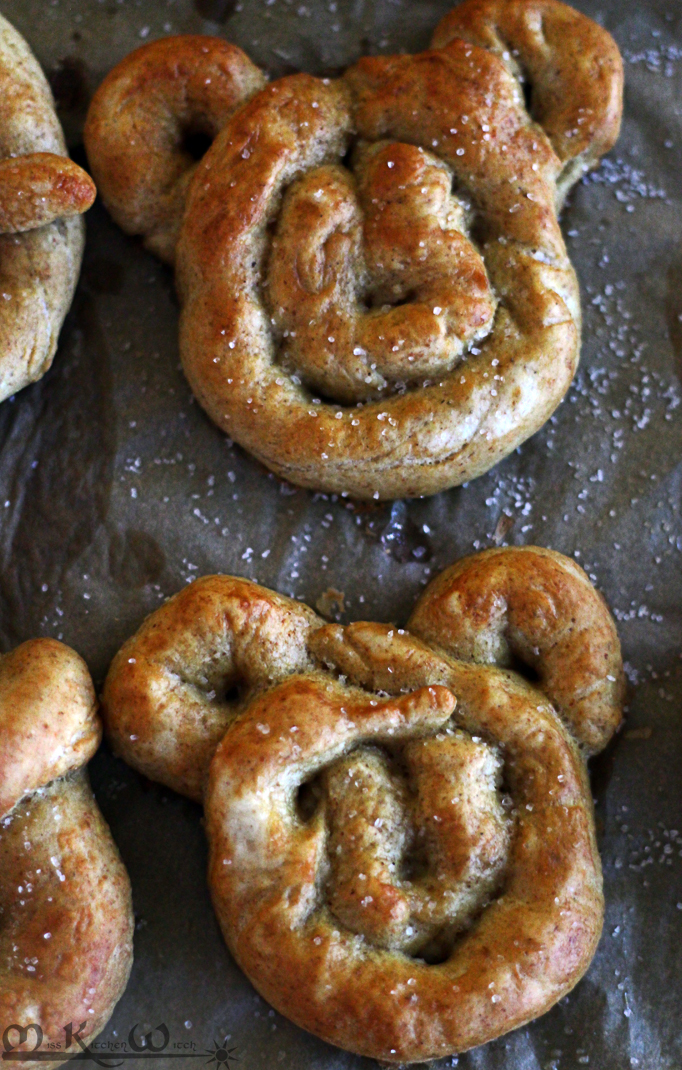 Versus the Micky Mouse Pretzels at Disneyland… Give me a break, they've got machines making them!