I believe that it has been established that you can add anything to hummus and it will be delicious. I'm just here to reaffirm that fact and share some accents that will highlight said added twist! There are a few problems that happen with hummus, that I've found. I've made some water hummus in my time, too much raw garlic, or even forgot I didn't have any tahini. Sometimes you just have to keep tasting as you go and find your personal balance. Store-bought hummus seems to be too bland or unexpectedly spicy. Don't get me wrong, I love the hot stuff, but it's a poor choice for a party or if you have a picky eater in the house.
I love this version because you've got the perfect classic elements of garlic, lemon, and hummusy garbanzo, but it's followed by a very mellow warmth of spices and sweet tang of the potatoes. Smooth and creamy, with out being at all crumbly. A perfect appetizer for fall parties or picnics! It would be divine with Laurel Hill Pumpkin Seed and Spice Tortilla Chips… *sigh* I love Fall!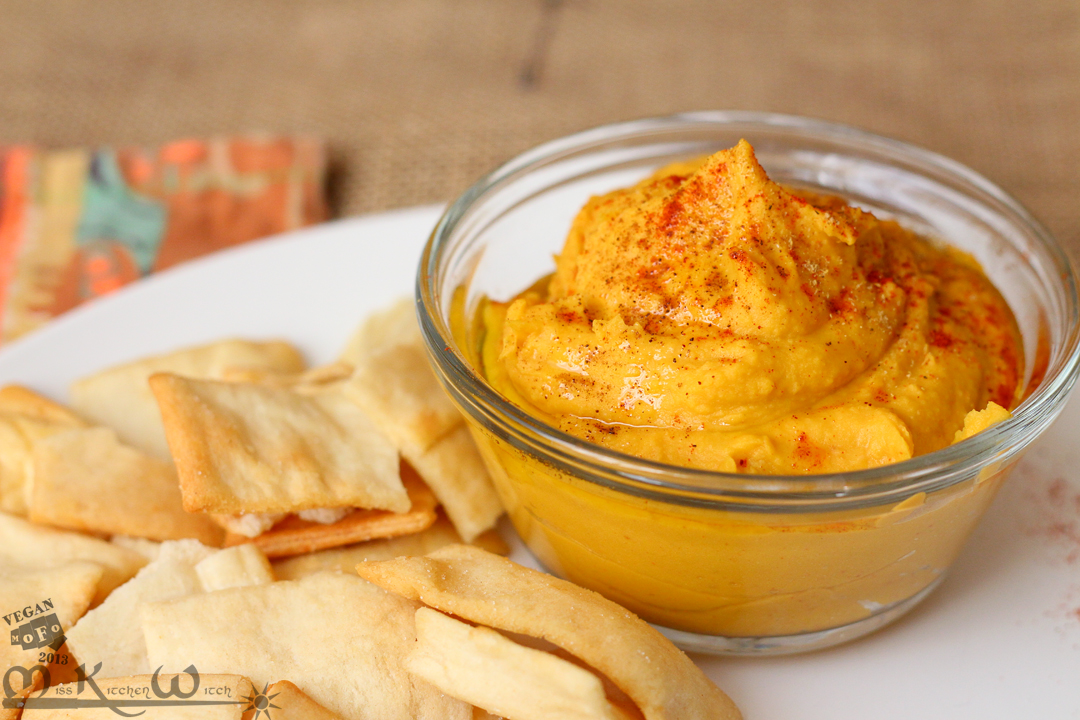 Harvest Vegan Sweet Potato Hummus
Ingredients  1 – 15 oz can garbanzo beans  1 medium sweet potato, steamed then peeled  (about 1 1/2 cups) 2-4 tbsp water 2 tbsp almond butter or tahini 2 tbsp lemon juice 2 tbsp olive oil  2 cloves raw garlic  1 tsp salt  1/2 tsp smoked paprika  1/4 tsp ground cloves 
Drain and rinse the garbanzo beans a few times to get rid of all the can slime (if using canned). Place in a blender or food processor with the sweet potato, 2 tbsp water, almond butter, juice, oil, garlic, and seasonings. Begin to process and pour in remaining water if it looks too dry. It should be thick and creamy. This will vary as some sweet potatoes are more moist than others. Stop to scrape down a few times and add more salt to taste.
Serve in a bowl drizzled with an extra tablespoon of oil and dusted with more smoked paprika and ground cloves.