Cauliflower  seems to be the hot item right now: pizza crusts, buffalo bites, mashed potatoes, quiche. There doesn't seem to be anything cauliflower can't do. I thought of this the last time I made a cauliflower bisque. This works perfectly for us while we're trying to reduce our oil consumption, up our veggies, and still enjoy favorites.
One of my favorites is Angel Hair Alfredo. This alfredo is creamy, filling, and definitely satisfies that craving. Monkey Man couldn't place the substitute—his best guess was garbanzo beans when I told him something was different. Add more oil to obtain that heavier mouthfeel or leave it out completely for a lighter dish. Try brown rice fettuccine if you're off gluten.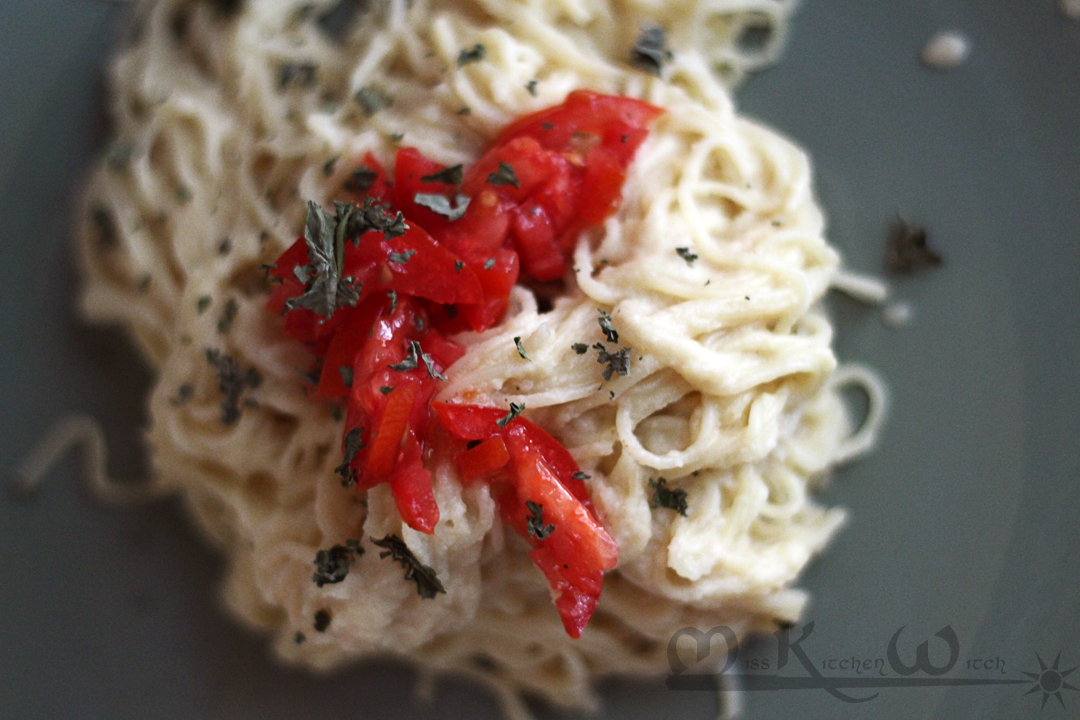 Vegan Cauliflower Alfredo (serves 4-6)
Ingredients 1 head cauliflower, chopped
1 tsp vegan better than bouillon
1 cup almond milk
4 cloves garlic, chopped
1/2 onion, chopped
1/3 cup nutritional yeast 1/4 cup olive oil 1-2 tsp salt dash nutmeg
black pepper to taste 1 lb cooked pasta  
While your pasta is cooking, heat the onion and garlic in a sauté pan over medium heat with a tablespoon of water. Add the cauliflower and cover. Let steam, adding a little bit more water if needed, until the cauliflower is soft. Move the cauliflower to the blender with the bouillon, almond milk, nutritional yeast, oil, nutmeg, 1 tsp salt, and 2 cups hot water. 
Blend on high for about 3 minutes, until it is very smooth. Add more water to reach your desired thickness and more salt and pepper to taste. Once your pasta is cooked and drained, pour the cauliflower sauce over and mix thoroughly.
Garnish with fresh or dried basil, sun-dried tomatoes, and/or red chili flakes.