I received this recipe from Monkey Man's Aunt in Poland. Upon the first attempt I figured that the measurements had to have been mistranslated. I fiddled around with the recipe and came up with something I quite liked that went nicely with tea. Not too rich, they make a nice snack. I made them on the day the last Harry Potter film was released, hence they are now called Cauldron Cakes.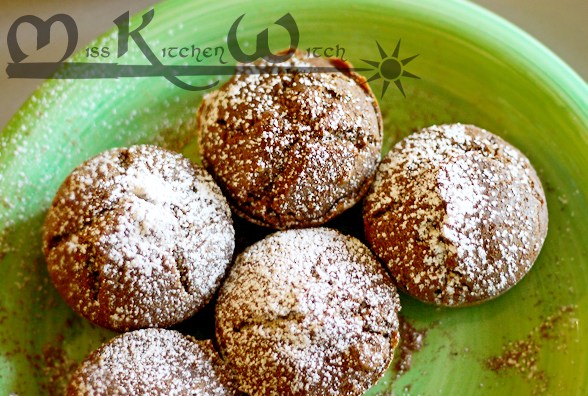 Harry Potter Cauldron Cakes/Dark Polish Cakes (yields 1 dozen)
Ingredients  2 3/4 cup non-dairy milk 1 tbsp apple cider vinegar 3 cups whole wheat flour 1/3 cup powdered sugar 3 tbsp cocoa powder 1 tsp baking soda 2 tsp baking powder 3/4 cup vegetable oil 1/4 cup berry jam 1/2 cup chopped walnuts 1/3 cup raisins, cranberries, cherries or chopped dates
Mix apple cider vinegar into non-dairy milk and allow to curdle. Sift together the dry ingredients. Mix the oil and jam into curdled non-dairy milk and slowly add to the dry mix and stir until just mixed. Add the nuts and which ever dried fruit you like. Pour into greased and floured cupcake cups or mini bundt tins. Bake for about 30-40 minutes at 350•F. Serve while still warm topped with powdered sugar and jam.