Lentil soup was another one of my Mom's dishes. She would have it cooking all day long in the crockpot, the smell filling the house. It's one of those things that takes me back to my early childhood. Now I add a little twist on this impervious recipe by roasting the sweet potatoes before adding them to the soup. Doing so allows the potatoes to caramelize and form a little bit of a skin that holds up after adding to the soup. If you don't have all the veggies below that's fine—substitute, omit, etc. We usually leave out the carrots as Monkey Man is allergic to them and sometimes add other roots instead.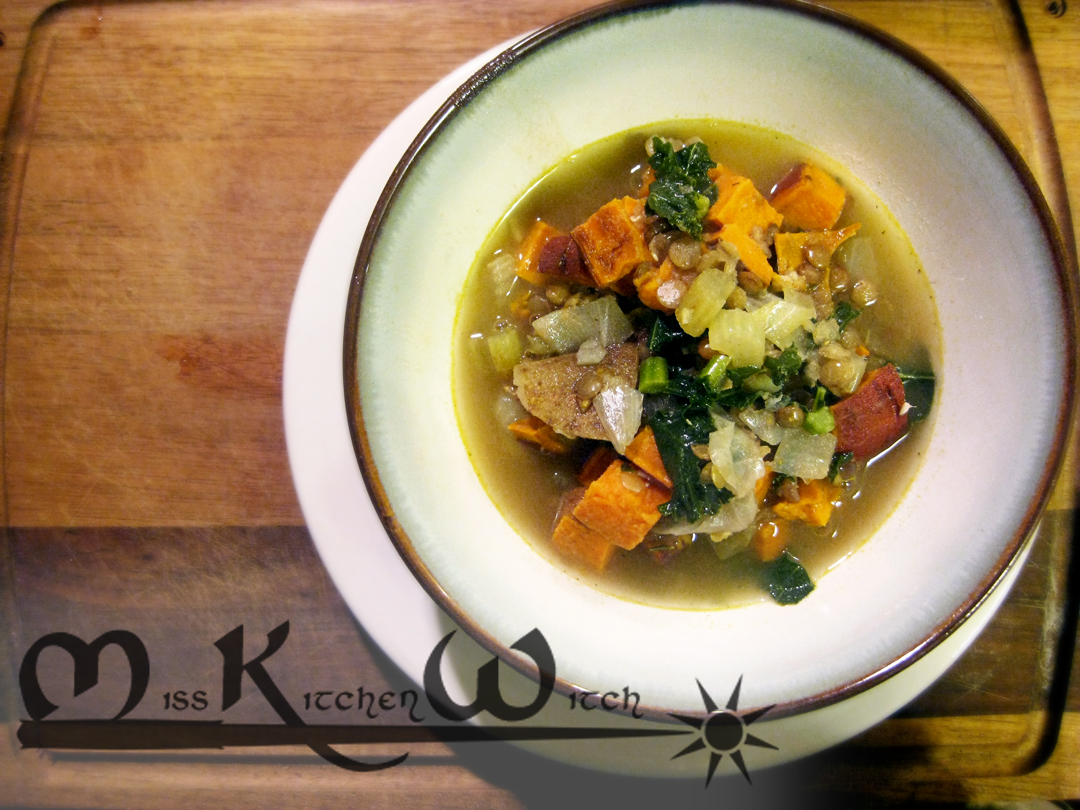 Lentil Soup with Roasted Sweet Potatoes (serves 6)
Ingredients
2-3 large sweet potatoes, scrubbed and cubed
1 medium onion, diced  6 cloves garlic, diced 2 large russet potatoes, scrubbed and cubed
2 carrots, scrubbed and chopped
2 stalks celery, chopped 1 cup cabbage, shredded 1 cup uncooked lentils, any colour 2 bay leaves 1 tsp dried rosemary, minced 4 cups+ vegetable broth or water + 1 vegetable bouillon cube 3-4 leaves kale, shredded salt and pepper to taste
Toss the sweet potatoes with some olive oil and about a tsp of sea salt. Roast on a high rack at 450•F for about 30 minutes or until slightly crispy on the outside and soft on the inside. Turn every 10 minutes or so.
In a med-large stock pot, cook the onion and garlic in a little bit of broth or water for about 3 minutes. Add the russet potatoes, carrots, celery and herbs. Add 2 cups of broth, cover and cook 10 minutes. Add the lentils, kale and rest of broth, cooking for 10-15 more minutes.
Once Lentils are soft, add the now roasted sweet potatoes and season with salt and pepper.