Biscotti is the perfect gift or small snack— I'm not just saying that because of how much coffee and tea I drink. Even with the spices, these are also very good dipped in chocolate and more nuts.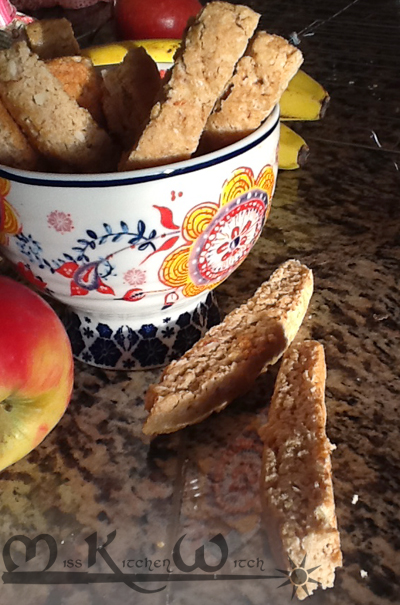 Pumpkin Biscotti
Ingredients 2 1/2 cups of wheat flour 1 cup of turbinado sugar 1 tsp baking powder 1 tsp cinnamon 1 tsp ginger 1/2 tsp nutmeg 1/4 tsp cloves a pinch of salt 2 tbsp flax mixed with 6 tbsp warm water 1 cup pumpkin puree 1 tsp vanilla extract 1/2 cup dried cranberries (opt) 1/2 cup pecans (opt)
Sift together dry ingredients, including sugar. Whisk together flax, pumpkin and extract. Fold the flour mixture into the pumpkin batter and add the fruit and nuts if using. The dough will will slightly crumbly, kind of like playdough. Knead gently a few times inside the bowl. Lightly grease a baking sheet or cover with a sheet of parchment paper. Form the dough into a large log, measuring  roughly 20″ x 6″.
Bake for 22-30 minutes at 350ºF or until the center of your 'log' is firm to the touch. Remove from the oven and allow to cool for about 10 minutes or until you can handle it. Cut into 1″ wide pieces and place back on the pan on their sides, cut edge facing up. Bake for an additional 15-20 minutes at 300ºF, flipping halfway through.
Remove, cool, and store in an airtight container.