A bacon sandwich is said to be Ronald Weasley's personal comfort food and Harry gets to enjoy some with the rest of the Weasleys while staying at The Burrow during the summer. They wolf some down as a quick brunch before heading to Diagon Alley via floo powder to do their school shopping.
Harry Potter and the Chamber of Secrets. Ch 4, p 47.
Mrs. Weasley woke them all early the following Wednesday. After a quick half a dozen bacon sandwiches each, they pulled on their coats and Mrs. Weasley took a flowerpot off the kitchen mantelpiece and peered inside.
An American reader will instantly think of a BLT (Bacon-Lettuce-Tomato) or egg-bacon sandwich during this passage, but it's much more likely they were eating bacon butties!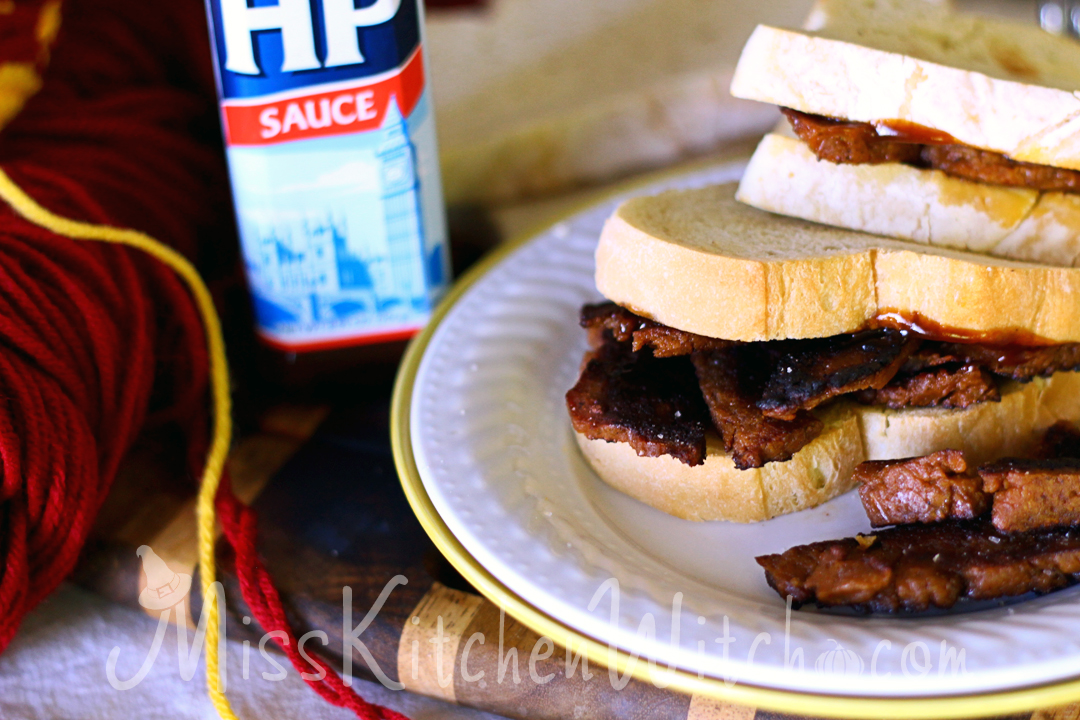 A bacon butty is a hot british sandwich of fried bacon, soft white or farmhouse style bread, butter, and HP Brown Sauce. You'll usually find bacon butties at greasy diners and claimed to be hangover cures—as with every other fatty, heavy, starchy dish on the planet. I was planning on making my own HP brown sauce, but seeing as I don't keep a stock of tamarind on hand and the bottled sauce is already vegan—I took the easy route. Here is the recipe I was hoping to try—but just make sure to use vegan Worcestershire sauce! I'll try it and share it again once good apples come into season.
Vegan Bacon Butties (serves 4)
Components
soft farmhouse-style vegan bread
vegan butter
HP Brown Sauce (I found at Cost Plus World Market)
Vegan Bacon and Marinade (recipes below)
Vegan Seitan Bacon
1 cup vital wheat gluten (Bob's Red Mill is best)
1 1/2 tsp salt
1 1/2 tsp paprika
1 tsp garlic powder
1/2 tsp black pepper
6 tbsp orange juice or Pumpkin Juice
2 tbsp maple syrup
2 tbsp vegetable oil
1 tbsp liquid smoke
1 tbsp braggs
1 tbsp ketchup
1 tsp mustard (opt)
1/2 tsp better than bouillon (opt)
Vegan Bacon Marinade
2 tbsp braggs
2 tbsp liquid smoke
2 tbsp maple syrup
2 tbsp water
1/2 tsp salt
vegetable oil and vegan butter for frying
In a medium bowl, stir together the dry ingredients. In a separate bowl, whisk all the wet ingredients. Pour the wet over the dry and stir with a wooden spoon until it has formed a ball. Knead a few times in the bowl to ensure all the ingredients are distributed evenly.
Wrap with a piece of foil and place in a steamer for 40 minutes. Remove, unwrap, and let cool. Slice into very thin pieces.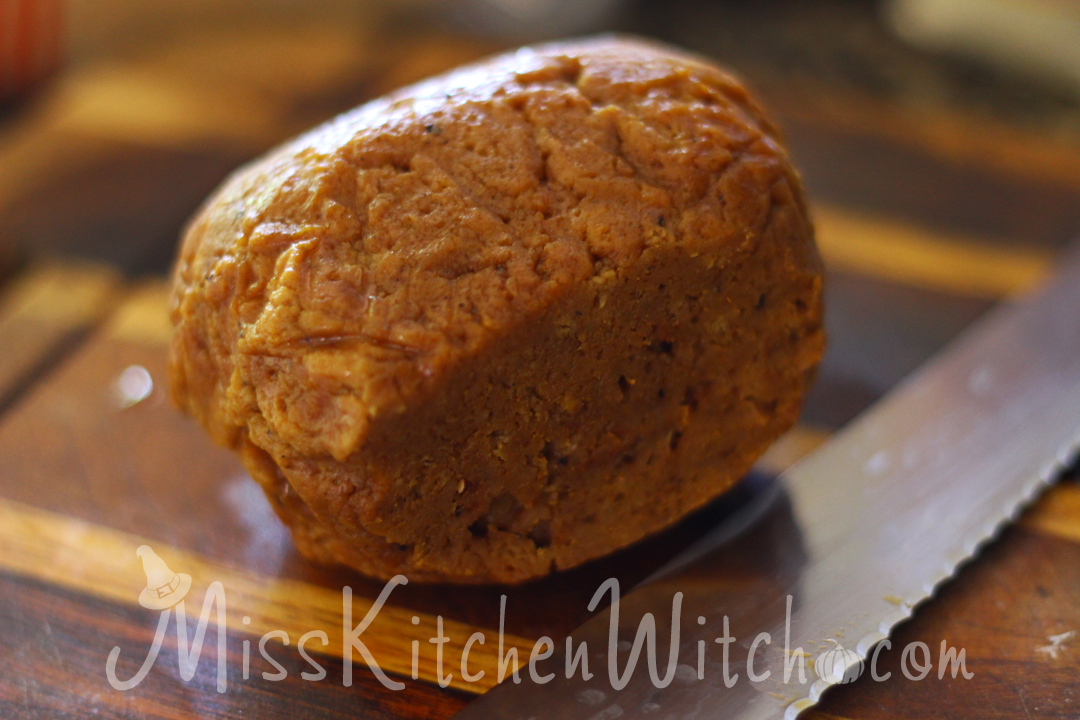 Mix all the marinade ingredients in a shallow dish. Layer the seitan slices in the marinade dish and let sit at least 30 minutes. Shake or rotate occasionally to make sure it is well coated.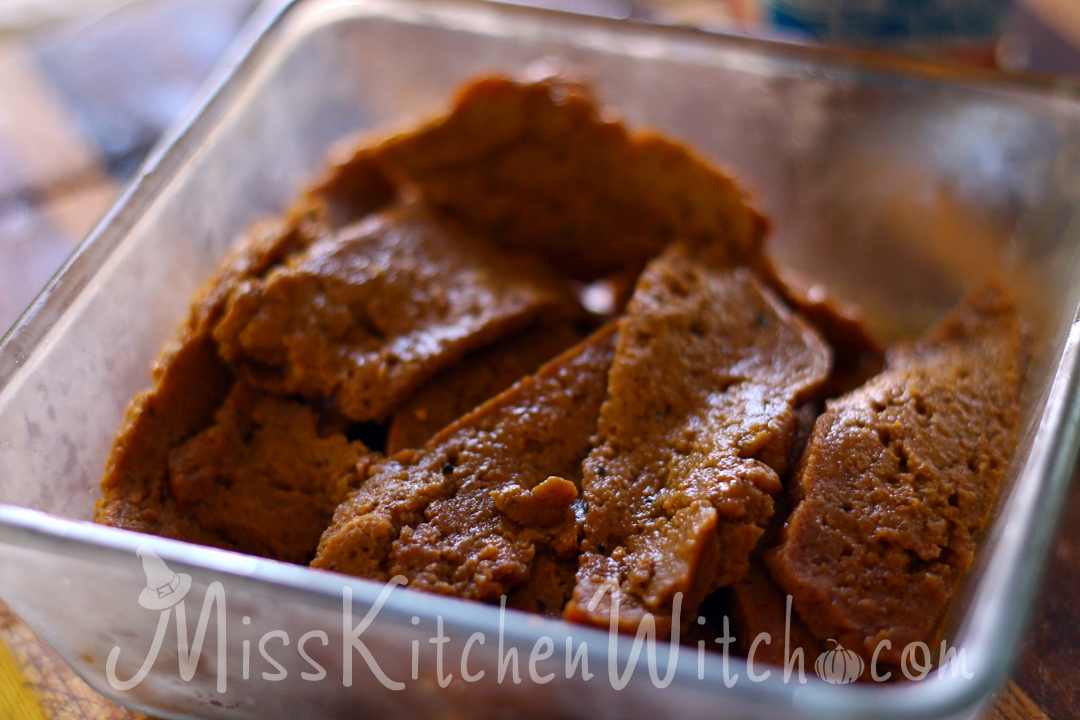 Melt a small amount of vegan butter or cooking oil in a frying pan over med heat. Add the marinated seitan and fry on each side until crisp, about 4-5 mins per side.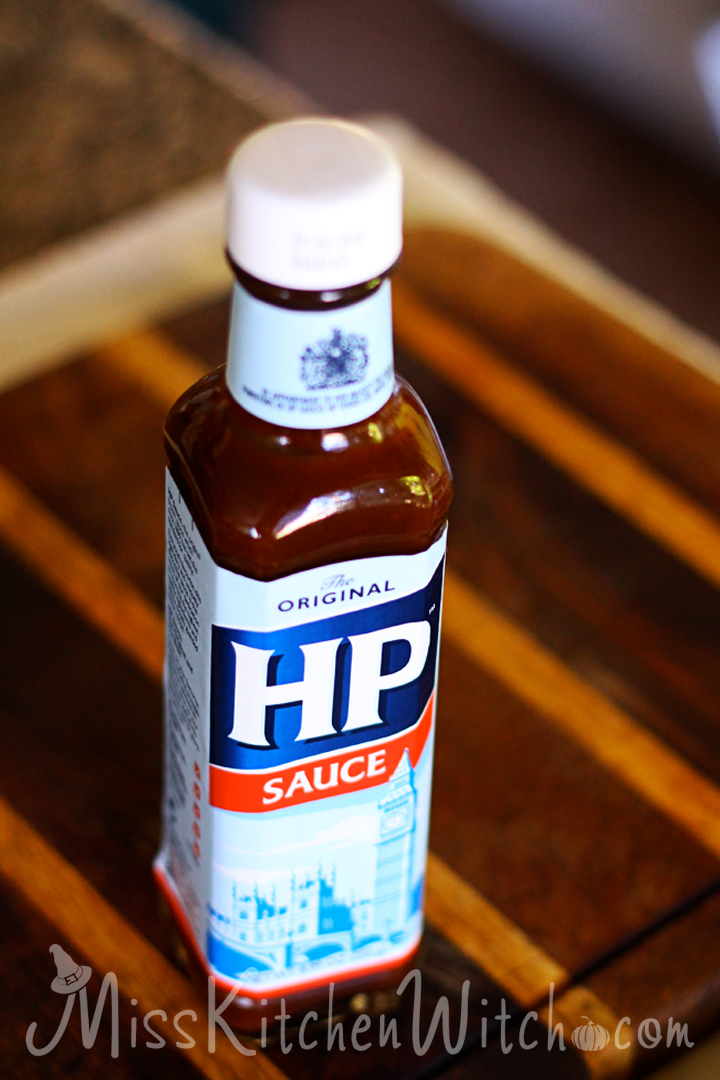 Meanwhile, lightly toast your bread and spread vegan butter on one slice for each sandwich. Add the vegan bacon once all cooked, top with HP Brown Sauce, and serve immediately!