Jackfruit is truly an amazing food. Slow cooked, it breaks down and obtains a shredded pork consistency. My Mom won't eat it because it's 'too meaty'! I also like using it for as carnitas for tacos or tamales. Here we served it on ciabatta rolls with grilled pineapple. It was just now that I realized it was basically a fruit sandwich. Look for jackfruit fresh or canned in asian markets. If canned, get it in brine—not syrup!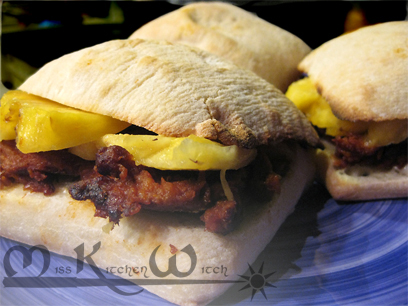 BBQ Pulled Jackfruit (yields enough for 4 sandwiches)
2 cups fresh/1 can jackfruit, peeled, seeded and chopped
1 small onion, diced
4 cloves garlic, minced
1/4 cup tomato paste or ketchup
1/4 cup molasses
2 tbsp balsamic or apple cider vinegar
1 tsbp soy sauce
1 tbsp mustard
1 tsp liquid smoke
Over medium heat, cook onion, garlic and jackfruit in the oil for about 5 minutes until the onions start to cook and the garlic is fragrant. Add the tomato paste and cook for an additional 3-5 minutes, stirring.
Add the remaining ingredients and lower to a steady simmer. Cover and cook for 30-40 minutes, stirring occasionally, until the jackfruit is tender and the sauce is absorbed. Add vegetable broth or water if needed. Serve on toasted buns with all your favorite fixings!