This marinade is very intense: in terms of both heat and colour! I suggest serving these with a soy or almond yogurt dip just to help cool down a little. Not in to the heat? Tone down, omit the cayenne ,or swap it for some mild chili powder.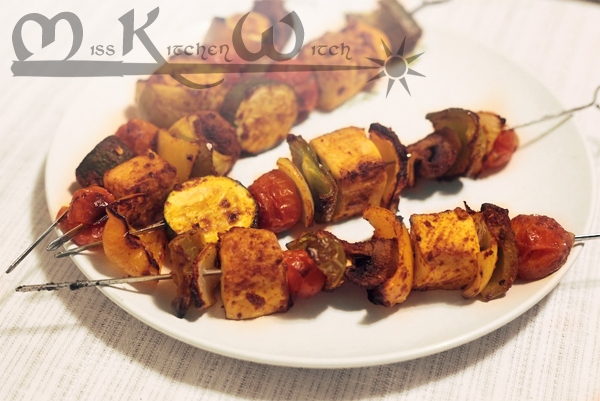 Spicy Kick Kabobs (yields 8 kabobs)
Marinade  1/4 cup apricot or orange preserves 2 tbsp olive oil  1 tsp turmeric 1 tsp salt 1 tsp garlic powder 1 tsp cocoa powder  1 tsp red chili flakes or ancho pepper 1 tsp oregano 1/2 black pepper 1/2 tsp cumin  1/4-1/2 tsp cayenne pepper Skewer options—mix, match, and pick your favorite: 
Bell peppers, button mushrooms, cherry tomatoes, onion, pineapple, zucchini, summer squash, eggplant, avocado, and tofu (drained and pressed) or your favorite veggie meat—all cubed. 
Marinade your veggies for at least an hour before you plan on grilling. The longer you drain and press the tofu, the more flavor it will absorb. Skewer your veggies with some pre-soaked skewers, alternating as you like, and place on a hot grill. Turn about once every five minutes, brushing with extra marinade if it begins to look dry.
(Opt. serve with a side of soy-yogurt dip)