Asian food is usually a request of Monkey Man's. With the exception of Thai food, it's not something you will probably ever find me cooking. When we're sick, you'll find a bowl of miso soup close by or Monkey Man will make stir fry. Though I have nothing against asian food, it's not really a favorite of mine.
We will occasionally hit up some thai markets for curry paste, lemon grass, insanely cheap coconut cream, and agar agar for cheese making. On our last trip we decided to try some of their packaged noodles. This time we went for the wheat noodles to try out some Chow Mein—the epitome of Americanized-not-really-Chinese-at-all-food. What resulted was quite tasty.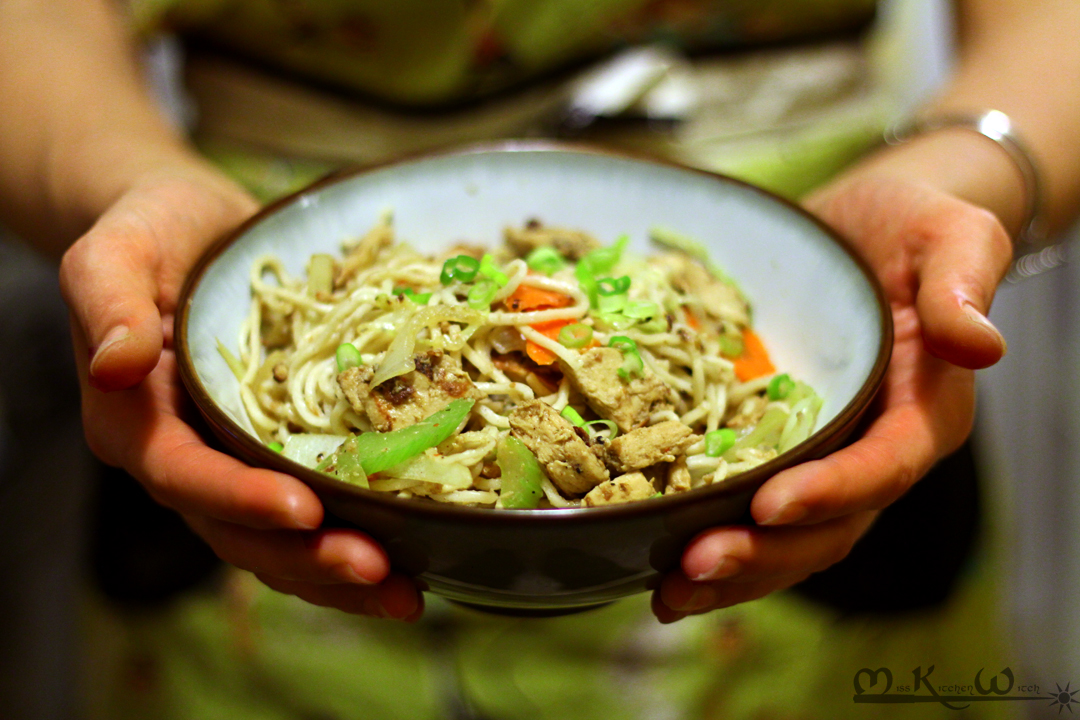 Vegan Chick'n Chow Mein (Serves 3-4)
Ingredients
8 oz thick Chinese wheat noodles
1 package of plain, grilled Beyond Meat Strips (or other vegan Chic'n product)
2 tbsp chili sauce (heat according to your taste)
1 tbsp soy sauce or braggs
1 tsp chinese 5 spice
1 tbsp corn starch
2 celery stalks, sliced
1 carrot, sliced
1 medium onion, cut into strips
1 cup cabbage, thick shreds
3 cloves garlic, minced
2 tbsp soy sauce or braggs
1 tsp sugar
1/4 cup mild oil like peanut, canola, vegetable, or corn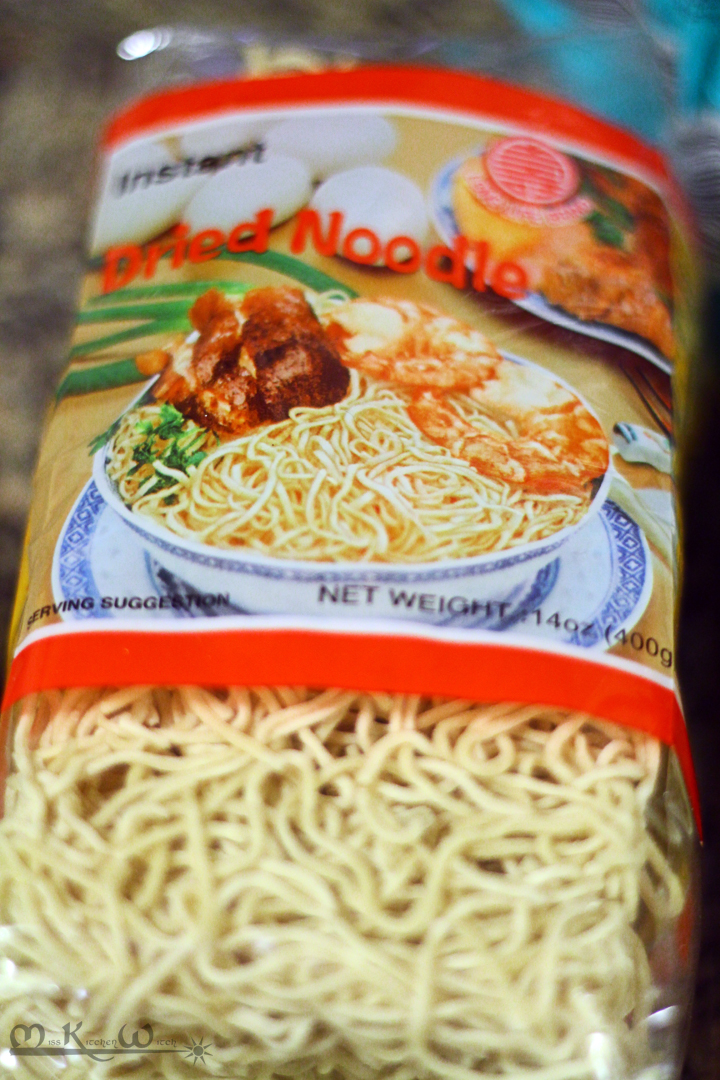 Start by bringing a pot or kettle of water to a rolling boil. Turn off the heat and add the package of noodles or pour the water over the noodles in a large bowl. Allow to set while you are preparing the other ingredients. They should be al dente in about 5 minutes.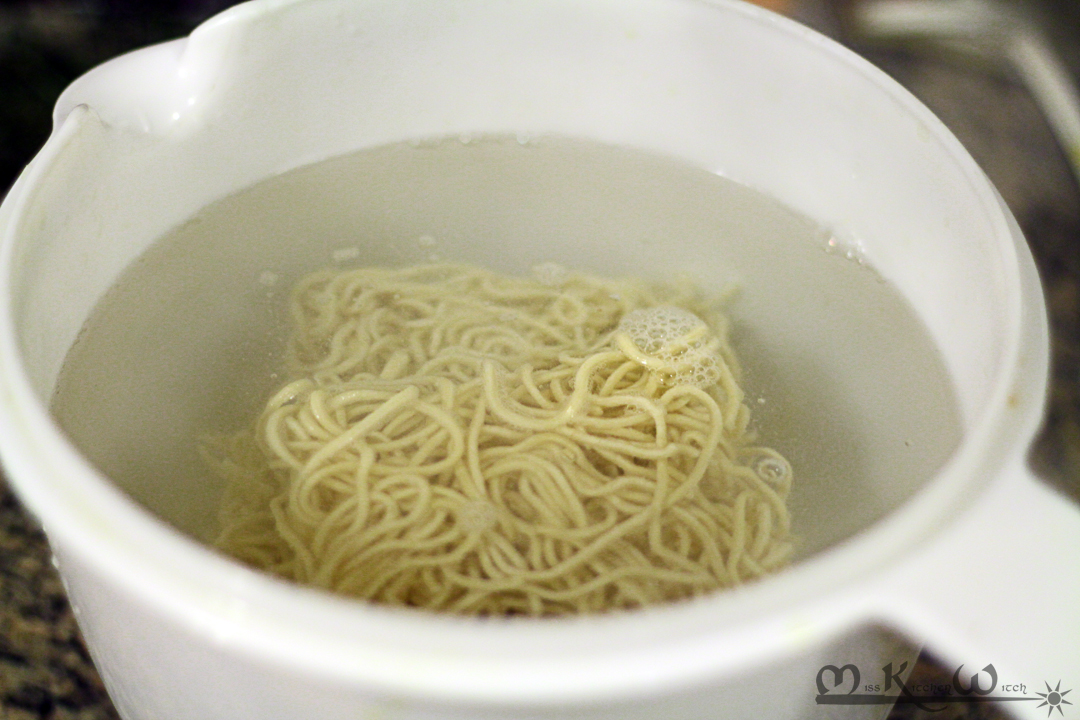 Toss the vegan chick'n with the chili sauce, braggs, and chinese 5 spice. For less heat, reduce the 5 spice to 1/2 tsp. Add the cornstarch and toss once more. Heat 2 tablespoons of the oil up in a wok over high heat. Once it starts to smoke a tiny bit, add your prepared vegan chick'n. Turn and toss the chick'n to cook evenly over the heat until it is crispy and golden.
Add the chopped vegetables, remaining braggs, sugar, and the rest of the oil. Cook for about 2-3 minutes, until the vegetables are cooked, but still have a distinct crunch to them.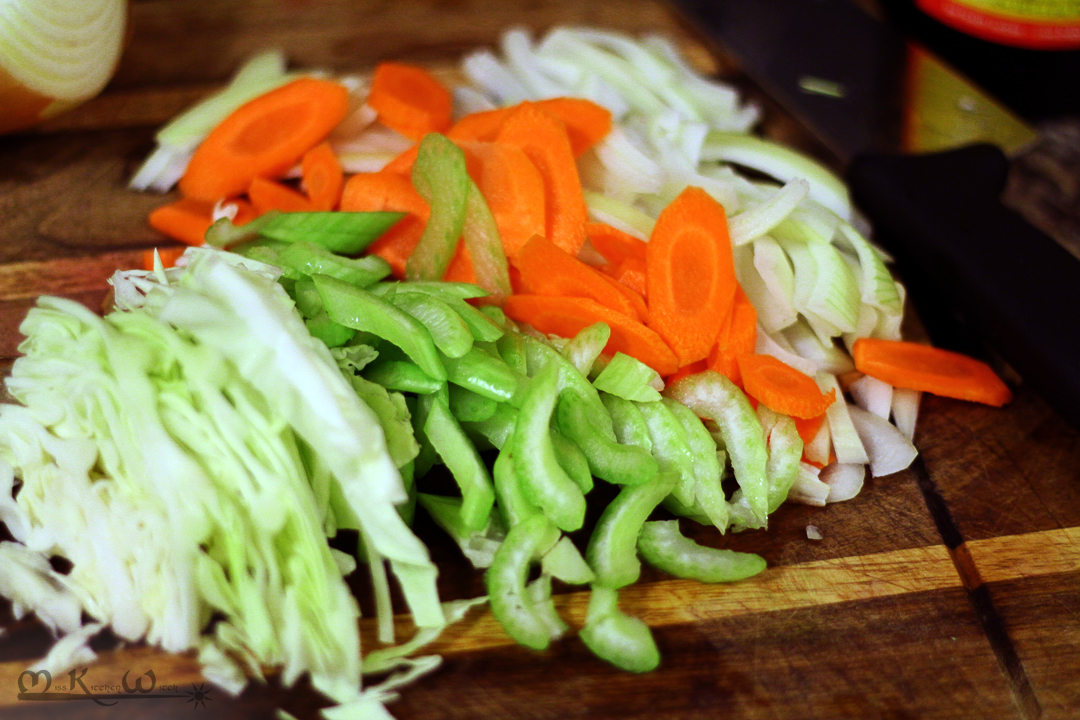 Drain the noodles and toss in.Cook another 2 minutes or so, just until everything is hot and incorporated.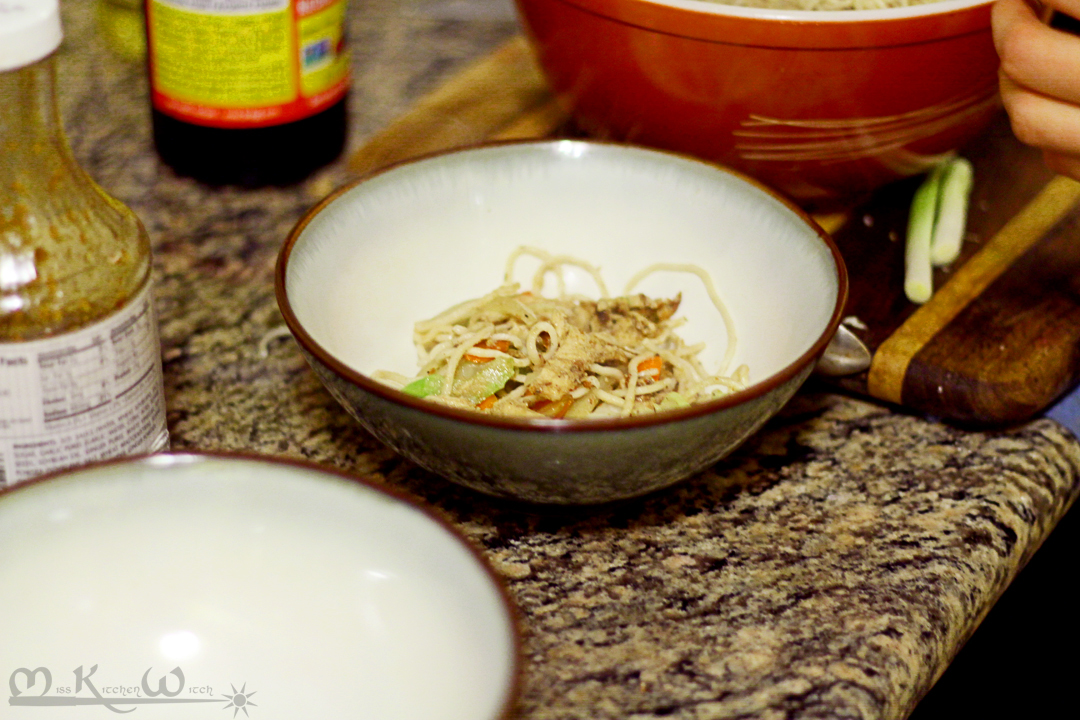 Serve with a little extra soy sauce, teriyaki sauce, or hot sauce.