Pierogi are little dumplings wrapped in an unleavened dough. They are boiled, then baked or fried with oil and onions. Common fillings include potato, sauerkraut, ground meat, soft cheeses, or fruit like plums and strawberries. Most modern recipes you'll find contain eggs and sour cream. Yet traditionally, eggs were rarely used in the dough as it tends to make it tougher. You'll find similar dishes across Eastern Europe, though Pierogi is the Polish name and I'm sure they'll argue they created the original. Everyone owns the original, right?
Growing up we called them Russian Finger Food. I think I coined that when I was little because my Mom was studying Russian at the time and I declared they should only be eaten with your fingers. Monkey Man learned to make them from his Mom and family in Poland, so he trumps any information or serving suggestions I try to offer. He suggests also frying them in braggs and serving them with horseradish and borscht broth. I say they're tasty with a vegan sour cream and dill!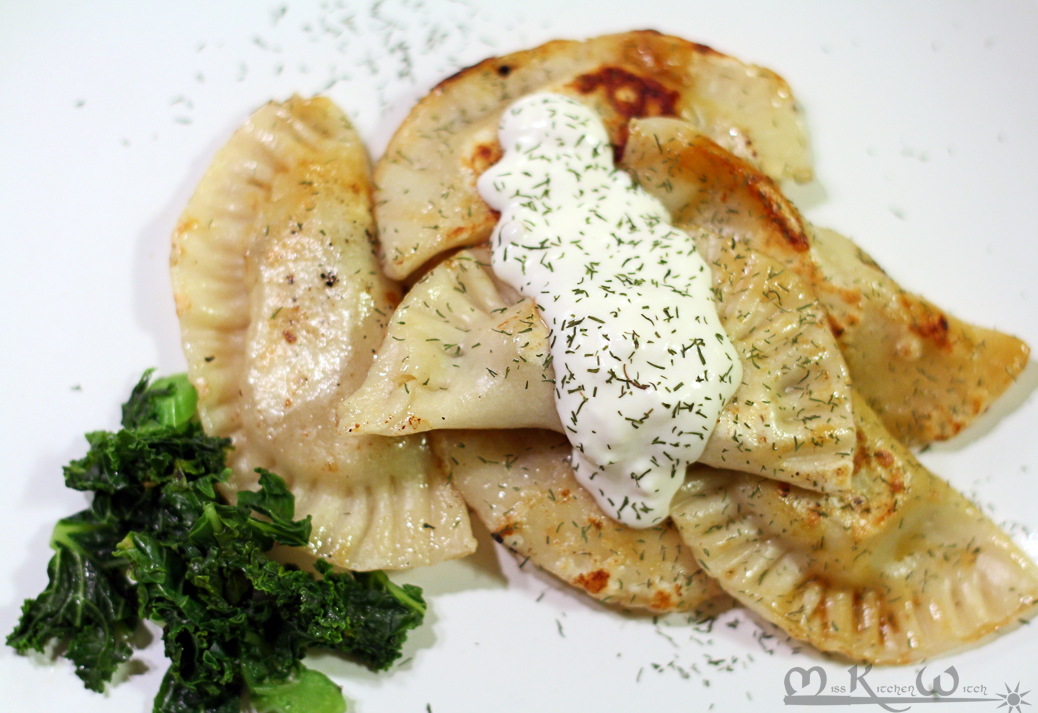 Vegan Polish Potato Pierogi (makes about 40-50)
Ingredients Dough 3 cups wheat flour 3/4 cup boiling water 1/4 cup cold water 1 tsp salt 1 tsp oil Filling
5 potatoes (unpeeled organic), cubed
1 large onion, diced
1/4 cup soymilk
1/4 cup nutritional yeast
1/2 cup Daiya or other vegan cheese (opt)
or 3 tbsp oil and extra salt
1 tsp salt
1 tsp black pepper
oil for cooking and frying
Sift the flour and add the salt. Pour the boiling water into the flour while quickly stirring with the fork. It will be lumpy and crumbly. Cover the bowl and let it rest for five minutes. Pour the cold water into the flour and mix. Cover again for 15 minutes. Add the oil and start kneading the dough until it's smooth. Should take 5-10 mins and it will be very firm. After kneading it should stretch and have a smooth consistency and color.
Start up a frying pan over medium heat with a little bit of olive oil and the diced onion. Keep cooking and stirring, adding a few tablespoons of water if needed, until soft and caramelized-brown. Season with salt and pepper to taste. Takes about 10 minutes.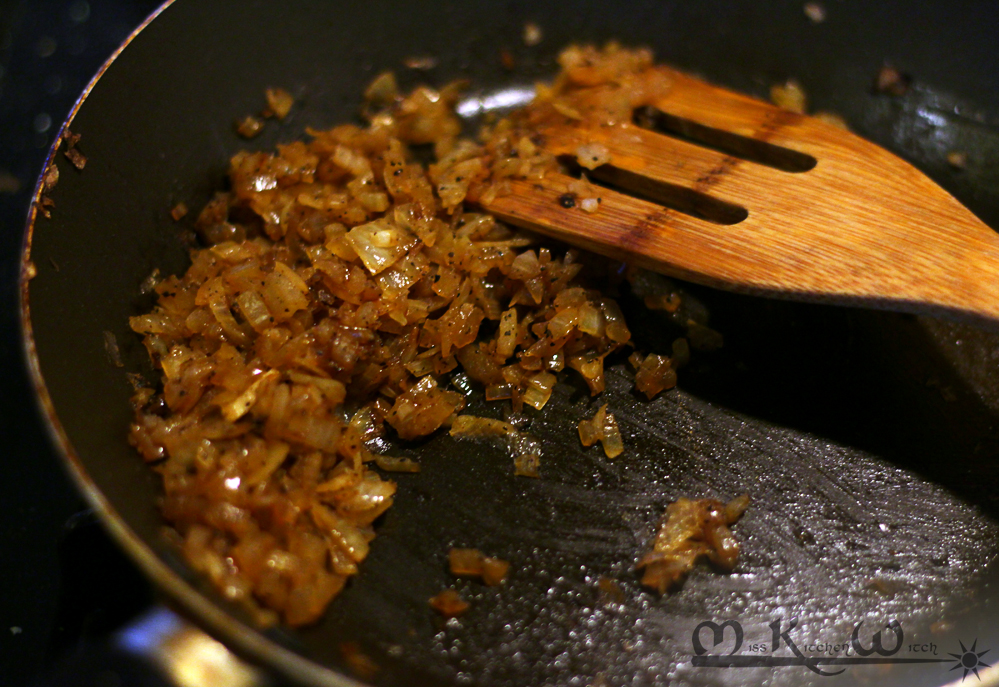 For the potato filling, fill a medium stockpot with water and bring to a boil. Add the potatoes and cook until a test piece mashes softly. Drain, reserving some of the cooking water. Add the soymilk, nutritional yeast, and vegan cheese or oil. Mash, adding some of the cooking water until you get a smooth, creamy texture. Takes about 1/2-3/4 cup of the reserved liquid. Add seasoning and adjust if needed. Keep warm so the vegan cheese melts down. (FYI, it probably won't melt if you've frozen it like we have. We got a lot of Daiya at once and put some in the freezer, so now it's much harder to melt down). Add the bulk of the onion, reserving a little for garnish.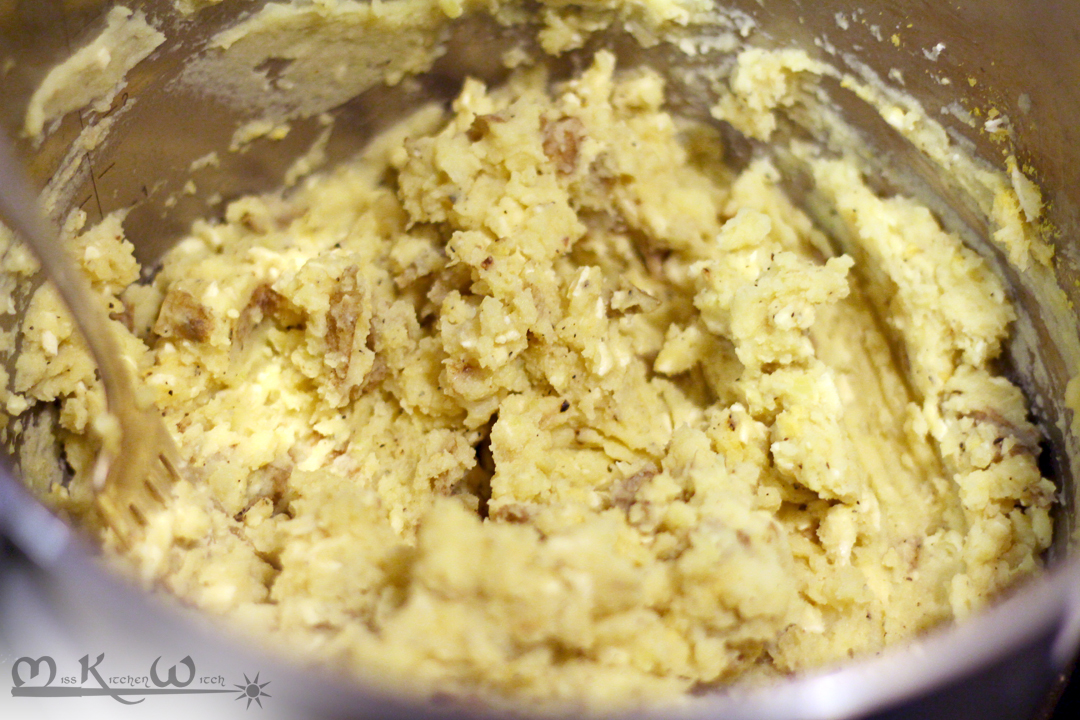 Roll out the dough to an 1/8″ thickness on a lightly floured countertop so the dough doesn't stick. Sprinkle more flour as needed. Try to keep the top a little less floured as you will have to reroll the dough scraps and you want it to be able to squish back together smoothly.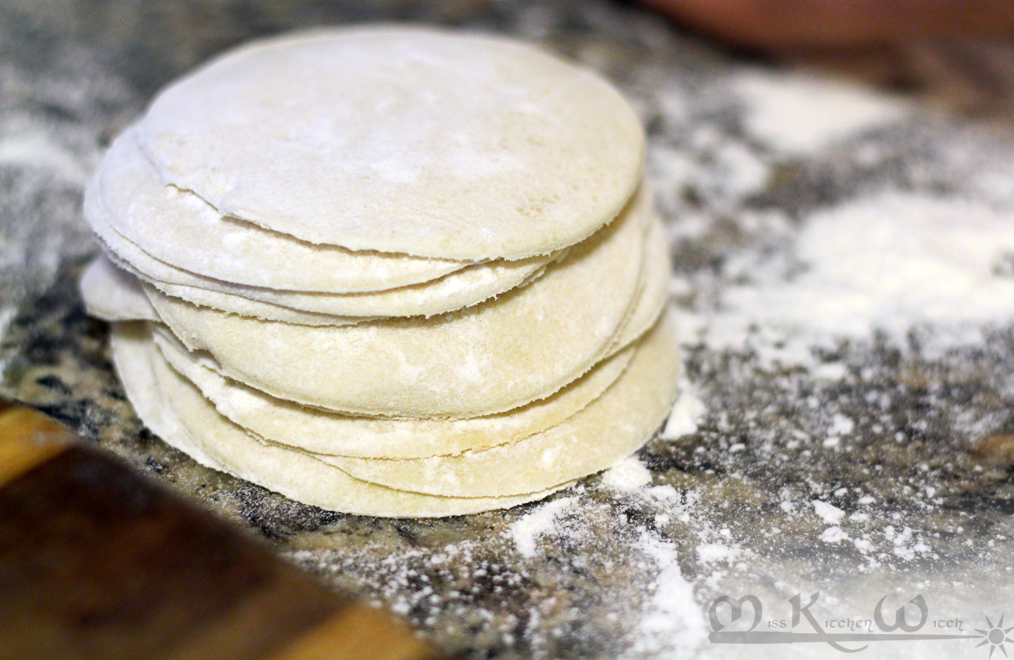 Cut circles out using a large biscuit cutter or a waterglass. Ours were about 4″ across.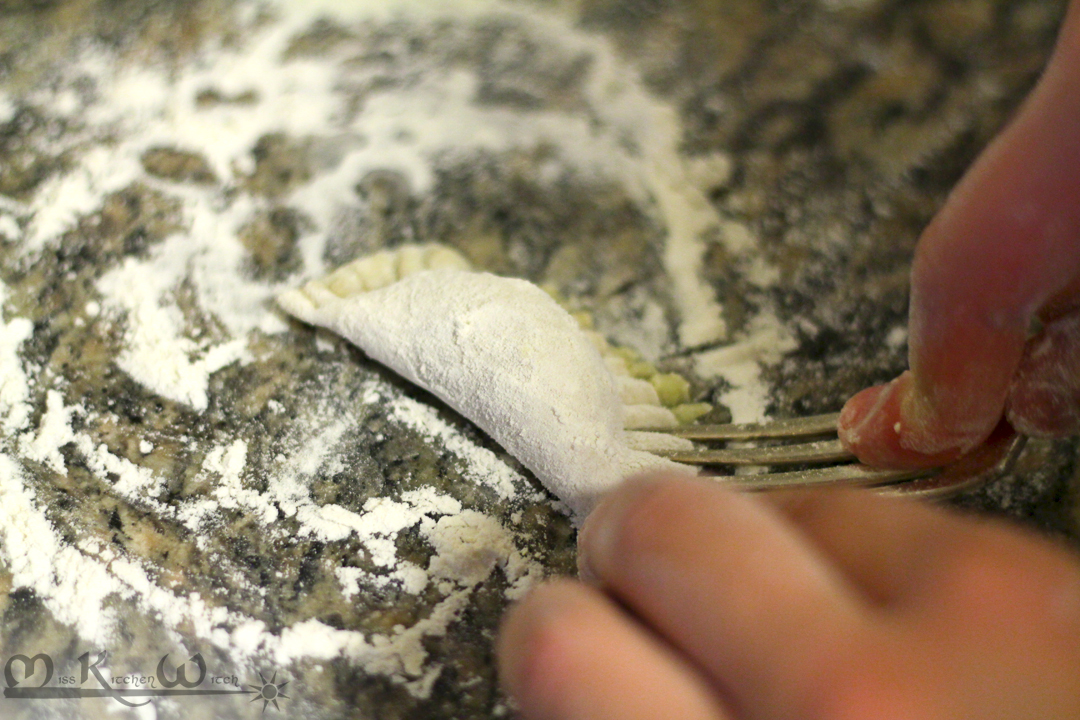 Arrange the potato stuffing in the middle of every circle. Wet half the edge of the each circle with a little water and fold each pierogi. Press edges with a fork and set aside. Collect scraps of pierogi dough, knead again, roll up and cut second set of circles. Repeat until you've filled all the dough.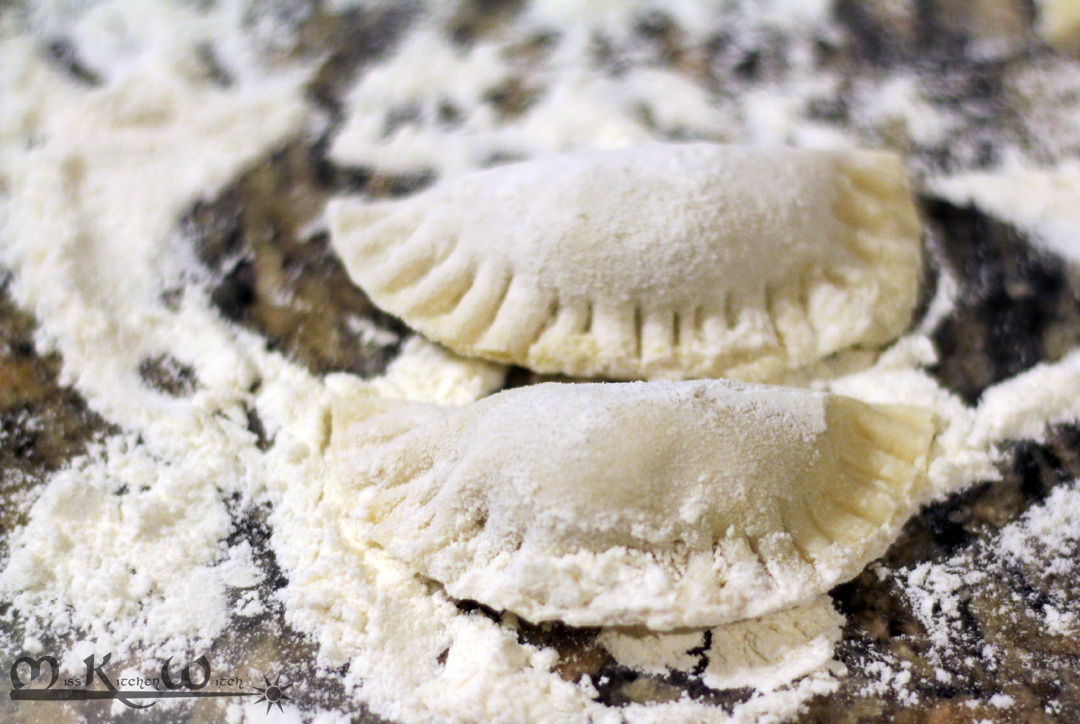 Bring another pot of water to a boil. Once the water is boiling, drop in about 4-6 pierogi at a time, depending on how much room you have. Once they have cooked, they will rise to the top, about 3 minutes.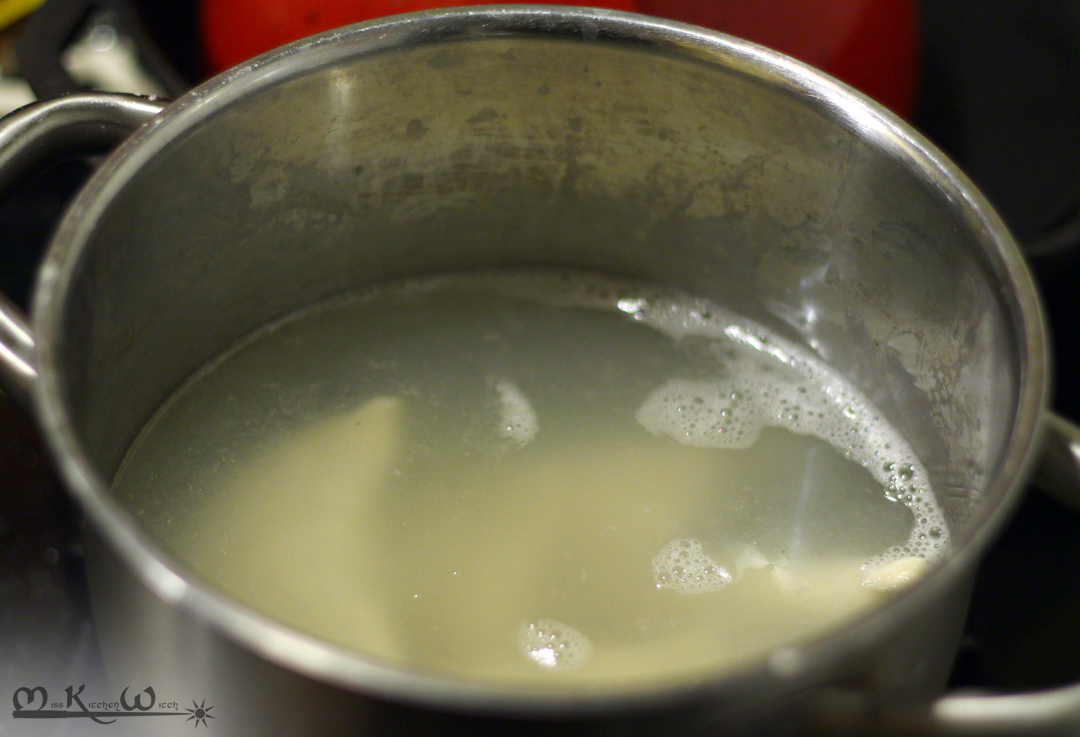 With a slotted spoon, scoop them out and transfer to your frying pan.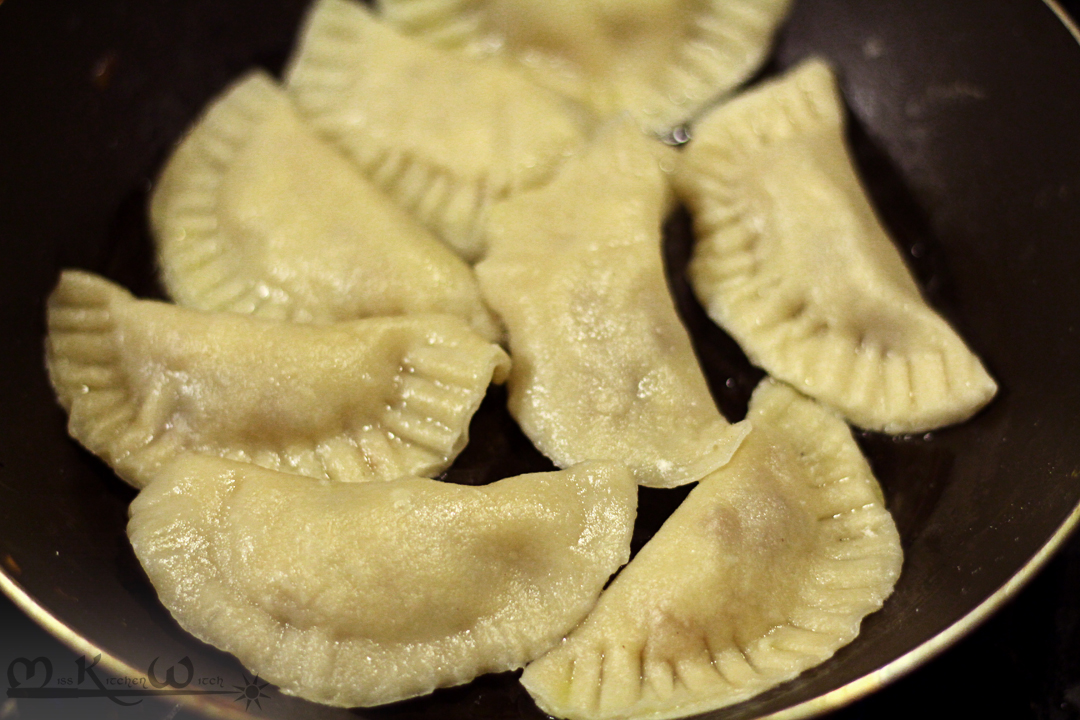 Cook on each side for about 5 minutes until golden brown and crispy.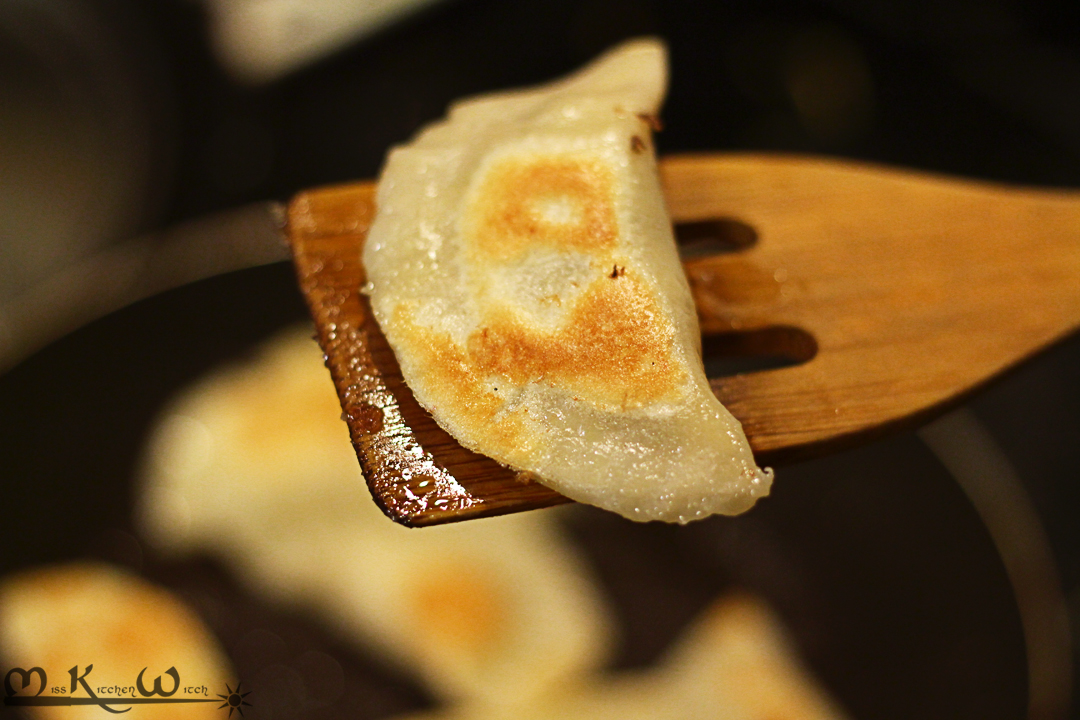 If you plan to freeze any, boil them first. After the first cook, let them drain then place them in an airtight container with a little oil. Allow to cool completely and freeze. They'll keep for 3 months in the freezer.