Brittle is a type of sugar, heated to the hard crack stage (300°F). I strongly suggest you use a candy thermometer for this, it is far too easy to ruin a batch of candy. There seems to be such an ire against thermometers, which doesn't make much sense to me. You don't get angry about using the thermometer on your oven or a timer for baking. Why all this hate for candy thermometer? Pick one up if you don't have one. The glass ones are $5-8 and it'll pay off as soon as you taste this.
Riddled with nuts or seeds, you can find variations of brittle all over the world. I make all kinds of brittle around the holidays as gifts and foodie presents. This recipe is a classic no frill recipe, just pure heaven. A fairly quick recipe, it takes about 30 minutes from "start" to "stuff in face". The texture is reminiscent of honeycomb, but the flavor is all caramel and salty nuts. Peanut Brittle is said to be one of those sweets that is entirely American! How's that for patriotism? Move over Apple Pie, there is a new dessert in town.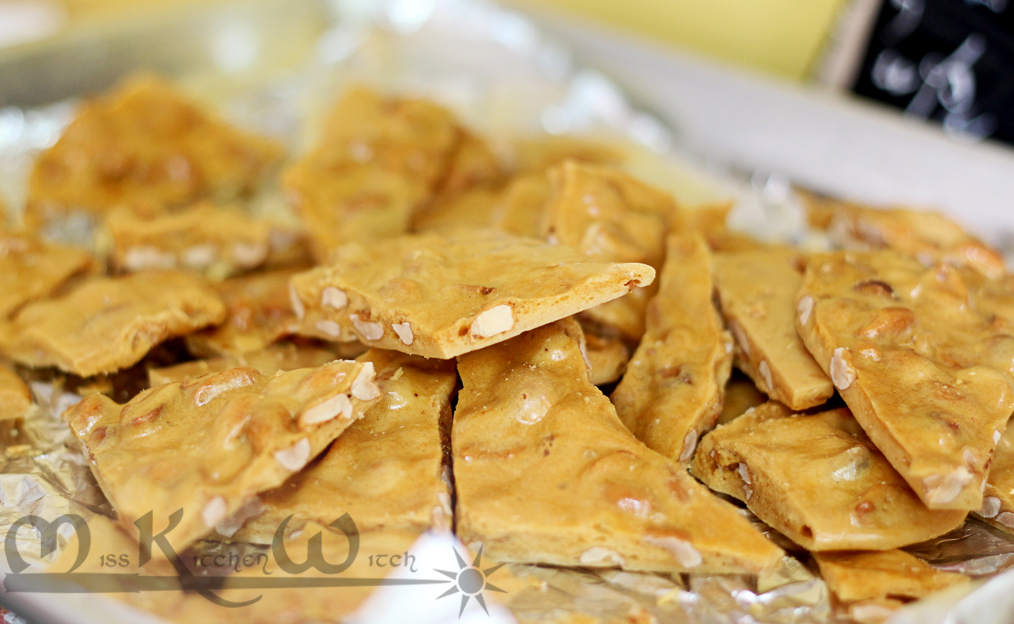 All American Vegan Peanut Brittle (Makes 1 1/2 lbs)
Ingredients
1 1/3 cup turbinado sugar
1/2 cup water
1/2 cup organic corn syrup (non-GMO)
1 3/4 cups roasted-salted peanuts
1 tsp salt (omit if using blister peanuts or 2 tsp if using unsalted)
2 tbsp vegan butter or coconut oil
2 tsp baking soda
Line a baking sheet with foil and grease it thoroughly. You can use parchment paper, but it tends to stick more in spots you might not have noticed you missed. In a small stockpot, with your thermometer attached, combine the sugar, water and syrup. Stir over medium heat, until the sugar is dissolved.
Next you'll cook, without stirring, until it reaches 240°F. While it's cooking, use a wet pastry brush to rub the sides of the pot where sugar is collecting. The water from the brush dissolves the sugar crystals and keeps the entire mix uniform. When it finally hits 240° (don't rush it or crank the heat up) add the peanuts and salt. Stir occasionally to keep the peanuts from settling and burning.
Keep cooking, brushing down the sides, stirring a bit—until it reaches 300°F. It will take 5-8 minutes, so don't you dare walk away. Those last 5 degrees really sneak up on you. Immediately remove the pot from the stove. Stir in the oil, then the soda. It will puff up and foam like crazy. Carefully pour it onto your greased sheet and spread it out as gently as you can without squishing the foam.
Once it cools just a little, you can stretch it with your hands in places you might have poured it too thick. In about 10 minutes it will be cool enough to break up and eat! Store in an airtight container for up to 1 month.