Day 2 of the Vegan Month of Food (VEGANMOFO!)
Sweet and tart, Lemon Curd goes great on toast, filling for tarts or as the center to a cake! I love fruit curds as an alternative to jam and will often use it on a peanut butter sandwich when I have it around. Also good on scones, pancakes and muffins, you can make it practically any citrus.
Traditional lemon curd is made with egg yolks, meaning you'd be spreading pure fat and sugar on your toast. Wait, I do that with EarthBalance and Jam… Wait until your lemons are tender before squeezing, never juice hard lemons. Save those for cocktails and garnishing. Always squeeze your citrus at room temperature as it will yield much more juice.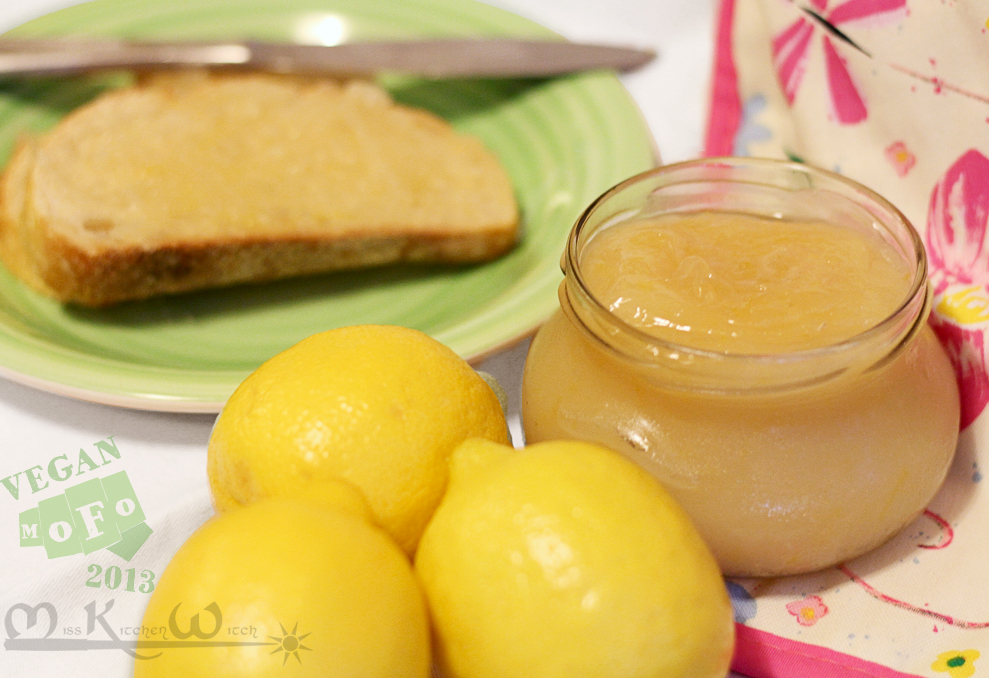 Vegan Vanilla Lemon Curd (makes about 2 cups)
Ingredients 3/4 cup sugar 3/4 cup water 1/4 cup cornstarch or tapioca starch 1/2 cup lemon juice (juice from 3 lemons) 2 tbsp lemon zest 1 tsp vanilla or almond extract pinch salt
Mix together the sugar, water and cornstarch in a saucepan over medium heat. Slowly bring to a boil, whisking constantly. When it reaches a  boil, turn down the heat and continue stirring until the mixture gets thick.
Add the lemon juice, zest, and salt. Keep cooking and whisking until it thickens again. Remove from heat and add the extract. Allow to cool before using. Keep refrigerated.