Fennel is a relatively new favorite of mine. Though not a big fan of the seed or pollen, which are too similar to anise and black licorice for my taste, I can't seem to get enough of fresh fennel bulb or greens. I love to grill or roast sliced fennel bulb until soft and buttery and the greens make an excellent pesto.
I regret waiting so long to try it again. I associated it too much with Tom's Fennel toothpaste and my Dad's infamous fennel soup. Fresh fennel makes me think of spring, wild greens, and the English countryside. It pairs lovely with sweet apple and a nutty oil. Add some vegan sausage or nuts for extra protein, Monkey Man prefers it with a drizzle of balsamic vinegar.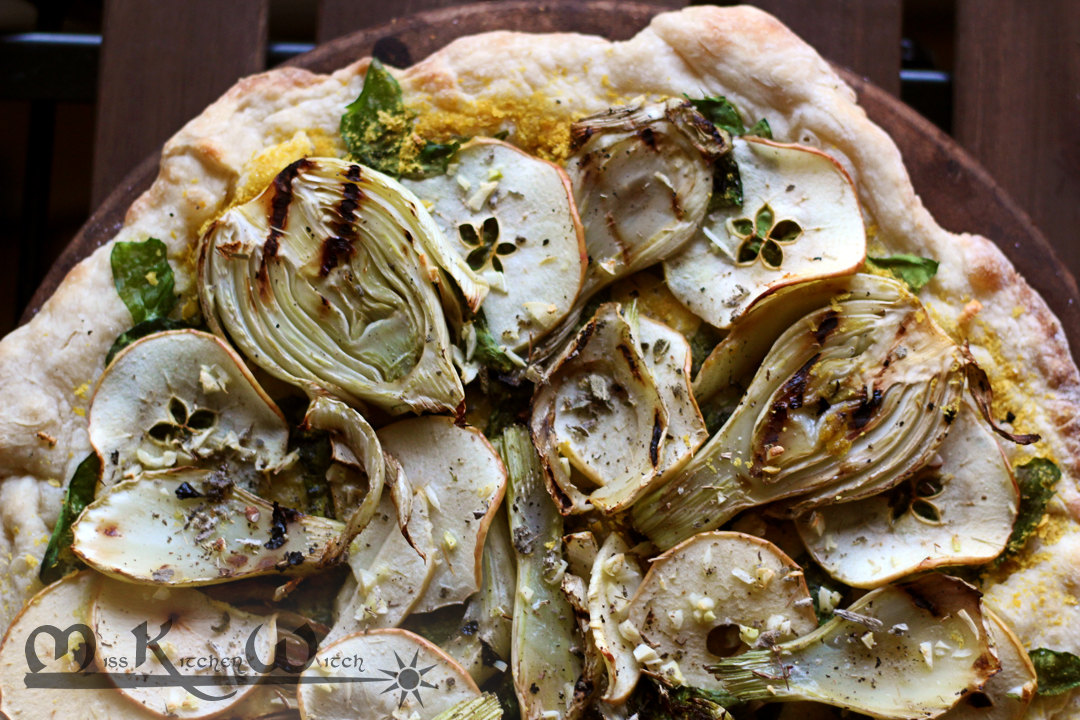 Vegan Fennel and Apple Pizza (makes one 14″ pizza, serves about 4)
Ingredients  Pizza Crust  An easy basic crust goes like this…
2 1/2-3 cups flour  1 cup warm water  1 1/2 tsp yeast  2 tbsp oil  1 tbsp sweetener  1 tsp sea salt    Toppings  1 fennel bulb, sliced vertically 2 gala (or other) apples, sliced horizontally 3 tbsp hazelnut or walnut oil (or olive oil) 2 cups fresh spinach  2 tbsp nutritional yeast  2 cloves garlic, diced  1 tbsp dried sage salt and pepper to taste
In a large bowl, mix all the dough ingredients except the flour. Let it set for about five minutes. Slowly add the flour, a half cup at a time. Once the dough begins to pull away from the sides of the bowl, tip onto a floured counter top and knead for 5-10 minutes. The dough should be smooth and elastic. Place the dough into a bowl with a tablespoon of oil and flip dough over, so it is completely greased. Cover the bowl with a towel and let rise until doubled, up to 1 1/2 hours.
For the toppings, grill the sliced fennel bulb over medium heat. Cook each side for about 7-8 minutes, until it is soft, juicy, and is starting to caramelize. Set aside once cooked. Preheat oven to 500°F.
Once your pizza dough is risen, punch down and roll out to the size of your pizza stone or pan. If using a stone, preheat it with the oven. Place the rolled dough on to the preheated stone or a metal sheet. Drizzle with half the oil. Add the spinach, packing it down a little. Sprinkle with nutritional yeast. Next add the cooked fennel and the apples, layering them slightly with each other—all on top of the spinach. Top with the sage, some salt and pepper, the garlic, and drizzle with the remaining oil.
Turn the oven down to 450° and bake the pizza for about 15 minutes, or until the apples and crust appear to be cooked. Allow to cool for a minute or so before cutting.