A recipe I developed for a cooking class, this spring version of risotto is light and fresh. The mint and lemon are not at all overwhelming, but build up the asparagus perfectly. Grill some extra asparagus with olive oil and garlic to serve on top with maybe some toasted walnuts or almonds.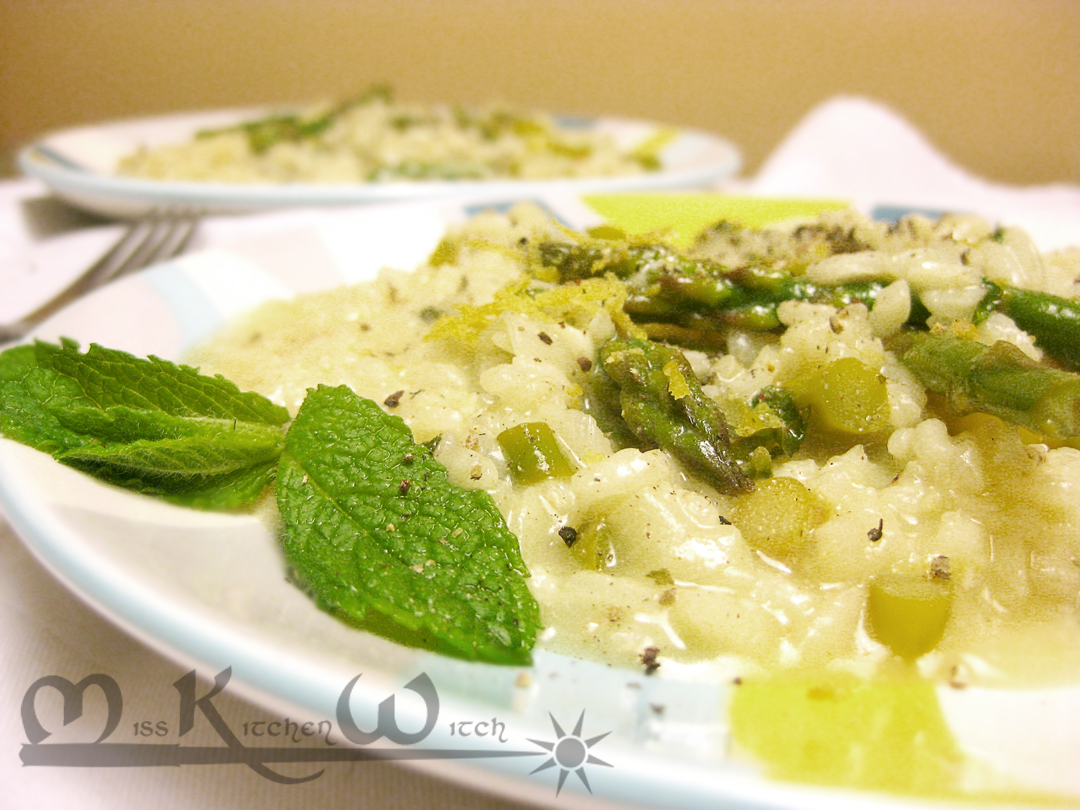 Asparagus, Mint, Lemon Risotto (Serves 6)
Ingredients 2 tbsp olive oil 1 sm-med onion, diced
4 cloves garlic, diced 2 cups arborio rice
6 cups vegetable broth
1 cup dry white wine (or vodka), room temp
1 bunch asparagus, chopped juice and zest from 1 lemon 1/4 cup nutritional yeast (opt) 1/4 cup vegan mozzarella cheese
1 small bunch mint, shredded
salt and pepper to taste
In a large pan, sauté onion and garlic in oil over medium heat for 3-5 minutes, or until translucent. Add rice, coating with oil and cooking for 1 minute. Slowly add wine to rice, continuing to stir.
Once the wine starts to cook off, begin to add veg broth, 1/2 cup at a time. Each time let the liquid cook off before adding the next 1/2 cup. Stirring frequently gives risotto signature creamy texture.
After the 6 cups of broth have been added, about 25-30 minutes, the rice should be tender, but al dente. If it still appears a little hard, add more broth. Add asparagus, lemon juice, and zest. Cook for just a few minutes until the asparagus is bright green. Turning off heat, add nutritional yeast and cheese. Stir until cheese is melted and incorporated. Add mint, mix, and serve immediately.