Another allergy friendly recipe that I created for Farm Sanctuary's Animal Acres. There is nothing better in the summer than peaches. Top this lovely cake with Mimic Cream (made from cashews and almonds) or a nice coconut whipped cream if you're worried about nut allergies as well! Must be eaten right away because it goes bad very quickly.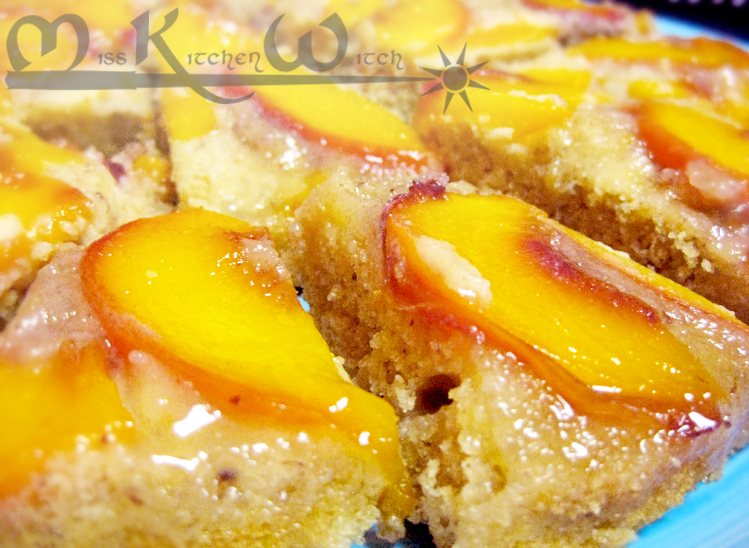 Gluten-free, Soy-free Vegan Peach Upside-Down Cake (yields 8-9 inch cake)
Ingredients 3/4 cup turbinado sugar, divided 2 cups or 2 large ripe peaches, sliced 3/4 cup almond or coconut milk 1 tsp lemon juice 1 1/2 cup all-purpose gf-flour 1/4 cup rice flour 1/2 tsp baking soda 2 tsp baking powder 1/2 tsp powdered ginger 1/4 tsp salt 1/4 cup peach juice 1/4 cup vegetable oil 2 tbsp flaxmeal, whisked with 3 tbsp water 1 tbsp vanilla extract
In an 8 or 9 inch pan sprinkle the first quarter cup of sugar, then place the peach slices over it. Add the lemon juice to the almond milk and allow to sit and curdle.
Sift together dry ingredients and set aside. Separately mix the juice, oil, flax mix, vanilla and remaining 1/3 cup sugar. Add the almond 'buttermilk' to the liquid mix. Gently fold in the dry mix, just until blended. Pour over the peaches in the cake pan.
Bake at 350F for about 25-30 minutes. Allow to cool slightly and place a plate over the pan and invert, letting the cake slide out. We served with MimicCreme (vegan, soy-free, gf-free whipping cream made from almonds and cashews). Eat the day it is made.