Another item from my 'Flavors of Hawaii' series, Musubi is a type of sushi with filled with slices of SPAM and plain white rice. SPAM is strangely and unfortunately popular in Hawaii. You can find SPAM Musubi in supermarkets, gas stations, and even at bake sale fundraisers. I kid you not. So, I veganised and improved it.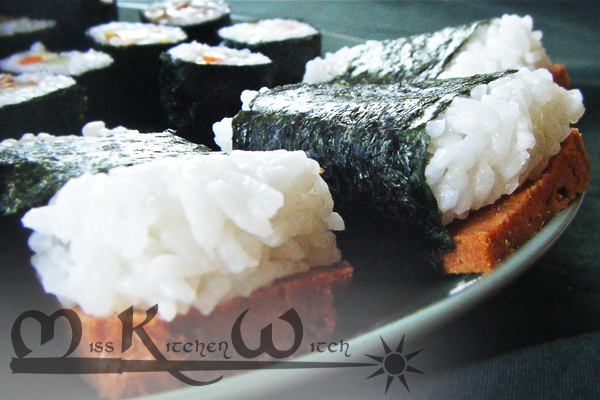 Vegan SPAM Musubi
Ingredients  1 can of red kidney beans 1 small can of tomato paste 1 cup of cooked oatmeal 2 cups of vegetable broth 2 tbsp vegetable oil 1 tbsp soy sauce/braggs/miso (opt can add more salt instead) 1 tbsp salt 1 tbsp paprika 1 tsp garlic powder 1/4 tsp onion powder 1 tsp chili powder 1/2 tsp white pepper 2 1/2-3 cups vital wheat gluten     Sushi Rice White/Med Grain rice cooked (1 cup rice to 2 cups water) 2 tbsp rice wine vinegar 2 tbsp sugar 1 tsp salt
Blend all ingredients, except the gluten, until smooth. Pour into a bowl and slowly add just enough 'flour' to form a wet sticky lump. You want it to still be moist so your end product isn't completely dry.
Form into two thick logs and wrap with foil. Steam for 40 minutes. Remove from steamer and check to make sure that all parts are still covered with foil. Place in a dish and bake for 40-50 minutes at 350F. Remove and allow to cool completely.
Meanwhile, fold the rice with vinegar, sugar and salt. Allow to sit and mellow.
Unwrap the seitan. No matter what shape you may have formed it in pre-steaming, it will have swollen into a roundish log. Cut the edges to make into a rectangle and then slice into 1/4″ slices like a loaf of bread. Slice a sheet of nori into desired widths. Wet your hands and shape about a 1/4-1/2 sized scoop of rice into a rectangle to fit onto your slices of SPAM. Set the SPAM and rice onto the end of a piece of cut nori. Roll up and allow to rest on the side where the nori ends. The moisture of the sushi will seal the nori.