I love these icebox cookies because they remind me of the pillsbury christmas cookies, which you'd get in a roll and slice. Those were some of my childhood favorites, but probably only because of the fun shapes inside. The flavor of this recipe is spot on and sometimes I mix up the colors and flavors for different holidays. This version is split into two balls of dough, which are colored, rolled out, then rolled together to create a lovely pinwheel design. It's easier than trying to shape a ballon or christmas tree with the inner layer. In addition the whole log is rolled in vegan sprinkles for more color. What's awesome about this recipe and many it was based on—no eggs! So they're easily veganized for those looking for a very simple vegan cookie!
Icebox cookies are those which, in dough form, are refrigerated or frozen. Chilled cookie dough in a rolled log can be simply cut off into cookies one at a time instead of rolling out the whole batch. Chilled cookies are known as icebox cookies, in a reference to the iceboxes people kept before the refrigerator became widespread and/or affordable.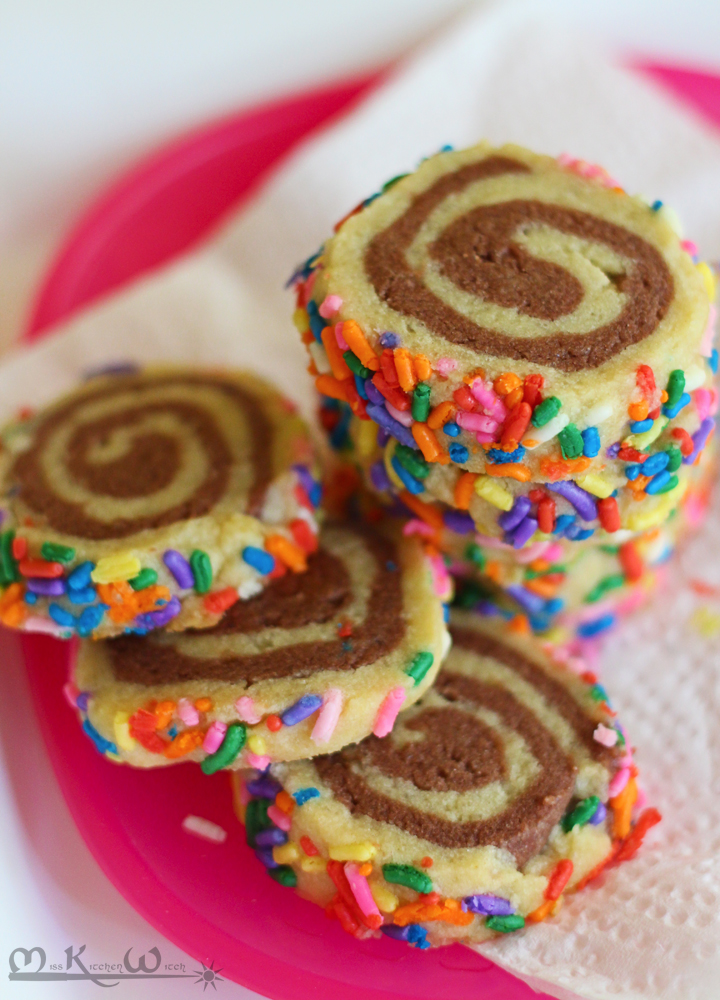 Chocolate Pinwheel Icebox Cookies (makes about 18 cookies)
Ingredients
1/3 cup packed powdered sugar
2 tbsp raw cane sugar
3/4 cup vegan butter
1 tsp vanilla
1 1/4 cups flour
2 tbsp cocoa powder
1/4 tsp baking powder
1/8 tsp salt
1/2 cup sprinkles (Let's Do Organic and Lieber's both make vegan sprinkles)
Cream together the sugars, vanilla, and vegan butter in a medium bowl. Sift in the flour, baking powder, and salt and mix thoroughly until it comes together into a ball. Split into two parts, separate bowls.
Add the cocoa to one of the balls and mix until you no longer see dark streaks of concentrated cocoa. Chill both doughs for about 30 minutes, just to firm up a bit. On a lightly floured surface or sheets of wax paper, roll out each dough to about 8×10 inches wide and about a 1/4 inch thick.
Carefully lifting the cocoa dough, place it on top of the plain dough and roll them together a few times to fuse them slightly.
From one end, roll the doughs up together while pressing lightly to make sure they stick together. It may crack and split a bit, but just gently squish and shape it as you go. You won't be able to tell once it is rolled up and sliced. Alternate between rolling the log back and forth to smooth it out and squishing the ends in to make sure it doesn't get rolled too long.
Once you have your dough log, start adding the sprinkles. It's easiest to just pour them out and roll the dough lightly in them. Wrap and chill for at least an hour.
Once the dough is firm again, slice it into 1/4-1/8 inches with a very sharp knife. Don't worry, the ends are always a bit wonky. Bake on an ungreased baking sheet at 350°F for 12-15 minutes or until edges are a tiny, tiny bit golden. That also preserves the color of the dough and keeps them from spreading.
By the time the edges are done, the bottoms will be completely golden. You want them to be pale, so they stay soft and chewy. Let the cookies rest on the baking sheet for about 5 minutes, then move them to a cookie rack to finish cooling.