Spring 2012 I competed on behalf of Compassion Over Killing in the 10th Annual Grilled Cheese Invitational at the Pasadena Rose Bowl. I placed 3rd in the Professional category for my vegan Honey Pot (dessert) grilled cheese sandwich. It was the first year that any awards when to vegan participants and the judges had no clue my entry was vegan until the winners were announced! After the competition, the sandwich was featured in news outlets like the LAist and even earned multiple shout outs in the Sep/Oct and Nov/Dec issues of VegNews Magazine!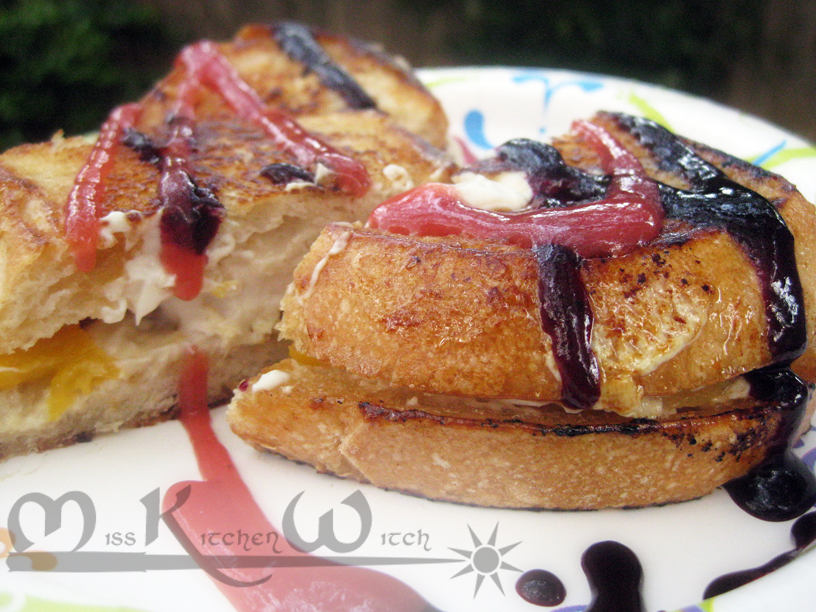 The Award-Winning Aurora Borealis
The Sammich 2 slices thick rustic sourdough bread  2 tbsp maple syrup  2 tbsp vegan butter  3 tbsp Daiya Mozzarella Shreds  3 tbsp vegan cream cheese 
½ peach, peeled and soaked in a combo of 50/50 brandy and simple syrup    Berry Reduction Sauce  1 pound of berries  ¼ cup sugar  ¼ cup orange juice 
Mash berries with sugar and juice and let set for at least an hour.Pour berry mixture into a small pot, place over low heat, and lightly simmer for 20-30 minutes, or until liquid has reduced by almost half. Strain out large bits and seeds (optional) and refrigerate in a glass jar (keeps for about a week).
Melt one tbsp of vegan butter and maple syrup in a nonstick frying pan over medium-high heat. Drop one side of the bread into mixture and remove. Then add another tbsp of the vegan butter and syrup in the pan and place the dry side of the bread into the mixture. Leave the bread on the heat and grill until the sugar has caramelized and is golden brown.
Flip the bread and immediately add the Daiya cheese on ONE slice of the hot side of the open bread and smear the cream cheese on the other slice of hot bread. Slice the peach and stick onto the cream cheese. Stick the two open sides of bread together and continue to grill, flipping once, until both sides are crispy and middle is hot. Cut in half and drizzle with Berry Reduction.